Case Study: How LoanMart Lowered Operational Costs & Increased Self-Service Bill Payments with PayNearMe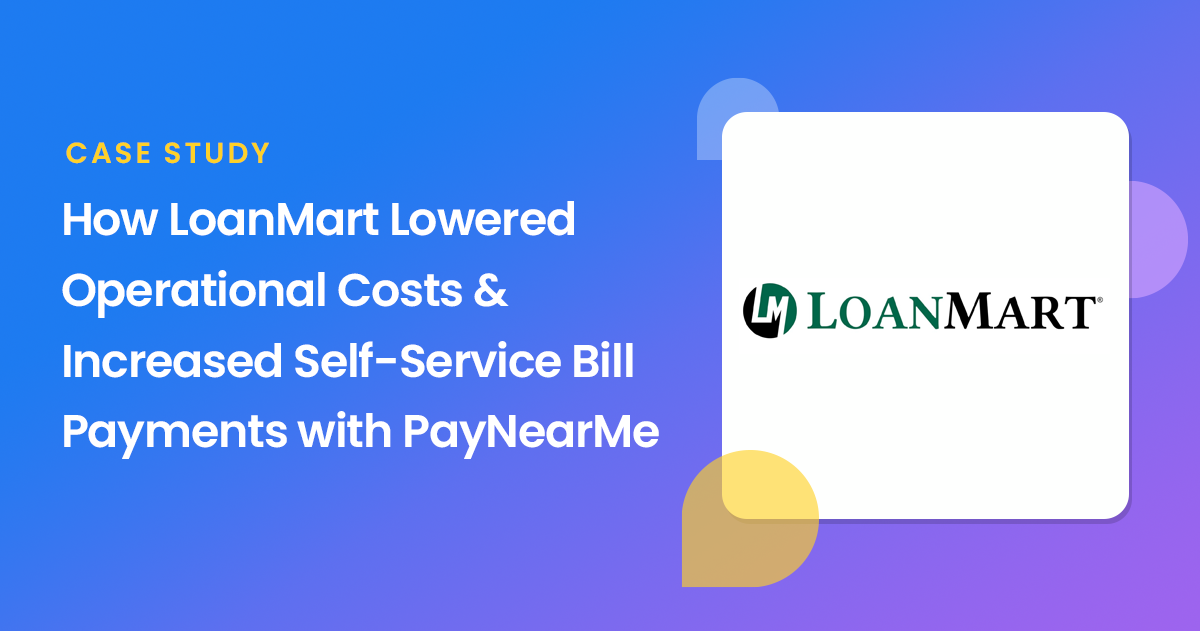 If you asked most organizations one of their biggest payment goals, you'd hear the words "operational efficiency" come up fairly often. The challenge for achieving this optimal state means more than just cutting costs, however; it also means doing so without sacrificing customer service or satisfaction.
LoanMart, a leading subprime lender and servicer, recently made large strides in this area by partnering with PayNearMe to add new payment methods, retail payment locations and self-service options under one powerful bill payment platform.
Vendor Consolidation: Less is More
Before working with PayNearMe, LoanMart used two payment processing vendors, along with additional add-on services. PayNearMe helped LoanMart consolidate payment processing operations to one contract, one integration and one reconciliation file across multiple tender types. This means fewer ongoing operational costs and hurdles, as well as added cost savings.
"With one integration, working with PayNearMe allows us to offer multiple convenient payment options to all customers that we service."

Colby Estes
COO
LoanMart
Using PayNearMe Smart Link™ to Increase SMS Payments
To further improve operational efficiency, LoanMart added new, convenient self-service options for payers. PayNearMe Smart Link™ technology, a way to send personalized links to users for one-click payments without logging in, was the star of the show.
LoanMart implemented PayNearMe Smart Link across multiple customer touchpoints, including in reminder messages, loan documents, welcome emails and billing statement backers. And thanks to its straightforward setup, LoanMart was able to implement the technology within days and immediately see click-through rates up to 40%.
"PayNearMe's Smart Link™ technology allows us to make our payment reminder communications more effective by including a one-click link that allows customers to make a payment 24/7–without the need to speak to a call center agent."

Colby Estes
COO
LoanMart
Results: Increase in Self-Service Payments
Since implementation across multiple channels, LoanMart has seen self-service payments through PayNearMe increase to nearly half of its overall payment volume.
Additionally, as the economy has reopened post-pandemic, LoanMart has experienced a significant increase in cash payments made at local retailers, showing that consumers appreciate the opportunity to make payments with cash where they already shop. LoanMart believes this is also aided by the addition of Walmart to PayNearMe's retail network in 2021, and the company is excited to see more retailers added in 2022.
At the same time, LoanMart has seen a sharp decrease in check payments through the mail (i.e., lockbox payments), which means customers are saving time and postage fees, while also enabling faster payment posting.
Next Steps
To further drive customer self-service and satisfy customer preferences, LoanMart is investigating additional user-friendly mobile payment types such as PayPal and Venmo. Additionally, LoanMart intends to work with PayNearMe to find solutions that encourage adoption of recurring ACH payments.
Want to learn how you can encourage more customer self-service options like LoanMart? Schedule your demo today.
About LoanMart
Originally founded more than 20 years ago, Wheels Financial Group, LLC dba LoanMart has become one of the largest marketers and servicers for title loans/vehicle-secured cash-loans in the United States. The company is headquartered in Van Nuys, CA with a staff of around 200 employees. LoanMart is a licensed lender in several states and also services loans made by third party lenders under the ChoiceCash brand.