Case Study: How Northwoods Automotive Reduced Inbound Calls +70% with PayNearMe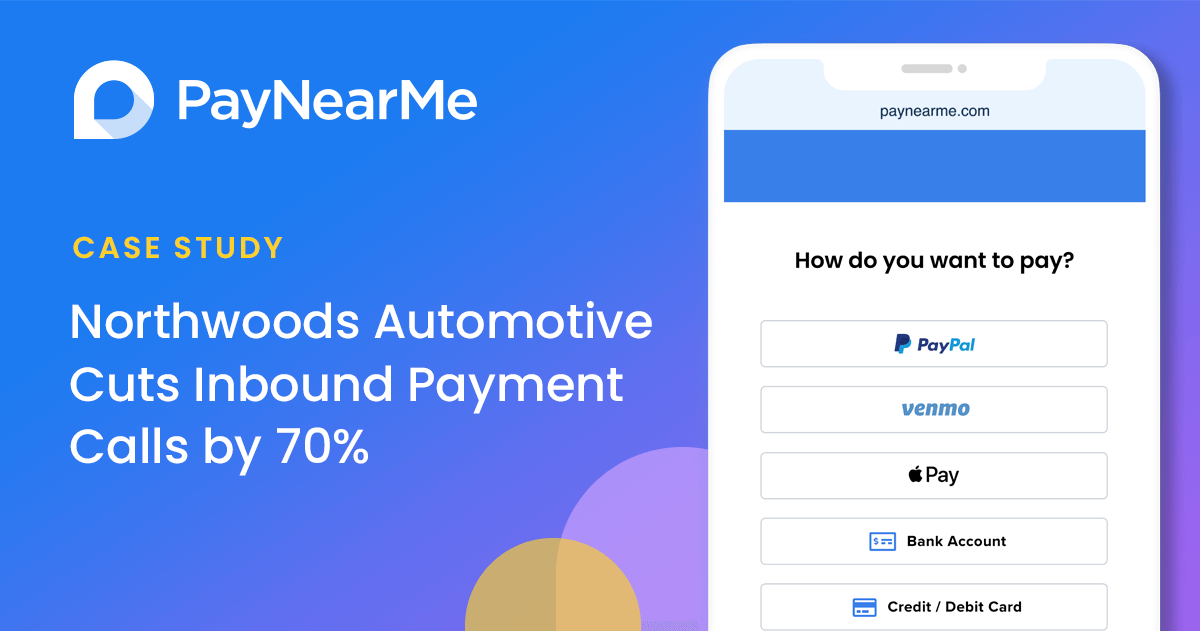 Northwoods Automotive, a leading automotive dealer in South Carolina, needed a way to reduce the amount of inbound payment calls being fielded by its staff, as well as a way to reduce in-person payments to the cashier at the store.
Additionally, the company needed an easier way to address reconciling the payments they received, particularly during the COVID-19 pandemic, when there were fewer resources available.
Reducing the Weight of Agent-Assisted Payments
Since moving to PayNearMe in summer 2020, Northwoods Automotive has been able to direct its customers to make payments online, by text or at local retail stores using a digitized cash workflow. This has been extremely helpful, as Northwoods needed to close its front office to the public during the pandemic.
Fortunately, using the new, online payment capabilities from PayNearMe, customers were able to make their payments despite the restrictions. And because PayNearMe is so easy to use, customers are happy that they can complete their payments quickly and without hassle. This led to a quick acceptance of the new solution.
To further incentivize customer adoption of PayNearMe, Northwoods removed fees for all online payments but kept charges in place for those physically dropping off a money order or cashier's check. In this way, Northwoods has been able to successfully drive customers towards their desired payments behavior—self-service through online or call-in payments.
Northwood's front office staff is also happy because they no longer have to post payments or do manual reconciliation work. Everything works as it's supposed to, so resources can be directed to other areas of the business where they're needed most. In fact, one individual even received a promotion to service writer due to the reduced need for customer service assistance around payments.
"We feel good about the system. My front office loves it, and it has definitely taken a payload off of all of our finance staff. And it's also allowed us to take some of those resources and put them into our service center and where we needed help."

– Darrell Hood, Sales Manager
Moving Forward with Self-Service Payments
Agent-led payments now make up only a small portion of Northwood's total bill payments, with the majority now going through PayNearMe's mobile Consumer Flow. Another significant percentage is routed through the company's IVR. In total, Northwoods was able to move over 90% of their total payments to self-service channels.
If your business needs to optimize payment metrics, we can help. Check out this quick Platform Overview or request a demo to see the platform in action.