Case Study: PayNearMe Paves the Way for Easy and Convenient Toll Payments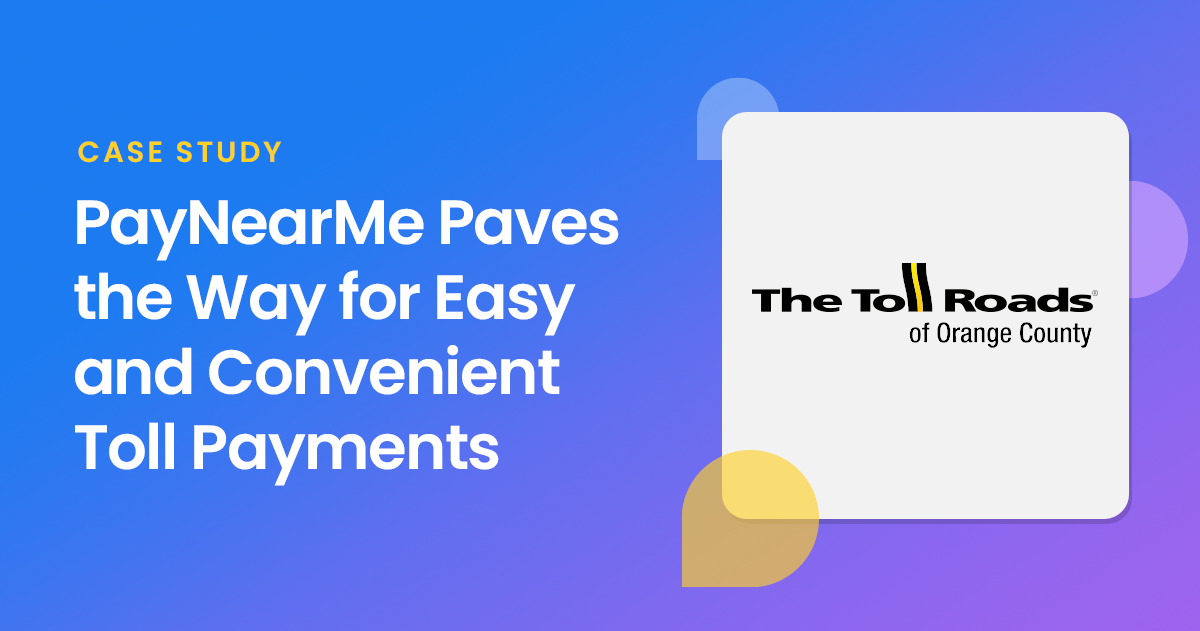 By making payments as easy as scanning a QR code, California's largest network of toll roads is experiencing a 640% increase in payments through PayNearMe.
At nearly 800 square miles, Orange County, CA, is home to beautiful beaches, world-class shopping and the largest network of toll roads in the state.
Composed of State Routes 73, 133, 241 and 261, the Toll Roads make up 20% of Orange County's highway system. They are the fastest, easiest and most predictable way for more than two million drivers to get to–and through–Orange County.

The Transportation Corridor Agencies (TCA) planned, built, financed, constructed and continue to operate the roads to minimize traffic congestion, offering drivers a choice and increasing mobility in the region.
TCA's focus on innovation and free-flowing traffic conditions led the Agencies to convert to all-electronic tolling. All drivers of The Toll Roads pay tolls electronically while traveling at highway speeds. No toll booths? No problem. TCA offers payment methods that work for every driver–no matter their preferred method of payment, when they want to pay their toll or how much of California they intend to explore.
One of those payment methods is through TCA's cash payment network delivered through an innovative partnership with PayNearMe.
Ensuring Payment Doesn't Take a Toll on Drivers
While using one of TCA's three options for a pre-established FasTrak® account is, by far, the easiest way to pay tolls on The Toll Roads and on every tolled facility in the state of California, TCA also offers drivers without an account the option to pay tolls on their website (TheTollRoads.com) and via The Toll Roads App. For drivers who prefer using cash or having an additional option to pay tolls, replenish a FasTrak account or resolve a toll violation, TCA expanded its appeal to consumers by partnering with PayNearMe.
Payments through PayNearMe can be made by anyone, but is ideal for:
Infrequent travelers: Orange County is host to more than 40 million tourists each year. That's millions of drivers who aren't familiar with The Toll Roads and likely driving without a FasTrak account. And because tolls on The Toll Roads are collected electronically (there are no toll booths at which to stop and pay cash), TCA consistently explores ways to support these travelers.
Similar to other agencies that automate enforcement of tolls, TCA uses license plate recognition software to read license plates as vehicles pass a tolling point. However, rather than immediately treating these transactions as violations, TCA uses the images to support both pre and post payment of tolls, giving tourists and other non-FasTrak drivers the opportunity to use The Toll Roads and pay their toll within five days. Despite the ease of this solution, collecting after-the-fact toll payments can still be challenging.
Regular commuters: When a driver with a prepaid FasTrak account has a balance fall below a certain threshold, it must be replenished in the amount of one month's tolls (based upon average usage). To help drivers keep their accounts in good financial standing, TCA wanted to make replenishing accounts as easy and convenient as possible.
Cash payers: Cash remains a necessary or preferred type of payment for many drivers using The Toll Roads, including unbanked and underbanked individuals or travelers who prefer not to provide their banking or credit card information. With all-electronic tolling, TCA wanted a way to enable cash payers to make toll payments convenient and easy.
TCA partnered with PayNearMe to customize and fine-tune the processes for toll payment, FasTrak account replenishment and toll violation resolution.
QR Codes for the Win
When a customer receives a correspondence with a QR code on it from The Toll Roads, they can scan it to be immediately directed to the unique webpage for their specific account or transaction where they can quickly pay their toll, reload an account or resolve a violation. From here, motorists select how they want to pay–credit card, debit card, cash, bank account, Apple Pay or Google Pay–and they can complete the payment with the tap of a button on their device.
Motorists no longer have to type in the cumbersome URL from the paper statement, navigate an unfamiliar website or manually fill in a payment stub to complete the payment process. Or even more inconvenient–walk into an administrative office to pay by check or call customer service to pay by phone. With strategies–such as QR codes–that guide drivers, paying a toll has never been easier.
With the introduction of QR codes, TCA anticipated a 5% bump in payments made through PayNearMe and, instead, is experiencing a 640% increase. The Agencies also saw a 35% increase in payments from drivers who didn't initiate toll payment within five days of driving The Toll Roads.
"Within just two months of implementing PayNearMe QR codes, we saw rapid adoption by customers making payments," an executive at TCA said. "One in four non-FasTrak drivers elected to scan a personalized QR code to pay their toll rather than go to The Toll Roads website to pay."
Digitizing Cash to Make the Toll Roads Accessible to All Drivers
Thankfully, there's a way to bring the convenience of all-electronic tolling to cash-paying motorists. PayNearMe's unique solution for digitizing cash enabled TCA to enhance cash payment options for drivers.
Motorists can pay their tolls, resolve toll violations or replenish their FasTrak accounts using cash at many retail locations they already frequent, such as participating 7-Eleven, CVS, Walgreens and Walmart stores. Drivers wanting to pay a toll without an account can visit TheTollRoads.com to initiate a payment with cash and receive their personalized barcode. They present the barcode to a cashier at a nearby participating retail location, pay cash and collect a receipt—just like any retail transaction. The transaction transmits digitally to TCA.
TCA's strategy to digitize cash payments is exceeding expectations. Drivers from all 50 states and most of the Canadian provinces have visited participating PayNearMe locations to pay their tolls. In fact, toll payments to TCA have been made at more than 3,500 PayNearMe locations across the nation, with most of the payments made by first-time drivers of The Toll Roads.
All Roads Lead to a Better Toll Payment Experience for Drivers
Given a quarter of a million Orange County drivers pay their toll using electronic payments every day, TCA is dedicated to continually improving the toll payment experience for motorists. A better experience can include incorporating more payment types or sending payment reminders via text message that enable motorists to pay their tolls, resolve toll violations or replenish their FasTrak accounts quickly and conveniently.
To drive additional self-service, The Toll Roads also have the option to add PayNearMe Smart Link™️ technology, which allows call center agents to send a personalized payment link via email, text message or push notification.