Case Study: You Drive Auto Fuels Their Customer Experience with PayNearMe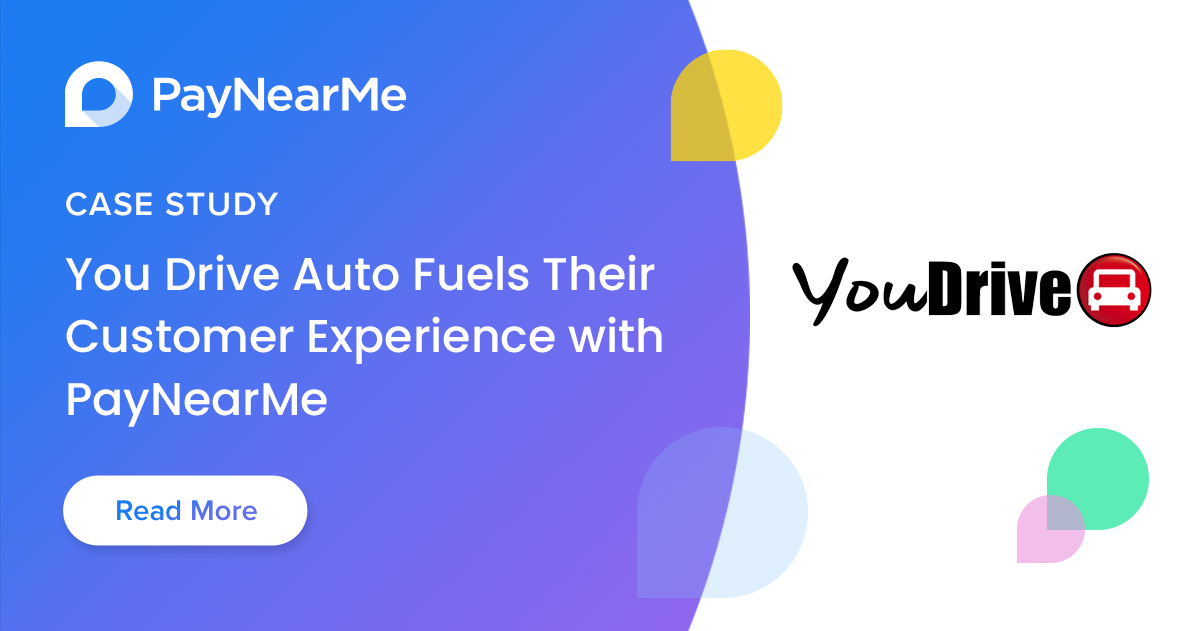 The Opportunity
You Drive Auto dealerships provide Used Cars & Trucks from 5 locations across 3 states. Offering in-house vehicle financing with easy online applications, fast credit approval and flexible financing makes for better vehicle buying experiences that keep customers coming back.

When pursuing ways to make payments easier for their customers, You Drive's customer experience team led by Jose Gonzalez began exploring innovative and more modern ways to reduce payment friction while searching for ways to scale self-service and current staffing.
The Journey: Expansion and growth came quickly
Since You Drive Auto was established in 2018, they've experienced growth through acquisition, first starting in Cleveland, Ohio and then reaching into Texas and Kentucky. Although this fast and recent growth has been great for business, connecting many different locations together in a way that makes sense for funneling loan payment information and processing in a single place was challenging.
With phone and in-person payments on the rise, You Drive needed a way to better manage staffing resources and find ways to streamline both payment reporting among the 5 locations and reconciliation as growth continued.
But this wasn't all. Some customers were traveling over 80 minutes one way to make in person payments for their vehicle loan twice a month. Back office employees were becoming busier and staffing growth was needed to handle in person and phone payment volume.
The Solution: Above-market returns and reduced call volume
You Drive Auto's investment in adopting PayNearMe had immediate effects on the bottom line of the business. Automated SMS payment reminders and the easy-to-follow Smart Link™ rapidly replaced a large portion of payments taken in-person and over the phone. Additionally, reconciliation was further streamlined because PayNearMe could connect all locations and integrate into their respective systems of record, saving time for accounting and other back office teams. Other benefits came from adopting PayNearMe's cash network of retailers across the country to accept cash payments.
"I was worried that our phones were not working — but our payments were still coming through. Implementing PayNearMe drove down our call volume to almost silence."

Jose A. Gonzalez
Head of Customer Experience
You Drive Auto
Currently 32 agents use PayNearMe to better manage customer payments and provide better experiences to customers who truly need phone and in person assistance.
By utilizing PayNearMe's cash at retail network, You Drive Auto's customers who were traveling long distances were enabled to make payments closer to home, resulting in even more happy customers.
"One customer drove 80 minutes twice a month to make cash payments at our location. When we introduced them to PayNearMe, they were so happy and couldn't believe they could go to a nearby 7-Eleven and make that same payment."

Jose A. Gonzalez
Head of Customer Experience
You Drive Auto