Case Study: Auto Lender Cuts Reconciliation Time by 87% with PayNearMe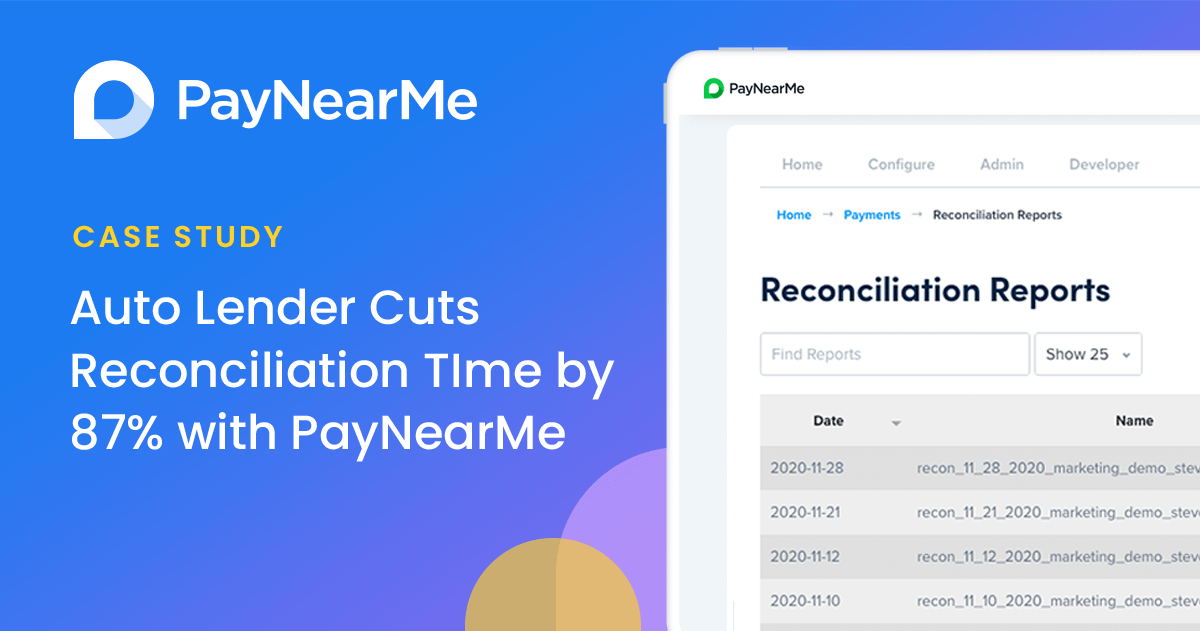 Easier payment reconciliation may not be first on your list of "top things to look for in a bill payment service provider", but your accounting department probably thinks otherwise. Reconciliation can be an extremely time-consuming process for your business if your payment vendor doesn't provide the tools and resources to efficiently and effectively manage the reconciliation process.
Pivot Tables, Manual Work and Confusing Discrepancies
Recently, PayNearMe began working with an automotive lender that was spending eight hours or more each day reconciling transactions. The team found significant discrepancies between their previous vendor-generated reports and the lender's internal deposit reports at every turn.
In addition, separate transaction reports needed to be downloaded for:
Each payment type (cards, ACH, cash)
Deposits
Chargebacks
ACH returns
Other anomalies
The lender's accounting team went through several manual Excel exercises each day to reconcile the payments, copying and pasting data from the system of record (SOR) and creating pivot tables to check each transaction against payment platform's files. Two full-time employees were needed to manage the process.
From Manual to Effortless
After implementing PayNearMe, the reconciliation process was reduced to less than an hour each day, and the lender expects that time to continue to decrease. The company's accounting team is now able to work on new initiatives due to the time-savings provided by consolidated reconciliation, which includes a single report with all different payment types.
PayNearMe's simple reconciliation reports give the lender the ability to sort all transactions (including cards, ACH and cash) by transaction ID, account ID or any third field provided to the PayNearMe team. The lender now also finds it easy to deal with chargebacks and payment exceptions with automated daily reports.
"When I did manual pivot table work before, it would take me at least a day [to reconcile], and then depending how many payments were off, I might have to also research every single payment. There were always things that didn't match up. With PayNearMe, everything matches. There's very little I have to adjust."
PayNearMe is currently working with the lender to reduce time spent on reconciliation even further by adjusting its cutoff hour—an option available to all PayNearMe clients. This will help the lender reduce any reporting discrepancies that may arise due to time zone differences between its LMS and PayNearMe.
If your business needs to optimize its reconciliation process, PayNearMe can help. Contact us to learn more about how we can help you achieve operational efficiency.