Case Study: Turner Acceptance Reduces Agent Transactions by More Than 20% With Move to Self-Service Payments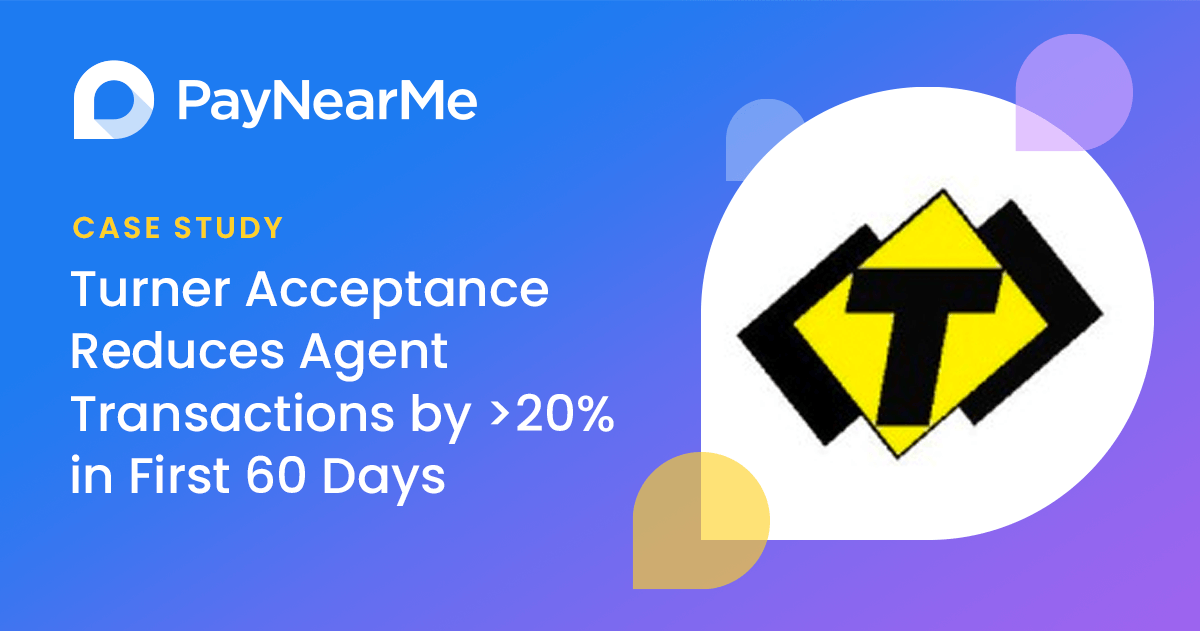 Finding a way to encourage self-service bill payments and reduce agent calls may sound like a lender's dream, but it quickly became reality for Turner Acceptance Corp. earlier this year.
Turner Acceptance is a customer-focused financial company that specializes in personal installment and auto loans. The company has accepted off-site cash payments via PayNearMe since 2012 and recently enabled debit cards, ACH, Apple Pay and Google Pay within the platform.
As part of this expansion, Turner knew it wanted to make some improvements to the electronic payments process, namely, to facilitate better customer communication and to encourage better payment behaviors through a self-service payments model, in which customers are able to pay their bills without any interaction with customer service agents through options like pay by text or IVR.
More Flexible Messaging
With the onset of new remote working challenges, Turner needed to get its self-service program up and running quickly to reduce the strain on customer service staff. Part of the lender's goals included sending messages containing payment links directly to customers.
With its previous vendor, Turner had limited capabilities for configuring and personalizing these messages. The lender wanted to communicate in different ways with different customers, depending on their payment behaviors.
This meant that customers were not as engaged as they could be with more personalized messaging—and that they were making customer service calls that could be reduced with a pay by text option.
Adding Advanced Customer Communications
As part of its dedication to expanding self-service, Turner decided to leverage PayNearMe's Engagement Engine to send segmented SMS/email messages to customers based on specific triggers. For example, if five days late for a payment, a past-due customer will receive a different message than an on-time customer or a 30-day delinquent customer.
These communications often contain one-click payment links, enabling customers to pay on the spot and resolve delinquencies quickly.
In addition to these reminders, all customers receive a welcome message to digitize the onboarding process and encourage them to get comfortable making payments on their own, electronically. Previously, customers had to wait a week to get a physical coupon book in the mail to start paying their bills. Now they can respond to texts or emails and pay with the click of a button, with no additional login information required.
"The beauty is that all customers can make payments easily at their fingertips. Customers feel more comfortable knowing that they control when they can set up a recurring payment, stop payments or set future payments [themselves]. The fact that one-click payment links are on their mobile device—and that it's secure—facilitates self-service and allows us to reduce unnecessary calls to our agents."

– David Uribe, Director of Initiatives, Turner Acceptance Corp.
One of the Turner team's favorite parts of Engagement Engine is the ability to send messages in both English and Spanish. This helps the lender reach its customers with messaging with their language preferences, increasing on-time payments and self-service adoption.
Currently, Turner has eight different messaging tracks activated in both English and Spanish. Customers can move between tracks, and the auto lender is continuously making improvements to the messaging based on A/B testing.
In short, Turner has full control over the messages it sends customers. Message status reporting is also available directly within the PayNearMe platform (both from the PayNearMe Business Portal and an Agent Interface) to determine how messages are performing and when they are delivered, opened, etc.
Happy Agents, Happy Customers
With new text-to-pay abilities added, within the first 60 days of implementing PayNearMe, Turner was able to increase self-service by more than 20% and remove the need for customers to call in to agents to complete payments, check balances, etc. This freed up time for the agents and reduced agent-made payments.
Additionally, Turner has received positive feedback from its customers, who appreciate the option to make their loan payments using their preferred method of payment from any device–without the need to travel to an office or call an agent.
Turner has also received excellent feedback from its customer service staff, who now have more time available to help clients with pressing needs. And with fewer agent calls every day, the future looks bright for further reducing operational costs.
About PayNearMe
Are you looking to provide your customers with more convenient ways to make bill payments, while reducing overhead expenses? Contact PayNearMe for a free online demo.