Spotlight Series: A Conversation with Aniuska Rovaina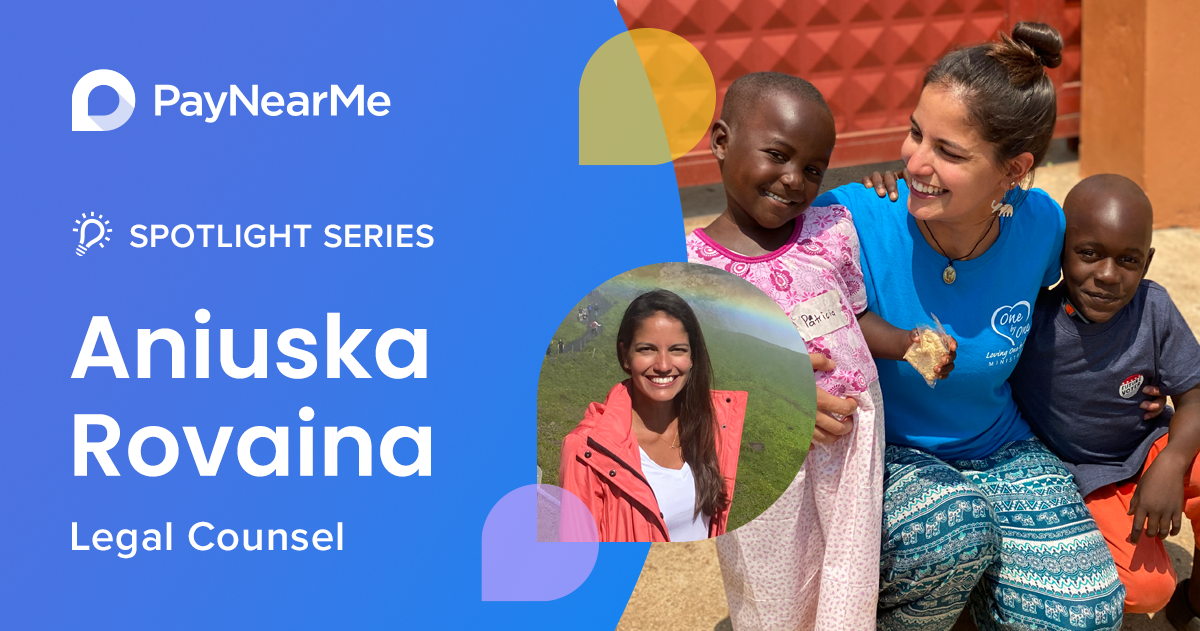 In the PayNearMe Spotlight Series, we shine a light on the people that make our company thrive. In this month's interview, we sat down with Aniuska Rovaina, Legal Counsel, to chat about her role in the company, why she loves working at PayNearMe and her life outside of work.
Q: Can you tell us about your career journey and what led you to PayNearMe?
Aniuska: Rovaina: To be a legal counsel, you have to be licensed in the state. So first, I had to obtain my Juris Doctor after three years of law school. Then, in 2016, I took the Illinois bar exam. Fortunately, I passed the first time!
My first job as a licensed attorney was at a construction litigation firm, where I had the opportunity to attend court hearings, draft motions and assist in trial preparation.
I later worked for a start-up company and I found that I really enjoyed working as an in-house counsel. So when I saw the position for a Legal Counsel at PayNearMe, I found the description included many of the responsibilities and skills that I wanted to build on, applied and the rest is history.
I've loved working here since day one!
Q: Have you always wanted to pursue a career in law?
AR: No, I wanted to be in politics or public service, so I obtained my bachelors from the School of Public Policy at the University of Michigan. I worked on a state campaign in Detroit. It was a rewarding learning experience, and it was actually that state representative who encouraged me to go to law school.
Q: How has PayNearMe helped you in your career development?
AR: PayNearMe has helped me expand and grow the skills that you need to be a lawyer: researching, writing and public speaking. These skills come into play every day, whether when drafting a contract or responding to correspondence from third parties such as opposing counsel or other merchants. These skills are important because as a lawyer, you want to make sure everyone is on the same page, so being able to articulate your position is critical. PayNearMe has given me the ability to hone those skills, and I'm really grateful for the opportunities I've been given.
Q: Do you have any advice to share with those who are just getting into the fintech industry who might want to join a company like PayNearMe?
AR: Stay curious. Working at a company like PayNearMe, you will likely have to interact with people who have career backgrounds that are completely different from yours, so don't be afraid to ask questions. I constantly find myself learning something new about our role in the industry, and a lot of that comes from asking questions.
Q: What are some of your favorite things about working at PayNearMe?
AR: It's inspiring to see women in leadership and executive roles, especially in an industry that is still predominantly male-dominated. Our General Counsel, CFO, CPO and CMO are all brilliant women on PayNearMe's executive team; they make balancing work and family life seem easy even though I know it can be challenging.
Q: Let's shift the focus to your role. What does a day in the life of a Legal Counsel at a tech company look like?
AR: A typical day consists of first checking emails to see if there are any requests that need to be addressed right away. After that, I spend most of my day reviewing contracts. It requires a lot of reading and attention to detail so that can take up the majority of my day. It's almost like working as a translator and putting it down on paper!
Q: Let's talk about remote work. How are you able to stay connected with your team virtually?
AR: Working remotely can sometimes feel isolating, but PayNearMe does a great job of bringing people together to make sure that we feel connected to each other. I'm part of the Engagement Committee. We meet monthly and plan fun virtual events such as holiday trivia and wellness challenges. We have some very competitive team members that encourage others to participate.
Q: What are some things that you've learned about yourself while working at PayNearMe?
AR: I've learned how much I value working in a collaborative team environment. I appreciate being able to bounce ideas off of my team and the other departments in the organization. I am truly grateful to the rest of the legal team. They have helped me grow on both a personal and professional level. We are all transparent and willing to help each other no matter the issue.
Q: So what about you—what kinds of activities or hobbies are you interested in outside of work?
AR: I absolutely love to travel, learn about new cultures, try new foods and go on adventures. Last year I discovered how much fun solo traveling is and went to four different countries on my own: Croatia, Iceland, Portugal and Costa Rica. They were amazing experiences!
Q: If you could do another job for just one day, what would it be?
AR: I would be a safari tour guide to be able to see how animals live in their natural habitat!
Q: Any fun facts you'd like to share with us?
AR: I was born in Venezuela and I am very proud to be from there. I truly hope my home country will one day flourish again so I can visit.
Q: Do you participate in any volunteer work or have any organizations you'd like to shine a light on?
AR: I went to Uganda with an organization called Loving One By One. The organization focuses on providing food, clothing and education to children in one of the poorest areas of Uganda. The children we support live in homes without electricity and running water. I continue to help by making monthly donations. Going to Uganda to serve with this organization was a life-changing experience, and I'm honored to be able to continue to support these families.