Spotlight Series: A Conversation with Brinal D'Monte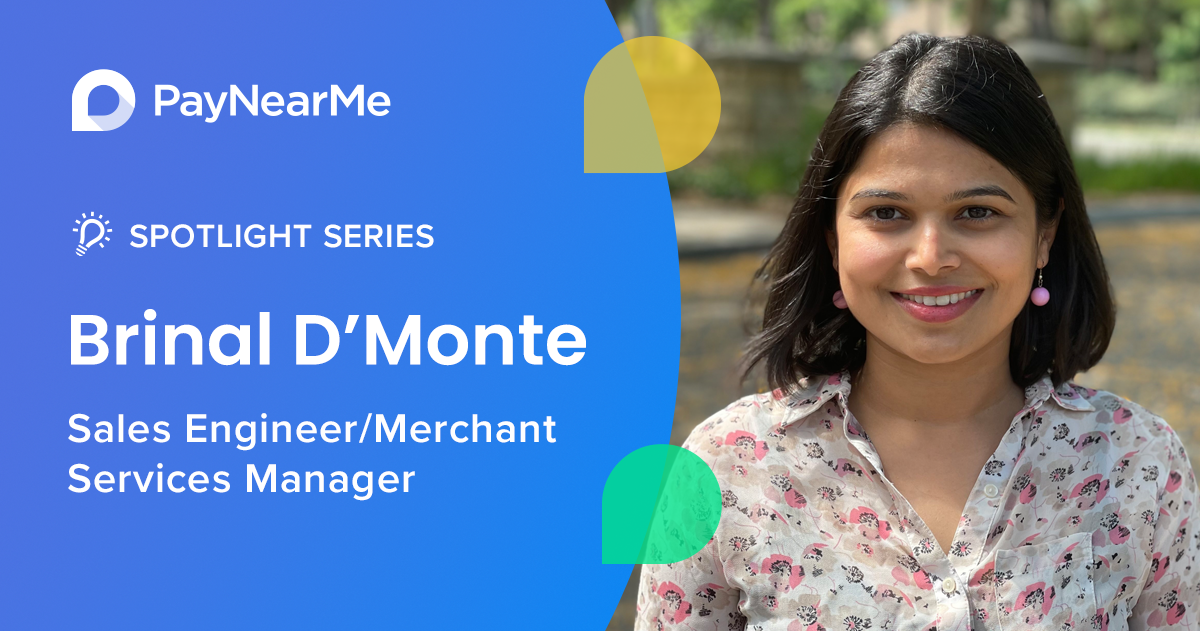 In the PayNearMe Spotlight Series, we shine a light on the people that make our company thrive. In this month's interview, we sat down with Brinal D'Monte, Sales Engineer/Merchant Services Manager, to chat about her role in the company, why she loves working at PayNearMe and her life outside of work.
Q: Can you tell us about your career journey and what led you to PayNearMe?
Brinal D'Monte: I earned my Bachelors of Engineering in Information Technology (IT). Then, I worked for over 10 years as a software engineer in different verticals such as supply chain management. The payments industry always fascinated me, and I wanted to learn more about how a payment is made behind the scenes. That curiosity led me to discover PayNearMe, and I jumped at the opportunity to join the team when my position became available.
Q: Have you always wanted to pursue a career as a Sales Engineer/Merchant Services Manager?
BD: I was a software developer in my former position, but the nature of that role was that I wore different hats; one of which was working with clients. That is where I developed a passion for being a part of the sales cycle as a Sales Engineer and Solutions Consultant (or Merchant Services Manager at PayNearMe) because I loved the idea of talking with customers, discovering their pain points and developing solutions for their challenges.
Q: How has PayNearMe helped you in your career development?
BD: PayNearMe gave me the opportunity to be a Sales Engineer/Merchant Services Manager, so that took me to the next level in my career. PayNearMe has also given me a 360 degree view of how the fintech world operates. In addition, access to stakeholders within the organization has helped me expand my knowledge. I'm incredibly grateful to my managers, mentors and peers that have contributed to my growth at PayNearMe.
Q: Do you have any advice to share with those who are just getting into the fintech industry who might want to join a company like PayNearMe?
BD: First and foremost, be a self-starter. If you have questions, ask around, research, invest time in it and don't settle if you're not happy with the answers you get. It's also important to understand the products your company offers and just keep learning!
Q: What are some of your favorite things about working at PayNearMe?
BD: I really appreciate that there is no micromanagement. This gives me time to do my work.
At PayNearMe, you are an integral part of the team who contributes to the growth and success of the overall company. I also really love that PayNearMe is fully remote because it has resulted in much more work/life balance for me personally. 
Q: Let's shift the focus to your role. What does a day in the life of a Merchant Services Manager look like?
BD: I touch base with my merchants on a day-to-day basis to understand their issues, provide solutions and demonstrate newly implemented features. There is also a strong component of cross-functional communication on merchant requests, and I prepare and ensure the onboarding process is seamless. Each day is a new challenge, which makes the role interesting!
Q: Let's talk about remote work. How are you able to stay connected with your team virtually?
BD Our online communication platforms make it easy to communicate with peers, customers and team members throughout the company. I'm also a part of an Employee Resource Group (ERG) called Women-In-Prep, which gives me a sense of inclusivity and helps me stay connected. We share our ideas and build a strong comradery.
ERGs are integral to fostering and encouraging inclusivity in a remote work environment. We meet on a monthly basis and have a platform as a "brave space" to share and express feelings, be ourselves and ultimately, to develop as individuals. Regardless of your background, these ERGs give us the space to share our opinions and feel heard.
Q: What are some things that you've learned about yourself while working at PayNearMe?
BD: The qualities that I've developed while at PayNearMe are dedication, perseverance, patience and sense of urgency. Being a solutions consultant, you have to learn to balance our clients' needs with our internal teams' priorities, so it requires you to be patient and persevere. Without those qualities, it can be very challenging to have a smooth client onboarding.
I've also learned that establishing trust, proactive communication and a sense of urgency go a long way. Our clients know they're cared for when we promptly and proactively reply to their inquiries.
Q: So what about you—what kinds of activities or hobbies are you interested in outside of work?
BD: I enjoy cooking, and lately my 5-year old son has started to cook alongside me, so that's been a lot of fun! When I cook, I enjoy listening to podcasts and music. Overall, I really enjoy spending time with my family.
Q: If you could do another job for just one day, what would it be?
BD: Coding! I miss my coding days. I did software development for 10 years. My husband is also a senior software developer and sometimes we like to challenge each other with coding contests!
Q: Any fun facts you'd like to share with us?
BD: I read, write and speak four languages – Hindi, English, Marathi and Kadodi!