Spotlight Series: A Conversation with Cassandra Seppings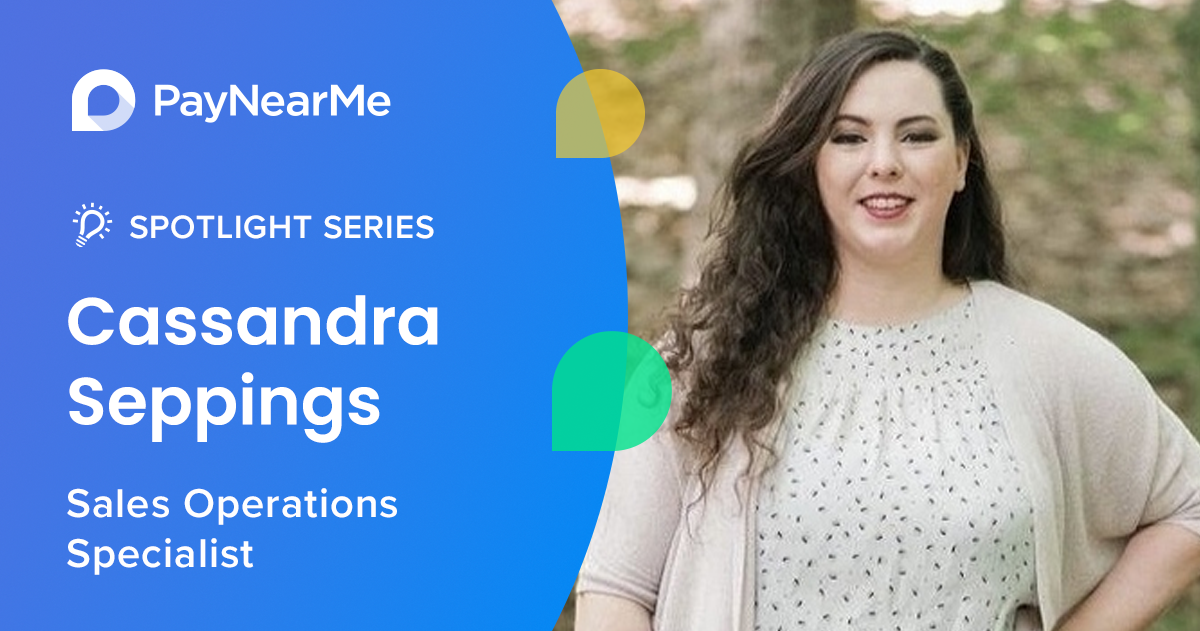 In the PayNearMe Spotlight Series, we shine a light on the people that make our company thrive. In this month's interview, we sat down with Cassandra Seppings, Sales Operations Specialist, to chat about her role in the company, why she loves working at PayNearMe and her life outside of work.
Q: Can you tell us about your career journey and what led you to PayNearMe?
Cassandra Seppings: My career background was largely in sales and business administration, but a lot of my focus was on sustainability and developing repeat customers by focusing on the full-funnel customer journey. I learned that the best way to be successful at building and maintaining long-term customer relationships was based on building strong operational processes.
I really enjoyed the operational side of the business far more than sales, so when I saw the job opening at PayNearMe for a sales operation role, I was really interested! I was looking for an organization that was in growth mode, and PayNearMe checked a lot of my boxes, so I applied and the rest is history! I've been at PayNearMe for a little over a year and the company culture is amazing, so I'm really happy I'm here!
Q: Have you always wanted to pursue a career in sales operations?
CS: When I first moved to the U.S. I was focused on sales, but I began to realize it wasn't 100% for me. I loved certain aspects, but as I mentioned before, I was really drawn to the sales operations/business administration side of the house and found it was the perfect role for me.
I found that sales operations was my "sweet spot" because it allows me to work with multiple teams across the organization, and no two projects are the same. Each day and each client are unique, so it keeps my job interesting.
Q: How has PayNearMe helped you in your career development?
CS: A large aspect of my role is to help us operationalize client onboarding from a compliance perspective. As a result, I've had the opportunity to build my knowledge in regulatory compliance.
PayNearMe has also given me the opportunity to lead a project to implement a new client onboarding tool that will help move clients through the project implementation phase faster. This has been an amazing opportunity for me because I've been able to expand my skill set while building something from the ground up, and I'll be able to see the direct positive impact it has on our clients and our business.
Q: Do you have any advice to share with those who are just getting into the fintech industry who might want to join a company like PayNearMe?
CS: As much as you want to be successful in your own role, it's impossible to be successful if you have a siloed mindset. You have to be collaborative with each of the different teams in the organization because they all impact each other.
The best way to drive company success is collaboration, so my advice is to connect with other teams—especially teams you may not think you'd otherwise work with—and find out what their day-to-day life is like to see if there are opportunities for collaboration and working toward a similar goal.
Q: What are some of your favorite things about working at PayNearMe?
CS: This may sound a little cliché, but I'd have to say how "real" everyone is. Everyone that I talk to is mindful of schedules, life demands and that we're all just human beings. Our conversations are more relaxed and the team understands the challenges we face in our roles and life in general. PayNearMe makes you feel like a human and not just a cog in a machine.
Q: You're a part of the PayNearMe DEI council. Can you talk a little about what made you want to get involved?
CS: I've been a part of the DEI council since last year. One of the reasons I wanted to join is because I think it's vitally important for organizations to focus on accessibility for all employees. We want to ensure company culture is not just something that we put on our website, but is how team members actually feel working here.
I'm really excited about the cool things we have planned for Pride Month! Our goal is to make PayNearMe a healthy, inclusive workplace. We're open to ideas from team members and encourage them to reach out with challenges so we can ensure the initiatives we implement will be intentional and impactful to the company as a whole.
Q: Let's shift the focus to your role. What does a day in the life of a Sales Operations Specialist look like?
CS: Generally, my biggest focus is on client onboarding. I make sure that all involved parties are aware of every aspect of the project from start to finish until it's fully onboarded and ready for launch. I'm currently tracking around 50 projects.
When I have downtime from the onboarding aspect of my job, my biggest focus has been the onboarding software project I mentioned earlier. That's been a really fulfilling project because I've been able to take the things that I do on a day-to-day basis and blow it up to a bird's eye view to determine how to operationalize it from an automation standpoint.
Q: Let's talk about remote work. How are you able to stay connected with your team virtually?
CS: PayNearMe does a great job of making us feel connected even though we all essentially live in different time zones! I feel like I know people that I've never met in-person on a personal level because we talk and collaborate so often.
PayNearMe provides the tools and resources to keep people connected; we have an in-person feeling without the in-person work!
Q: What are some things that you've learned about yourself while working at PayNearMe?
CS: I've discovered that I don't let things go as easily. That sounds like a negative trait, but essentially, if I identify a problem, I'm going to exhaust all options until I find a solution. I'm a tenacious problem solver!
Q: So what about you—what kinds of activities or hobbies are you interested in outside of work?
CS: I love to cook, read and write. Anything that I can do with my partner makes life better! We just enjoy hanging out with each other and our friends and family. My partner and I really enjoy playing video games; we're big gamers!
Q: If you could do another job for just one day, what would it be?
CS: I would 100% be a data scientist. I am so intrigued by how data scientists are able to look at swarms of data, digest it, identify trends and solutions and turn it into something that's presentable for people must be so satisfying!
Q: Any fun facts you'd like to share with us?
CS: I'm originally from South Africa. I've lived back and forth between the U.S. & East Africa, and I've been in the U.S. for eight years.
Q: Do you participate in any volunteer work or have any organizations you'd like to shine a light on?
CS: I follow and support a lot of activists including Imani Barbaran, a disability activist who runs Crutches and Spice.
I also follow and support Mercury Stardust, a professional home maintenance technician, burlesque performer and award-winning activist, most commonly known as the Trans Handy Ma'am, and TikTok star and trans activist, Jory. These two incredible women help raise money for individuals to seek gender affirming care.