Spotlight Series: A Conversation with Inderjit Janda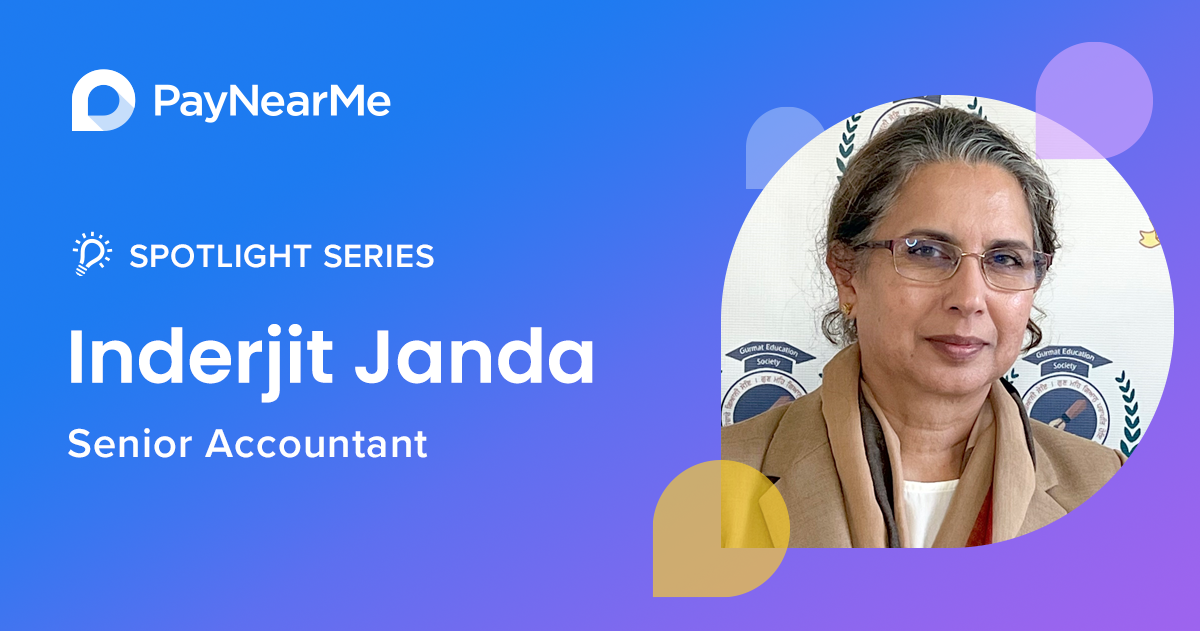 In the PayNearMe Spotlight series, we shine a light on the people that make our company thrive. In this month's interview, we sat down with Inderjit Janda, Senior Accountant, to chat about her role in the company, key projects and her outlook for the future of the payments industry.
Q: Can you tell us about your time at PayNearMe?
Interjit Janda: It's such a beautiful journey. I started with this company four years ago as a Senior Accountant. The company was much smaller back then which gave me the opportunity to really roll up my sleeves and dive in deep with the day-to-day.
I identified areas that needed better organization and prioritized putting processes in place. Later on, I trained our Junior Accountant who has become our Staff Accountant. Seeing him grow, as well as developing my experience has been very rewarding. Working at PayNearMe has been exciting, challenging and eventful.
Q: How has PayNearMe helped you in your career development?
IJ: PayNearMe has offered me a lot of opportunities. Prior to joining, I had gained 30+ years working for much larger organizations. When you work at a big company, the scope of your role is quite limited. At PayNearMe, I am much more hands-on and I had more opportunities to enhance my skills.
Q: Do you have any advice to share with those who are just getting into the finance industry who might want to join a company like PayNearMe?
IJ: I think number one, be patient. PayNearMe is growing with people joining from different backgrounds and industries. We encourage everyone to bring new ideas but try not to compare too much to where you came from. Join the team with an open mind and embrace the incredible culture the PayNearMe fosters.
Q: You've been with PayNearMe for four years. What are some of your favorite things about working here?
IJ: I love that PayNearMe is a very culture-driven and family oriented company. No matter who you're speaking with in the company, from peer to Executive level, the mutual respect and genuine caring is clear across the whole team.
I had come to this company from what I would have considered my favorite company, and their culture was highly regarded. I didn't think it was possible to beat. Since joining PayNearMe, and coming up on my retirement this summer, I can confidently say that PayNearMe is the best place I have ever worked.
Q: You mentioned that you're retiring! Congratulations, is that coming up soon?
IJ: Yes, I'm retiring at the end of July. I'm super excited but I'm also excited about the future of this company. I'm glad the last year of my career has been spent on building so many memories. I'm feeling quite relaxed to be leaving on such good terms.
I gave my notice about five months ago because I love this company and I want to make sure I can train someone properly before I go. I'll do anything to help, I won't disappear and I hope that shows how much love I have for PayNearMe.
Q: Let's shift the focus to your role. What does a day in the life of a Senior Accountant look like?
IJ: My role is definitely heavily dependent on the numbers and ensuring that our books are closed on-time, without any error. It can be stressful because meeting deadlines is critical.
Of course it gets easier and more manageable over time, but meeting deadlines and completing our audits efficiently is both rewarding to the team and most important to the success of PayNearMe.
Q: What are some things that you've learned about yourself while working at PayNearMe?
IJ: I learned during my time at PayNearMe that I am like a sponge, in that I've been able to absorb so much and learn from others. I also realized how much strength and capacity I have within to push myself and grow in the role; I believe that came naturally to me as a mother.
Throughout my career, not to say I was a "workaholic," but I've held many positions and worn a lot of hats. All of that to say, I learned that I'm capable of being flexible to rise to the occasion and take on tasks as needed.
Q: So what about you—what kinds of activities or hobbies are you interested in outside of work?
IJ: I am very active in my community in many ways. I'm the CEO of Gurmat Education Society, a non-profit organization. The goal is to provide free education to underprivileged children in India.
Currently we have over 200 regular students. Some of the students are receiving higher education in medical, law enforcement and PHD in religion.
Additionally, we help students get involved with summer camps in schools and promote healthy habits. The organization is also active with environmental initiatives by planting trees.
We bring awareness to children about the dangers of drugs and provide guidance on choosing the right path and career. It's quite rewarding that each year we have been able to cover 100% of the costs for 1,500-2,000 students for the summer camp.
Q: If you could do another job for just one day, what would it be?
IJ: If I could have another job for a day, I would love to focus all of my attention on my volunteer work. It has been so rewarding for me, and I could help many more students and individuals if I could dedicate myself to it full-time–which is what I'm looking forward to doing with my retirement.
I only sleep about four hours a night, but when you fill your day with rewarding work, it doesn't feel like work. The hours that I do sleep, I sleep like a baby! Putting my energy toward something so good gives me great energy and I don't feel worn out knowing that my work is appreciated.