Spotlight Series: A Conversation with Jazmin Bembry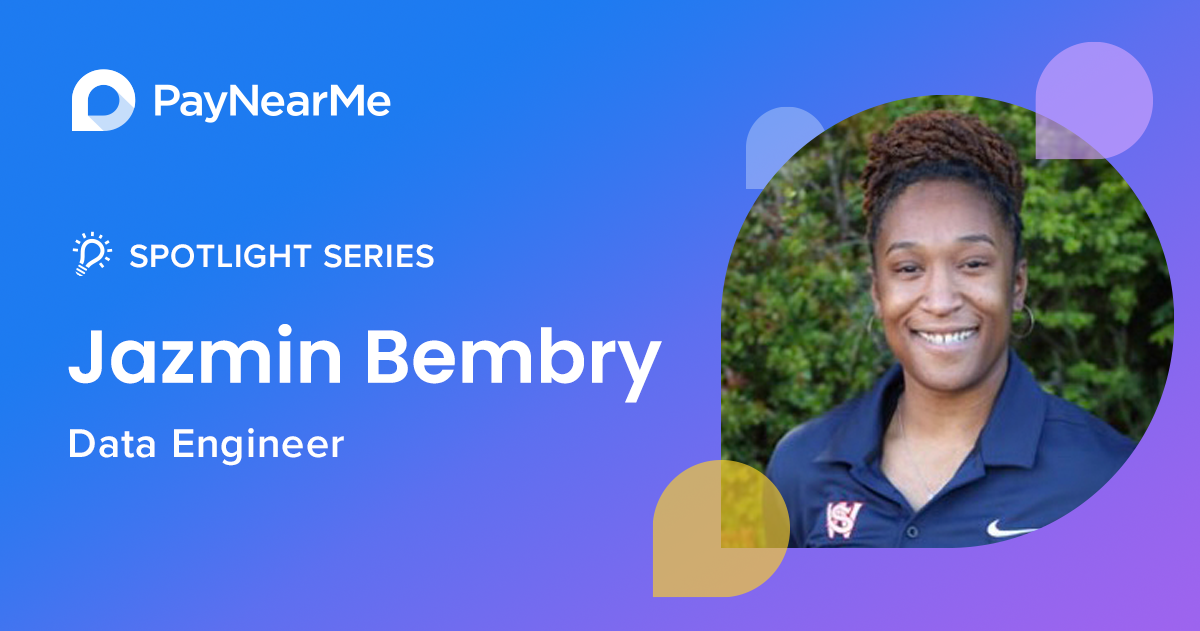 In the PayNearMe Spotlight series, we shine a light on the people that make our company thrive. In this month's interview, we sat down with Jazmin Bembry, Data Engineer, to chat about her role in the company, key projects and her role as Head Basketball Coach.
Q: Can you tell us about your career journey and what led you to PayNearMe?
Jazmin Bembry: Sure, I would say it has been a typical journey for my industry. Prior to receiving my degree, I held a Data Engineer internship position. I enjoyed the role in that it provided more exposure and experience in terms of just general engineering knowledge.
Once I received my Computer Science degree, I began my first full-time role as a Full Stack Engineer. About a year later, I joined the fintech space as a Data Engineer until I was referred to PayNearMe, and the rest is history.
Q: Have you always wanted to pursue a career in Data Engineering?
JB: The long answer is, no. As a life-long athlete, I truly thought I was going to be a Physical Therapist. The more popular career path for college athletes seems to be in sports medicine or coaching.
However, our basketball team's practice schedule made choosing classes difficult. Availability for certain courses was limited so as fate would have it, the only lab course available was Computer Science. At first my teammates and I took the class begrudgingly, but we soon realized we had a knack for it and really enjoyed our professor.
Q: How has PayNearMe helped you in your career development?
JB: In terms of my career development, PayNearMe provides me with the opportunity to work with a lot of new tools that I didn't have access to in previous roles. Although I didn't have the experience with this exact software, my manager had confidence in me to get up to speed quickly, and that helped me find confidence in myself to do so.
I appreciate the relationship I have with my manager and the guidance she provides. In addition to my daily tasks, my manager encourages professional development and continuing education. When choosing to come to PayNearMe, that aspect was important to me as I'm still relatively junior in my career.
Q: What are some of the courses and resources that you leverage for continuing learning?
JB: I've mostly worked with Snowflake and completed Snowflake University courses. As a team we will work with Looker and also complete Looker University courses. Snowflake University also hosted a conference in Las Vegas that we recently attended as a team. I feel fortunate that we have nurtured a culture of continuous learning here at PayNearMe.
Q: Do you have any advice to share with those who are just getting into the fintech industry who might want to join a company like PayNearMe?
JB: I would advise anyone looking to pursue any goal in a similar way–in terms of working to achieve a goal in life, surround yourself with other people that are already doing what you want to do.
Seek out peers and mentors who are already in fintech or whichever industry and replicate the steps they took to get there.
Q: You've been with PayNearMe for just over eight months. What are some of your favorite things about working here?
JB: My favorite part of PayNearMe is working with smart people who enjoy tackling tough challenges together. In my experience at PayNearMe, everyone is dialed into the goals we've set as an organization and works hard to achieve them. If there is an issue that needs to be addressed, it's reaffirming that so many on the team act as proactive problem-solvers to get the job done.
Q: Let's shift the focus to your role. What does a day in the life of a Data Engineer look like?
JB: My mornings begin in my home office running through various task lists throughout our software programs. I work to clean up my email and check off any administrative tasks such as, assigning roles and granting access as needed. We have a daily stand up, and it's our chance to levelset with the team and align on priorities and address any roadblocks.
For the remainder of the day I'm heads down resolving tickets and working with code, while listening to instrumental music to stay focused and productive.
Q: What are some things that you've learned about yourself while working at PayNearMe?
JB: Working at PayNearMe has helped reinforce what I already knew about myself. My mission in life has always been to empower myself and others, and I have the opportunity to do that in my role more often as my knowledge base strengthens. I'm looking forward to seeing our Data Engineer team grow and share knowledge amongst the group.
Q: So what about you—what kinds of activities or hobbies are you interested in outside of work?
JB: I'm the Head Women's Basketball Coach at Southwestern Oregon Community College, which takes up a significant portion of my time right now. The players arrive back on campus in a few weeks and we're gearing up for a new season.
In the off-season, I enjoy any and all outdoorsy things like, hiking, golf, working out, and trying new breweries in the area.
Q: Is there anything that you take from being a coach that you can apply to work?
JB: Yes, being able to take criticism and feedback has helped me the most, and I believe it's one of the most valuable traits in life. As a coach, I'm constantly giving feedback and guiding the players as their advisor. In my role as Data Engineer, I'm on the other end with addressing incoming change requests.
Another tool I've adopted is being flexible and open to change. As a coach, needing to think on my feet and pivot as situations change is critical to the success of our team, and also in my role as Data Engineer.
Q: Can you share about the shift in your role as a basketball Player to now as a Head Coach?
JB: I had about a five year gap between playing and coaching. The Athletic Director at SWCC who was my coach offered me my first coaching opportunity ever! In terms of that pivot, assessing the situations on the court from the perspective of both the player and coach has been valuable. I have the ability to coach the players and make them better for the team, not just as individuals.
Q: If you could do another job for just one day, what would it be?
JB: If I could have another job for a day, I think I would want to be a General Manager for a Professional Basketball team. I enjoy the back office, behind the scenes role where I can leverage my basketball knowledge.
Q: Any fun facts you could share with us?
JB: I think my most fun fact to share that we've already covered is that I am a Head Basketball Coach while working full time as a Data Engineer. The team is eager to get back in the gym and I will be juggling two full-time jobs. Go Lakers!