Spotlight Series: A Conversation with Jordan Winget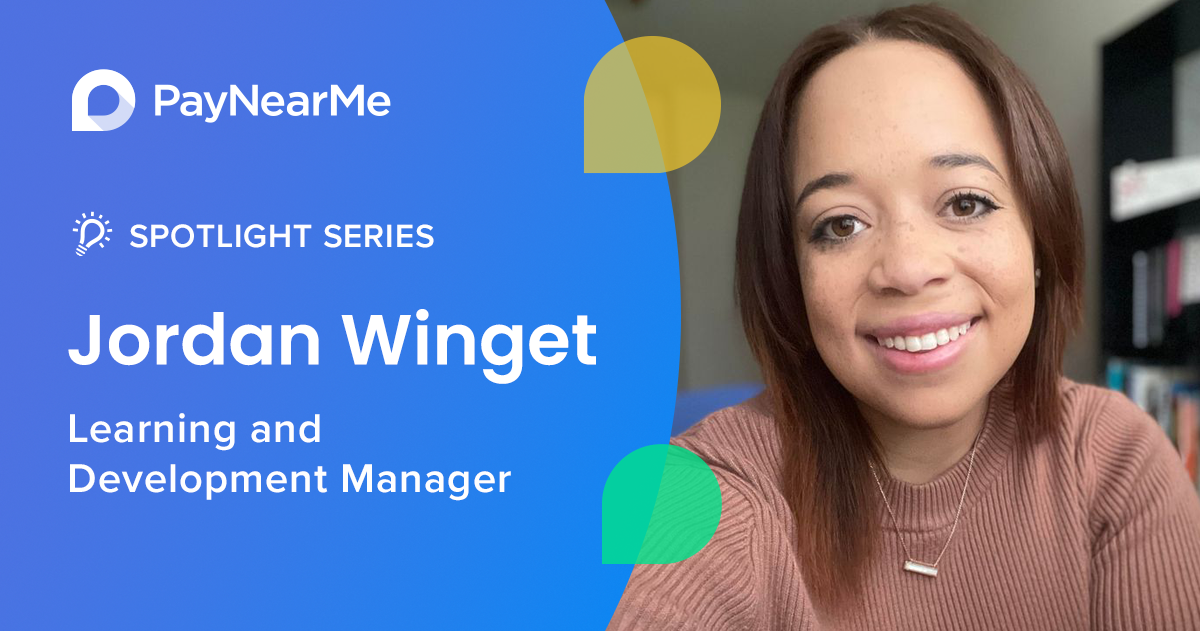 In the PayNearMe Spotlight Series, we shine a light on the people that make our company thrive. In this month's interview, we sat down with Jordan Winget, Learning and Development Manager, to chat about her role in the company, why she loves working at PayNearMe and her life outside of work.
Q: Can you tell us about your career journey and what led you to PayNearMe?
Jordan Winget: In my last role, I built the learning and development strategy and department from the ground up, and when it was time to move on, I knew I wanted to do that again. I found PayNearMe through a couple of my professional connections, and the rest is history!
Q: Have you always wanted to pursue a career in Learning and Development (L&D)?
JW: I've always had an interest and love for learning and teaching. Initially, I thought that meant I had to be in academia, and that's what I gravitated to early in my career. Eventually, I learned you can do the same type of learning, teaching and development in a more professional space, and that led me to pursue a role as a learning and development consultant.
Q: How has PayNearMe helped you in your own career development?
JW: We have the best leadership team that encourages us to go to conferences, take courses, obtain certifications etc. I've gotten great support to grow my L&D knowledge and even start working on a coaching certification.
Q: Do you have any advice to share with those who are just getting into the fintech industry who might want to join a company like PayNearMe?
JW: Do your research and learn as much as you can about the fintech industry, but more specifically, about the company you're interested in. As a Learning and Development Manager, understanding the payments industry helps me prioritize and build training programs for what my managers and colleagues that I'm partnering with care about.
Q: What are some of your favorite things about working at PayNearMe?
JW: My favorite thing about working at PayNearMe is the transparency. I love knowing what every department is doing and where we're going as a company; there are no hidden agendas. This is so helpful for me because it allows me to identify knowledge gaps and opportunities for new programs or content to set our team up for success.
Q: Let's shift the focus to your role. What does a day in the life of a Learning and Development Manager look like?
JW: My day starts by reviewing emails and messages. I get a lot of requests, so I start my day by evaluating requests and communicating with team members to ensure they get what they need.
I spend the rest of the day working on upcoming learnings: building out our new Learning Management System, finding guest speakers and conducting coaching sessions. I work with our new managers to help them overcome roadblocks and find resources and tools to set them up for success. I wrap up the day by planning for the upcoming day!
Q: Let's talk about remote work. How are you able to stay connected with your team virtually?
JW: My team has a pretty active group chat and that helps us stay connected. We also have weekly virtual face-to-face meetings. Once a quarter, we have "fun meetings" where we get the opportunity to put work aside for a little while and connect with each other on a more personal level, like building a gingerbread house or decorating cookies.
More broadly speaking, I'm a part of the DEI Council and the Engagement Committee, and that helps me stay connected to team members that are outside of my immediate team. Being a part of the DEI Council has been great because it allows us to come together as our most authentic self, and when people feel like they're accepted as they are, it naturally makes you feel more connected.
Q: What are some things that you've learned about yourself while working at PayNearMe?
JW: I've learned that I like challenging problems. I've also learned that it's really important to be efficient and tactical when I'm developing training or resources because those solutions ultimately make our team members' work lives more manageable and set them up for success.
Q: So what about you—what kinds of activities or hobbies are you interested in outside of work?
JW: As a mother with a child that plays just about every sport that exists, I spend all my free time on a field or a court! I also really love thrift shopping. It's fun to find something unique or snag a very expensive bag at a great bargain!
I also enjoy baking. I've been on a kick of trying out TikTok baking recipes lately, but to be honest, none of them have really turned out great!
Q: If you could do another job for just one day, what would it be?
JW: I would definitely be a stylist! I would love to shop for other people and get to find those really unique outfits for them.
Q: Any fun facts you'd like to share with us?
JW: I am a huge football fan and I am the co-chair of a board of a youth football organization. I ran the parent association for the team last year, and I guess I did so well that they asked me to be on the board.
Q: Do you participate in any volunteer work or have any organizations you'd like to shine a light on?
JW: With all of the time that I spend with my son's sports activities, I work a lot with some of the kids that need additional support. For example, I've helped with tutoring and feeding the kids on the teams. I once cooked and wrapped 150 hot dogs to feed our kids after practice. I definitely never want to see another hot dog again!