Spotlight Series: A Conversation with Princeton Baker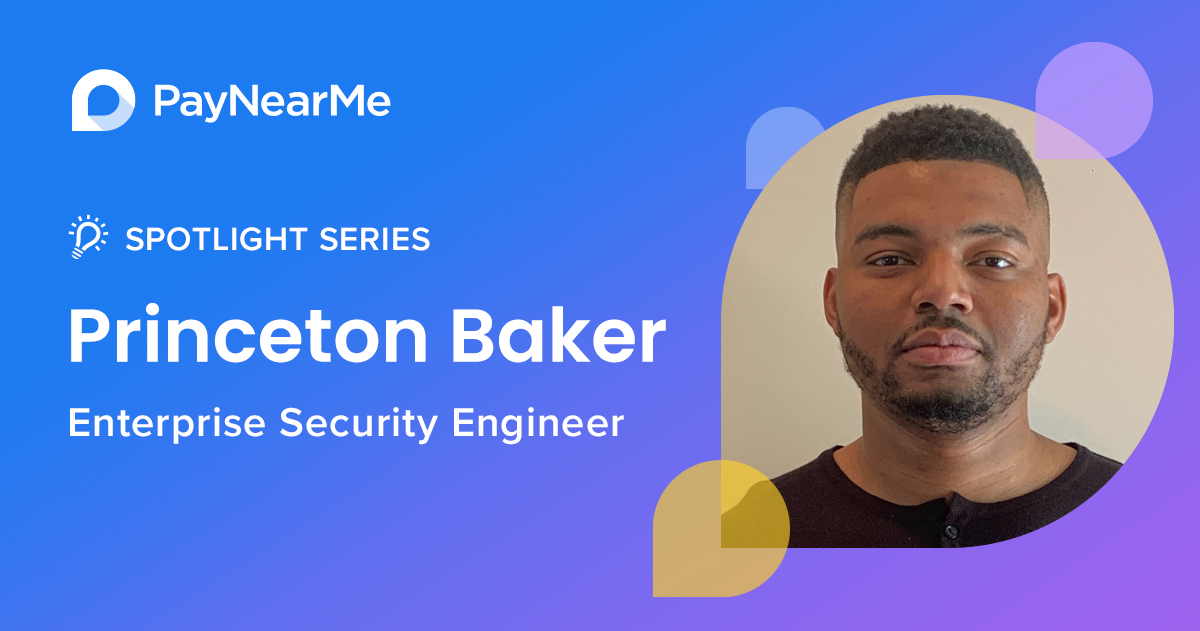 In the PayNearMe Spotlight series, we shine a light on the people that make our company thrive. In this month's interview, we sat down with Princeton Baker, Enterprise Security Engineer, to chat about his role in the company, key projects and his outlook for the future of the industry.
Q: Tell us about your career journey and what lead you to PayNearMe.
Princeton Baker: Before PayNearMe I was in the Navy for nine years, so my career journey has been a little different. I've traveled and lived in many states within the country and held several different titles. I was stationed in Washington, D.C. holding ceremonies for the Navy, spent two years on a tour patrolling in the Mediterranean, and then shifted to the medical field as a Corpsman. Following my experience in the Navy, I joined a coding bootcamp while in school full-time. That led me to joining a Coding Slack channel, Operation Code, where I discovered an open role for an Application Security Engineer at PayNearMe.
Q: How has PayNearMe helped you in your career development?
PB: PayNearMe has provided me the opportunity to learn, explore and create a space to ask questions. I've been encouraged by my managers to continue learning through LinkedIn certifications, and independent research which is a great feeling and a big reason why I love being here.
Q: Do you have any advice to share with those who are just getting into the security industry?
PB: Just go forward and have confidence in yourself to make it happen! I think what held me back in the beginning was the fear of not having all the answers right up front. Be courageous enough to jump out of your comfort zone and know that it's ok to make mistakes. I would also say that it's important to get comfortable with not always having the answer right away, but to use your resources and research techniques to figure it out quickly.
Q: You've been with PayNearMe for a year and a half. What are some of your favorite things about working here?
PB: I appreciate having the room to grow and learn every day. I'm always learning something and always looking to research something. I also enjoy the transparency that starts with our leadership team. During company All Hands our CEO, Danny Shader, is happy to take questions and speak candidly to the team. I truly respect the transparency and open communication that our team is committed to providing.
Q: What does remote work mean to you and how has it impacted your career?
PB: Having never had the option for remote work during my tenure in the Navy, working remotely for PayNearMe has provided me the space to balance family life at home with my career. Of my two sons, one is Autistic so having a flexible work schedule means I can take him to his daily therapy sessions. My other son attends Science Academy and without a remote position, that would be a challenge.
Q: April is Autism Awareness Month. Is there anything you would like to share to help shed a light on, or spread awareness on?
PB: Don't be afraid to go with your gut if you're seeing anything that looks or feels off with your child. My best advice to anyone going through a similar situation is to be patient, and listen. Take it one step at a time and don't compare your situation to others. No child will fit a specific mold.
Q: Is there anything upcoming in terms of additional industry wide security measures or findings that you can share?
PB: Threat actors are changing their tactics and will go to great lengths to beat anti-virus software. Be on high alert for hackers who are targeting individuals for credentials in exchange for money or other malicious intent.
Q: Let's shift the focus to your role. What does a day in your life look like?
PB: A day in the life of an Enterprise Security Engineer consists of about 75% independent work of reviewing logs, researching and troubleshooting issues that arise. My role includes laptops and everything that lives on a laptop, hardware and software. 25% of the role would be collaborating with my team, which I feel is a good balance for me.
Q: What are some things that you've learned about yourself while working at PayNearMe?
PB: I've learned that I've gotten efficient at learning and troubleshooting quickly. Figuring out issues on the fly and carefully researching. I've been fortunate to build a network of Senior Engineers during my career that I can reach out to regularly for guidance on issues that arise.
Q: What has been your favorite project or one of your most favorite moments, and why?
PB: My favorite project was rolling out Okta to the organization. Okta for those who don't know is a cloud software solution that helps PayNearMe manage and secure user authentication into applications, and for developers to build identity controls into applications, website web services and devices. The project was a labor of love. It was quite challenging but it was a proud accomplishment for me at PayNearMe.
Q: So what about you—what kinds of activities or hobbies are you interested in outside of work?
PB: Working out is my therapy and happy place. I have a mini-gym in my garage and it's something that I really enjoy doing daily. Aside from that, my family loves to spend time outside going for walks. My wife and I take our sons to a local play center that is great for children with Autism.
Q: Are you involved in any industry organizations?
PB: In addition to the Slack channels for Engineers, I'm a member of the Open Web Application Security Project. OWASP is a non-profit foundation that works to improve the security of software for its tens of thousands of members and is the source for developers and technologists to secure the web.
Q: If you could do another job for just one day, what would it be?
PB: If I could have another job for one day, I would be an Orthopedic Surgeon. During my time in the Navy as a medic, I enjoyed treating and tending to trauma related injuries. The human body is like a computer in a way and I find excitement in troubleshooting and repairing it.
Q: Wrapping up our conversation today, as a member of the DEI council, can you share why you wanted to join, and how your experience has been?
PB: Many companies claim to be veteran friendly but are not. I wanted to join the DEI council to ensure we are creating a community at PayNearMe that is open to all backgrounds and advocates for our fellow veterans.