Spotlight Series: A Conversation with Sean Todd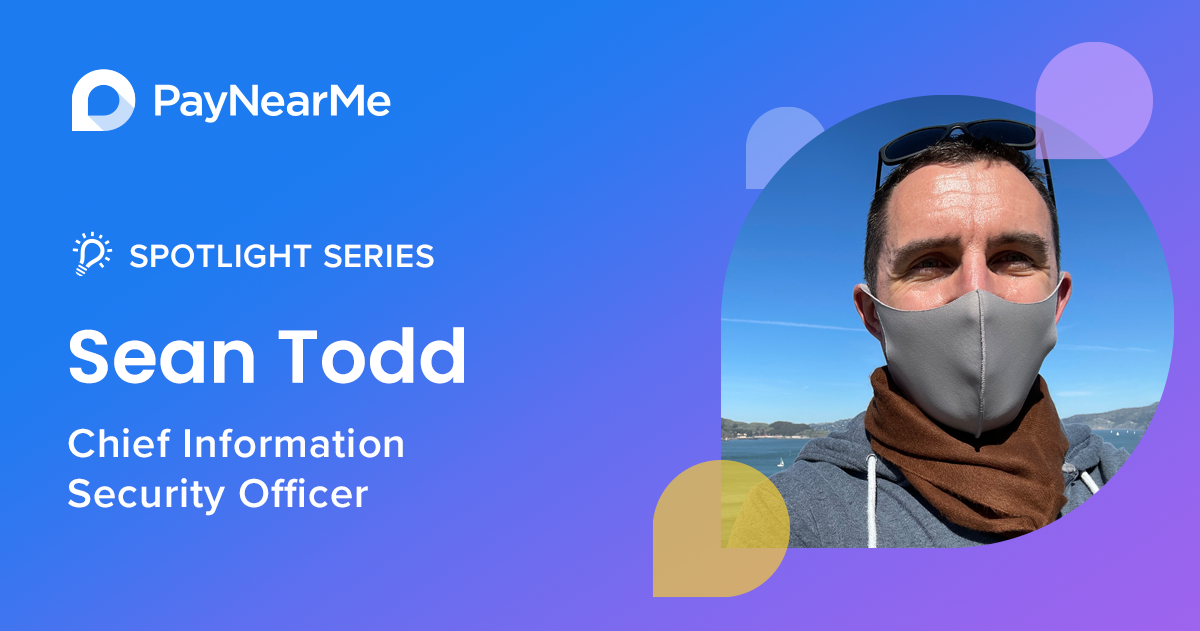 In the PayNearMe Spotlight series, we shine a light on the people that make our company thrive. In this month's interview, we sat down with Sean Todd, CISO, to chat about his role in the company, key projects and his outlook for the future of the security industry.
Q: Tell us about your career journey and what lead you to PayNearMe.
Sean Todd: I first joined PayNearMe a little over 10 years ago and I loved working here from the start. There was an immediate family atmosphere because so many people had worked together at past companies, and I was actually the first person hired who wasn't brought on as a referral. From there I grew my career in software development and security, guiding PayNearMe through its first security audits. I left the company in February 2016 to start a security program at another startup but rejoined PayNearMe two and a half years later in mid-2018.
Q: How has PayNearMe helped you in your career development?
ST: PayNearMe took me in as a junior developer and allowed me to expand my curiosity about security to a full career path. The senior engineers and managers here have always been incredibly helpful and willing to share their past experiences in the tech industry.
I will forever be grateful for the chance they gave me to learn about security at another company and be welcomed back here with open arms.
Q: You've been with PayNearMe for an impressive eight years! What are some of your favorite things about working here?
ST: The team I work with will always be at the top of my list for reasons to work at PayNearMe. We have a CEO who truly cares about the employees here. We also have senior management who is invested in growing the careers of every team member.
Aside from that, the benefit of PayNearMe being a fully remote company cannot be overstated. My morning commute is all the way from my kitchen to my home office. After riding Caltrain for a couple of years, I greatly appreciate not having a real commute to worry about.
Q: In addition to your role as CISO, you've been active with our DEI Council. Can you share your experience?
ST: We have an active DEI Council with lively discussions on how we can continue to diversify the workforce here at PayNearMe. We are committed to ensuring all employees feel a sense of belonging and appreciation for the unique individuals they are. We are also working on spinning up ERGs (Employee Resource Groups) to provide team members the space to hear from peers just like them.
Q: The security space has so much complexity. How'd you get started in this industry, and what is one thing you'd like those unfamiliar with the nuance to know?
ST: I got started in security as a career almost by accident. Early on in my tenure here, there was a major vulnerability posted for the software framework we used. I happened to be the engineer who jumped on it and helped resolve the issue quickly.
Coincidentally, PayNearMe was just getting into a regulated money space and needed to better formalize the security program. Our team built up the initial security program and got us through our first ISO27001 audit.
A nuanced thing about security that people unfamiliar with it should know is that there is no such thing as perfect security. That doesn't mean there cannot be great security programs like ours, it just means that everyone needs to maintain vigilance.

In the world of security, we need to be right 100% of the time. Bad actors (A cybersecurity adversary that is interested in attacking information technology systems) only need to be right once so having everyone on the lookout is a critical layer of security.
Q: Let's shift the focus to your role – What does a day in the life of the CISO look like?
ST: A large part of my day centers around being the interface between our fantastic security team and the rest of the company. I help to make sure that all of my security team members have the resources they need to complete their projects. There is also a lot of work around evaluating different technical risks to the company and determining the best way to mitigate those risks.
Q: What are some things that you've learned about yourself while working at PayNearMe?
ST: I learned during my time at PayNearMe that I can actually manage people. When I began my career as a software developer, I never imagined I would be leading a team someday. My managers here have also helped me learn to pace myself so I don't get burnt out. My manager once said he felt like I was "all gas and no brakes," but now he views me as steady and reliable enough to lead our security efforts.
Q: Can you share about the newly formed LGBTQ+ ERG program at PayNearMe?
ST: We just started our newest ERG focused on the LGBTQ+ community and their allies. We are going to be hosting a few talks throughout the year to educate the broader community on issues affecting that community.
We are looking to bring in a speaker who can talk to the whole company about issues surrounding intersectionality. That is an area of DEI that many people aren't fully aware of, and we'd like to help them understand how each individual is affected differently based on their characteristics.
Q: What have you been most proud of during your tenure at PayNearMe?
ST: I am most proud of building up a great security and audit team. Without them I wouldn't be able to sustain our stellar security program!
Q: So what about you—what kinds of activities or hobbies are you interested in outside of work?
ST: Outside of work, I love cooking and enjoying the outdoors. I only live about a half mile from my city's main park so I'm able to take an evening stroll through there whenever I'd like. Aside from that, I like to spend time with my dog Tigger.
Q: If you could do another job for just one day, what would it be?
ST: Software development. I miss getting my hands dirty and working directly with the code. It is still fun to see the pieces of our software I developed so many years ago live on and evolve as the requirements change.
Q: Any random fun facts you could share with us?

ST: My go to fun fact: I have a twin brother who looks nothing like me and we're geminis.