Spotlight Series: A Conversation with Staci Barbee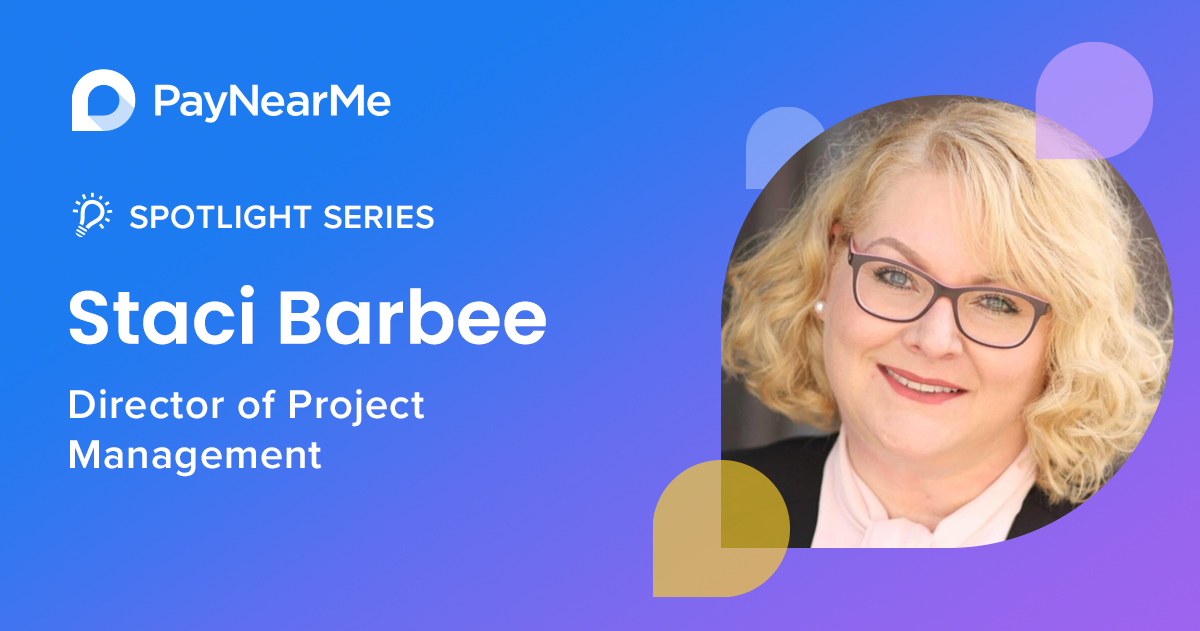 In the PayNearMe Spotlight series, we shine a light on the people that make our company thrive. In today's interview, we sit down with Staci Barbee, Director of Project Management, to chat about her role in the company, key projects and her outlook for the future of the industry. 
Q: Tell us about your career journey and what lead you to PayNearMe.
Staci Barbee: I have over 20 years of experience in payments, and I am passionate about fintech. I was drawn to PayNearMe six years ago because at the time, the company was still in the early stages, and I really wanted to join a team that was highly innovative but also offered some flexibility. I began my journey here as an account manager, mainly focusing on municipalities and government accounts, and over time had the opportunity to manage all verticals. I eventually joined the gaming team, and I absolutely love gaming!
Q: How has PayNearMe helped you in your career development?
SB: PayNearMe has been extremely helpful in my career development. I started as an account manager, then moved into a Senior Account Manager role, which eventually led to being a Director of Project Management. Today, PayNearMe has helped me find my niche with gaming. I never envisioned having a career focused on gaming.
When an Account Manager opportunity opened on the gaming team, Mike Kaplan, our Chief Revenue Officer, asked if I'd be interested in the opportunity. I know payments and fintech, but I didn't know gaming. Mike Kaplan and Kevin Nanzer took me under their wing and began teaching me everything about gaming. I researched the gaming industry through various publications and on LinkedIn to bring myself up to speed. PayNearMe has provided me with a fantastic career in a growing, exciting vertical.
Q: In the spirit of Women's History Month, do you have any advice to share with young women who are just getting into the fintech space?
SB: So, what I would say is go for it! Make sure you understand fintech and be aware that you could pursue various roles in fintech. Don't be afraid to create your own voice by speaking up and sharing your experience with others.
Q: What are some of your favorite things about working at PayNearMe?
SB: Have you met our CEO? Let's just say I think Danny Shader is awesome, and I can't say that about every company I've worked for. Danny cares about all PayNearMe team members, and he's very personable. I value that he is highly transparent from the very early stages to where we are today. I really take pride in being part of the PayNearMe success story and look forward to continued growth.
Q: What does remote work mean to you and how has it impacted your career?
SB: With the transition to remote work, I had to adjust to becoming a remote employee. I realized that being successful in my role doesn't require me to be in an office as there are so many tools available for you to connect and engage with the team.
PayNearMe's HR team has done a fantastic job hosting virtual events and connecting people with one another during the transition period. Our slack channels are lively, and I mean, how often do you see a CEO regularly join in on slack conversations? I love how regularly Danny will engage with the team to make us feel connected while sitting at our desks all over the country.
Q: What excites you most about the online gaming space?
SB: When I started working on this vertical, I had a lot to learn and had to be a good listener. I was aware that the Supreme Court had struck down the sports protection act in 2018, and with that, I knew that there was a massive opportunity in gaming, and more states would begin legalizing sports betting. The most exciting thing about gaming is that the operators will continue to seek and embrace new technologies like PayNearMe's MoneyLine™ product.
Q: Let's talk about MoneyLine™. What are clients saying about it?
SB: We introduced MoneyLine™ last year, and it is a one-of-a-kind payment suite. MoneyLine™ is unique and offers users a frictionless experience. We recently received feedback from one operator stating, "Wow, this is a game-changer." Another one of our operators said, "This is dangerous!" It's exciting to be on the other end and hear our operators share such positive feedback. With that momentum, I am excited about what's to come in the near future.
Q: Let's shift the focus to your role. What does a day in your life look like?
SB: I wear many hats at any given time. I'm responsible for knowing the health and status of all projects in my queue and communicating updates to our operators or stakeholders. I often refer to my role as "herding cats," and I laugh because sometimes I can come in and have a schedule in place, but everything reshuffles. But that's what keeps my job exciting. And what is impressive about our team is that we indeed are a team. No matter your role, you will not be successful without your team members.
Q: What are some things that you've learned about yourself while working at PayNearMe?
SB: I have learned to speak up for myself. When I came to work for PayNearMe six years ago, I was shy and a little more reserved. I started coming out of my shell over time, and once I joined the gaming team, I quickly realized, what shell?! I'm not stuck in a shell anymore. I really work hard to participate, and I realized how much I actually enjoy being more outgoing with the team.
Q: What has been your favorite project or one of your most favorite moments, and why?
SB: One of my favorite moments was joining the gaming team and realizing it didn't matter how much payment experience I had; I was learning an entirely new field. I challenged myself to let my team members take the lead as I ramped up to understand a new vertical. I was leaving a team where I was very familiar but ready to embrace the challenge. I was highly determined to learn about all the different regulations in gaming and found the process to be extremely rewarding and enjoyable.
Q: What have you been most proud of during your tenure at PayNearMe?
SB: I'm most proud of joining and supporting the gaming team, but it's more than just pride—I genuinely enjoy helping people. Whether it's supporting my team, training a new employee or helping our customers, I'm delighted and grateful to do it. Also, I enjoy checking an open task off of my list, which is why I am suited for this role. Even though I have many projects in the queue, I'm constantly accomplishing tasks, which is a great feeling.
Q: So what about you—what kinds of activities or hobbies are you interested in outside of work?
SB: I enjoy cooking as long as it's not a chore, and if I can do it in my leisure time. I'm not a fancy cook, but I love homestyle cooking, creating new dishes and taking culinary classes. I have registered for upcoming courses to learn how to make five pies from around the world and a potsticker class. Another passion I enjoy is camping. I have camped all over Northern California. We have a ten-day trip planned to visit Mount Zion and Bryce Canyon in Utah in our travel trailer at the end of summer.
Q: Are you involved in any industry organizations?
SB: I recently joined a couple of groups on LinkedIn, Women in Gaming Diversity and Global Gaming Women. It will be imperative for me to connect with other women in the gaming industry. I know it's uncommon for women to work in gaming; however, it is becoming increasingly popular. It would be an excellent opportunity for me to network with other women in this space, and it is a top priority for me this year.
Q: If you could do another job for just one day, what would it be?
SB: I'm always in Mom mode, so if I had to choose another career for one day, I would spend the day just being a great mother and doing something fun with my adult kids.
Q: Any random fun facts you could share with us?
SB: Growing up, I wanted a career in law enforcement and almost became a police officer. I participated in a training program at the San Francisco Police Academy. After my first ride-along, I decided that wasn't the type of work I wanted to do. I wanted to go out there, make a difference, and leave an impression on others; however, after being in the field, I realized police officers have a tough job, and it was not the right fit for my personality.
Q: Do you have anything else you'd like to leave us with before we wrap up today?
SB: I'm pleased to be here at PayNearMe. I'm not saying that my entire experience has been seamless, but whenever an issue has come up, PayNearMe is quick to resolve whatever the problem is in a caring and thoughtful way. I believe that PayNearMe truly wants me to be happy.