Spotlight Series: A Conversation with Trinity Van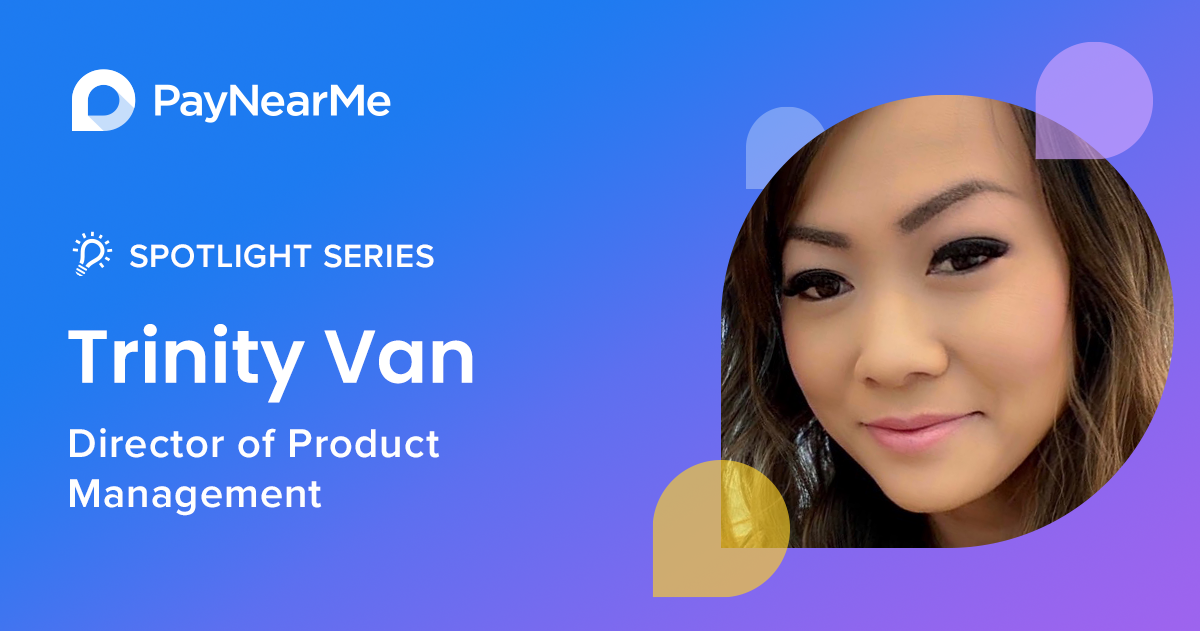 In the PayNearMe Spotlight series, we shine a light on the people that make our company thrive. In this month's interview, we sat down with Trinity Van, Director of Product Management, to chat about her role in the company, key projects and her hobbies outside of the payments industry.
Q: Can you tell us about your career journey and what led you to PayNearMe?
Trinity Van: I started out in the payments industry about 10 years ago at a large company supporting the money transfer and payments group. Soon after, I switched to the product team because I wanted to make a bigger impact on the product itself. Having the ability to create and roll out new products to the market was exciting for me!
I wanted to choose my next role carefully and thoughtfully. I did a lot of background research on PayNearMe, and I thought it was a good fit for me from both a company culture perspective and a product perspective.
I was most excited about joining PayNearMe because of the volume of releases we produce annually. Rolling out a product in a very fast-paced environment while maintaining a supportive, dialed-in team was thrilling.
Q: How has PayNearMe helped you in your career development?
TV: I've met a lot of great people across many teams in the company, especially being involved in the PayNearMe Women in Leadership group as well as the Women in Product Group. Meeting people with similar interests and goals and receiving guidance on career advancement has been helpful.
I feel very supported in my role. My voice is heard across the Engineering team and Product team, and I'm supported by not just my manager, but also by my colleagues. Receiving praise and recognition for projects that I work on goes a long way and is so appreciated.
Q: Do you have any advice to share with those who are just getting into the fintech industry who might want to join a company like PayNearMe?
TV: My advice is that I'd recommend working for a smaller company because you have the opportunity to get in the weeds with the work you produce and gain more visibility across the organization.
In a smaller company environment you can expect to work hard, but it's incredibly rewarding to see the product development throughout the whole cycle–from ideation to rolling it out to a merchant. Seeing the product live and making an impact in the market is exciting!
Q: You've been with PayNearMe for just over a year. What are some of your favorite things about working here?
TV: I've enjoyed all of our virtual events that were offered throughout the pandemic. Despite being remote, virtual events allowed the team to come together and get to know those outside of our daily teams.
Another perk about working at PayNearMe is definitely the leadership team. Everyone is open and honest about answering any and all questions. When joining an All Hands meeting, you truly feel the sentiment in "All Hands". Participation is lively and the team is genuinely engaged. It's pretty exciting because this environment is not what you see when working at a much larger company.
Q: Let's shift the focus to your role. What does a day in the life of a Director of Product Management look like?
TV: We focus a lot on the strategy of where we want to take our products, and researching what's new and upcoming in the market that might make sense for our product. We strategize the level of need for a product and the effort involved to execute on it. I spend a lot of my time thinking of what the next best thing could be and what it would take to make it a reality for PayNearMe.
Q: What are some things that you've learned about yourself while working at PayNearMe?
TV: I've learned that when working cross-functionally, it's incredibly important to stay organized and realistic with timelines. I've noticed that when I have to commit to a deadline, I can be too aggressive with expectations.
I can sometimes overcommit to our internal partners without fully considering competing priorities and team bandwidth and have since improved my practice of communication with other internal teams to get projects complete in a timely manner.
Q: So what about you—what kinds of activities or hobbies are you interested in outside of work?
TV: I really enjoy wedding planning as a hobby. I've found that I'm quite good at floral arrangements and offer to help with weddings for friends and family. I can design anything wedding related– centerpieces, everything floral I can create.
I also love to travel. I try not to stay in my home state of Colorado for more than one month at a time. My two young girls, my husband and I especially enjoy Southern California for its delicious Asian food and of course, Disneyland. We try to visit a new place every year and are looking forward to resuming international travel again soon.
Q: If you could do another job for just one day, what would it be?
TV: I would love to own a floral shop. Designing floral arrangements for events would be so much fun. I have to say, I'm not so interested in the gardening aspect, but the art and creativity that goes into arranging the perfect floral display is such a passion of mine.
Q: Any random fun facts you could share with us?
TV: For a random fact, I'm a huge fantasy football fan. I'm pretty sure I'm the only woman I know who participates in any of the fantasy football leagues at our company. Outside of our company league, I've won fantasy leagues three years in a row for other groups.
Q: Anything else you would like to share before we wrap up today?
TV: I really enjoy working here on the Product Team. I love the flexibility that remote work provides, and that I can work around my daughters' school schedules. That flexibility means a lot and was a huge driver in why I came to work at PayNearMe.