Think Like a User & Break Things: A Conversation With QA Manager Anshu Modi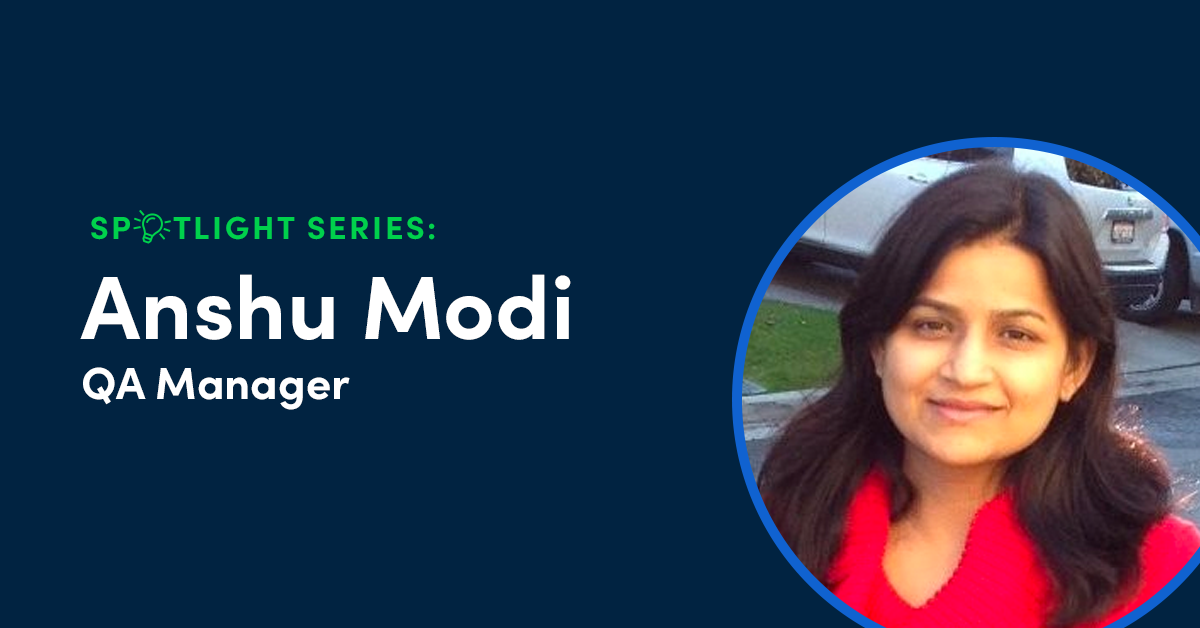 In the PayNearMe Spotlight series, we shine a light on the people that make our platform thrive. In today's interview, we sit down with QA Manager Anshu Modi to chat about her role in the company, key projects and her outlook for the future of the industry. 
Q: Tell me a little about yourself and your role.
AM: I joined PayNearMe in 2014 as a QA Engineer, and was promoted to QA Manager this past year. I work with what's called the Numbers team, which handles the engineering for all of our accounting, compliance and other critical components of the platform.
Numbers is about more than just accounting and simple math. There's a lot of compliance that is involved. As a payments company, we need to make sure that only the correct payments go through, that these payments are accounted for down to the penny, and that millions and millions of transactions go through without flaws. It's so important that QA ensures every feature launched is tested thoroughly and meets our standards, because the stakes are so high.
Q: For those who don't really know anything about QA—what does it entail?
AM: At PayNearMe, both Developers and QA are responsible for the quality of the product. The two groups create and execute both automated and manual test suites that are run against every release. We are proud that we have 95% automated coverage but nothing beats humans for spotting new problems. Since we are a payments company we think this extra effort is warranted.
Our job is to make sure every feature pushed to production meets PayNearMe's quality standards.
Q: How do you know what to test?
AM: It starts with the requirements that the product team creates. They give us the initial list of things that need to work for the clients and users, which is usually a great starting point. We then create our "test cases" which cover specific scenarios for the QA team to test. We then present these cases to product and engineering and use their feedback to develop even more test cases.
Communication is critical, especially between the product, engineering and QA teams. It must be crystal clear what the intended feature should accomplish, so that when we ship the final product it is the best it can possibly be.
Q: It seems like there are many scenarios that could break a feature. How do you make sure you cover all of your bases?
AM: Absolutely! Developers tend to focus on smart, efficient ways of writing code to solve the problem at hand. But as QA, we have to think like a consumer. We need to get creative and try to break things, putting ourselves in the shoes of anyone who could be using this feature.
It's a requirement that in QA, you need to be able to think outside the box and have consumer empathy—we need to consider not only the positive use cases, but the negative ones as well. What different ways will customers use this? What could go wrong? We try to cover as many scenarios as possible to make sure features don't break when deployed to millions of users.
Q: Any memorable feature launches that come to mind?
AM: As you know we ship a lot of features every year, so we're always pushing ourselves to understand different use cases, customer roles, etc.
One particular feature that comes to mind was the development of our PayNearMe Business Rules. This feature is difficult to envision, because by nature it allows you to change the way the platform works. So, the use cases can span beyond your wildest imagination.
We had to make sure this feature lived up to its potential as a way to customize and configure the platform, without allowing it to break other working features.
Q: Staying with Business Rules for a moment. How do you even get started with a feature like this – something innovative that doesn't exist on the market, and doesn't have a lot of documented test cases?
AM: I have to give a ton of credit to our Product team for this one. They spend a lot of time speaking with the customers, planning different use cases, and understanding exactly what customers actually want. They use this information to build a detailed blueprint, that then gets reviewed in depth with engineering and QA.
Even though it's something new, we still follow a tried and true path of planning, communication and constant feedback to ensure the highest quality feature comes out at the end.
Q: In order to properly QA the product, it seems like you need to know more than just the code?
AM: Yes! It's a balancing act. We have to be intimately familiar with the code, but there's also understanding user experience, accounting, compliance rules, and much more. For example, on the accounting side, our company moves billions of dollars a year. You can't allow small mistakes through when you're dealing with millions of people's money.
It's important to understand all the inputs going into the QA of a feature, and that's why communication and asking the right questions is so important.
Q: OK, let's talk about the future of fintech and payments. What trends are you looking forward to?
AM: I think one of the most important trends I read about is the role of AI in financial services, and in QA. Understanding all the different inputs from customers—how they use technology, past payment behaviors, device usage, social and user behaviors—all these data points help to develop more unique technology products that are customized to each customer.
Bots are also becoming really interesting. We're seeing less human interaction with technology products, but consumers still expect instant help. Technology like chatbots are becoming better at servicing a growing number of consumer inquiries, automatically.
Q: Do you think you could use AI to help you in the QA process?
AM: Most likely it will in the future. We really don't know how AI will affect QA, but as the technology progresses, we'll have to understand if we can use artificial intelligence to develop more use cases, identify bugs faster and offer insights that help us ship even better features.
Q: What about you—what kinds of activities or hobbies are you interested in after work?
AM: I am into hiking, and I have a close group of friends that go on hiking trips with me. We have done some really interesting treks together. We recently did Mount Whitney in California, we have hiked Mt. Kilimanjaro, we have done Everest base camp, and many others. Hiking is one of my favorite de-stressors.
I also love to run; I have completed several half marathons. And cooking. I love to cook!
Q: Anything else you want to share?
AM: I really do love working at PayNearMe. It's a fun place, where you enjoy your job and you're not very stressed. Not to say there's not stressful work or situations, but the team is so amazing, and the structure is so sound that you always know what you need to do to be successful. All the different teams I work with are amazing, and I want to end with this: It's by far the best place I've worked at.
Q: Thank you for sharing, this has been really interesting!
AM: Thank you, it was my pleasure.