New Payment Data Gives Insight into Consumer Bill Payment Behavior During COVID-19
Analysis of millions of bill payments made by U.S. consumers between March 1 and April 17 reveal three payment trends during pandemic.
Payment volume through the PayNearMe network rose dramatically — up to 40% above our expectations based on historical volumes — after the first stimulus checks reached consumer bank accounts.

Debit card and ACH payments skyrocketed to nearly 50% above expectations days after the stimulus program direct deposits began.

The largest increases relative to our expectations were for rent and auto loan repayments.

In-person cash payments persisted, suggesting their necessity in spite of social distancing and shelter-in-place mandates.
SANTA CLARA, CA, Tuesday, May 12, 2020 — New payment data from PayNearMe, the modern and reliable payments platform, reveals which payments took priority and which tender type consumers used to make those payments during the first weeks of COVID-19. Automated Clearing House (ACH) transfer and debit card payment volume increased, presumably because of perceived safety as consumers complied with shelter in place orders. Cash payments defied media narratives and remained relatively steady as a bill payment method.
Analysis of a statistically significant sample of millions of bill payments made by U.S. consumers between March 1 and April 17 revealed three clear trends: 
1. Auto loan payments persist — and cash remains important
During the first weeks of the COVID-19 shutdown, March 15-April 9, auto loan payments on our network remained fairly steady despite stay-at-home orders and bleak economic forecasts. ACH payments held at 90% of past volume, debit card payments hovered just above 80%, and cash payments retained at 78% of past levels. Cash payments stayed relatively stable, enabling consumers without electronic options to make payments.
"Although some media have reported the pandemic will kill the use of cash, our data shows the opposite. A significant portion of the American population is un and underbanked, and many of them need to pay their bills with cash.  This crisis demonstrates once again the importance of allowing consumers to pay their bills using whatever form of tender is most convenient for them." said Danny Shader, Founder & CEO, PayNearMe.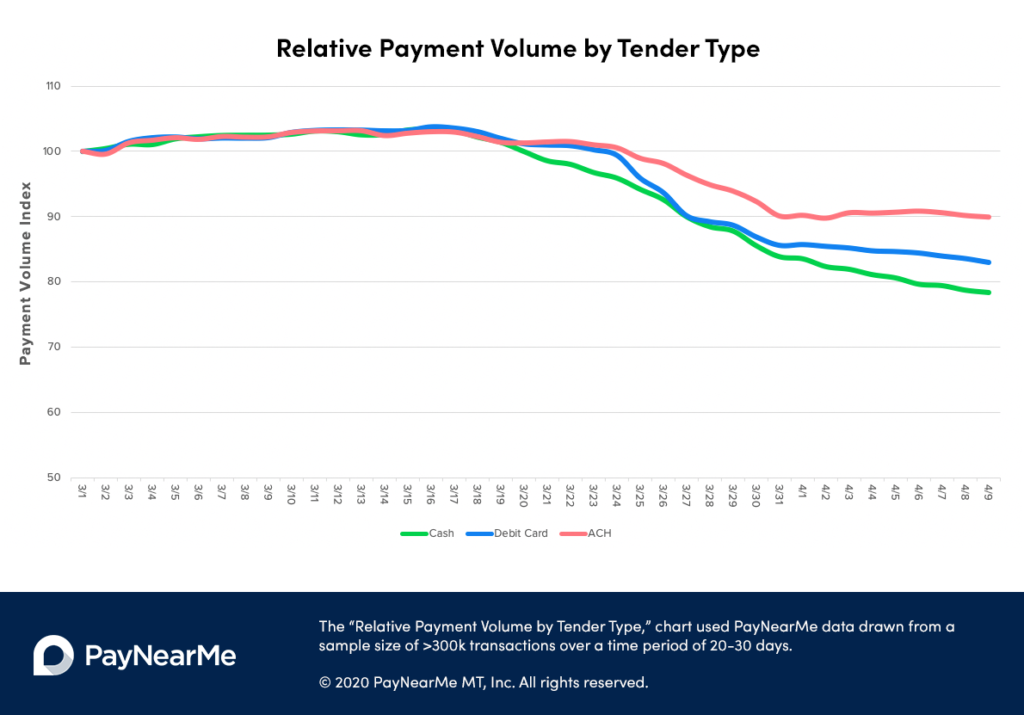 2. Stimulus money prompts big jump in bill payments, especially for rent and loans
Payment volume on our network rose dramatically — up to 40 percent above expectations — after the first COVID-19 stimulus checks reached consumer bank accounts between April 11-17. The largest share of payments were for rent and the repayments of auto & personal loans, with a small bump in utilities. Payments to the government (e.g. child support) remained slightly below expectation.
"Direct deposit stimulus checks had a clear impact  on bill payments ," said Shader.  "We'll continue to monitor and report trends over the coming months."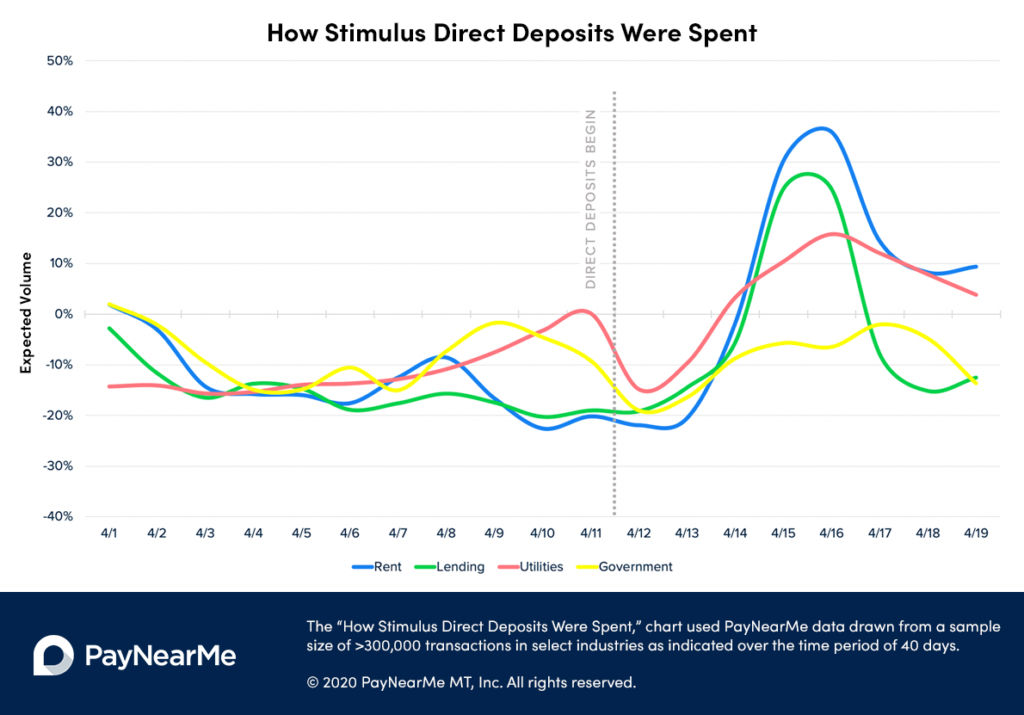 3. Direct deposit fuels ACH and debit payments for auto loans
ACH and debit card payments on our network skyrocketed to nearly 50% above expectations days after the stimulus program direct deposits began. "This matches our intuition,  since electronic deposits in consumers' bank accounts can be converted easily into electronic payments," Shader said. "Interestingly, cash payments also saw a boost, leading us to believe that some consumers may have converted their direct deposits into cash." 
"The government is continuing to mail stimulus checks to millions of Americans," he continued. "This distribution is estimated to happen over several months, so while we saw a sharp spike in electronic payments with direct deposit distribution, we expect the cash payments curve to be more spread out as stimulus checks reach consumers who will cash them before paying their bills."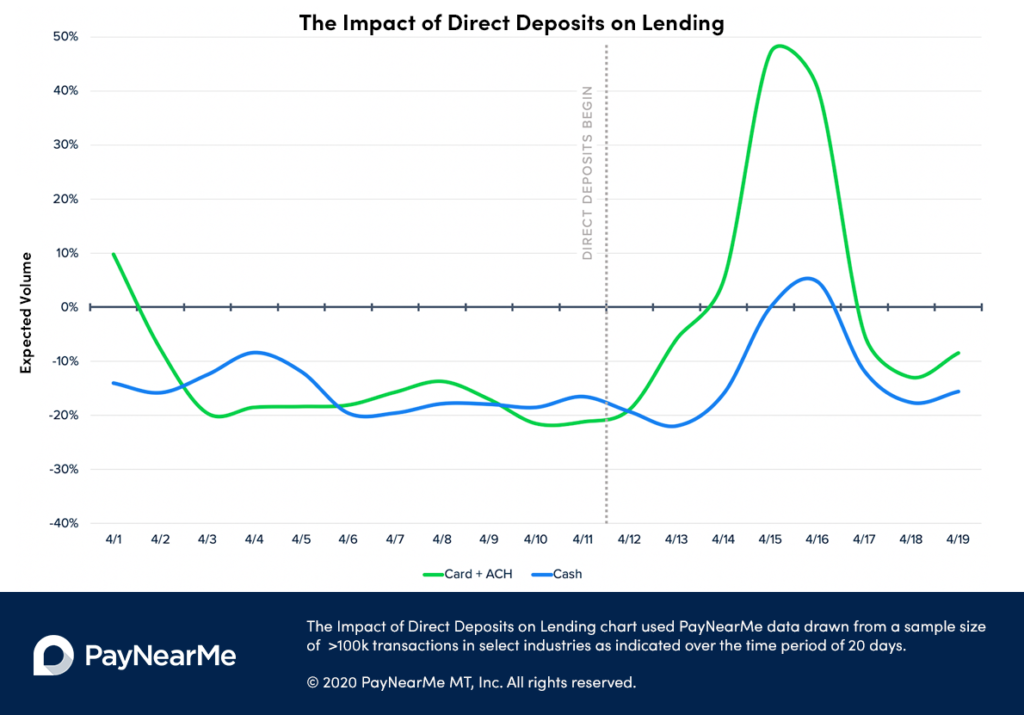 About The Data
The PayNearMe charts and data are available for public use, with attribution to PayNearMe. Each depiction has a statistically significant sample size of payments between March 1 – April 17, 2020.
PayNearMe continues to monitor payment trends and will update the COVID-19 Payment Trends site with data as available.
 About PayNearMe
PayNearMe is the industry's only platform that facilitates cards, ACH, cash and mobile-first payment methods including Apple Pay. Our technology provides a simple way for businesses to collect all of their payments through an intuitive, consistent experience for their customers.
PayNearMe processes payments for thousands of businesses and government agencies including the State of California, Oportun, Grameen America, Santander, United Auto Credit, Westlake Financial Services and OneMain Financial, among others.
PayNearMe has powered cash payments since 2009, and today is accepted at over 27,000 retail locations in the U.S. including 7-Eleven®, Family Dollar®, Casey's General Stores® and ACE Cash Express® stores.
To learn more about PayNearMe, please visit www.paynearme.com. Follow PayNearMe on Twitter, LinkedIn and Facebook. The PayNearMe service is operated by PayNearMe MT, Inc., a licensed money transmitter.
© 2020 Handle Financial, Inc. All rights reserved. Handle Financial and PayNearMe are trademarks or registered trademarks of Handle Financial.