Are You Prepared for the New Nacha WEB Debit Account Validation Rule?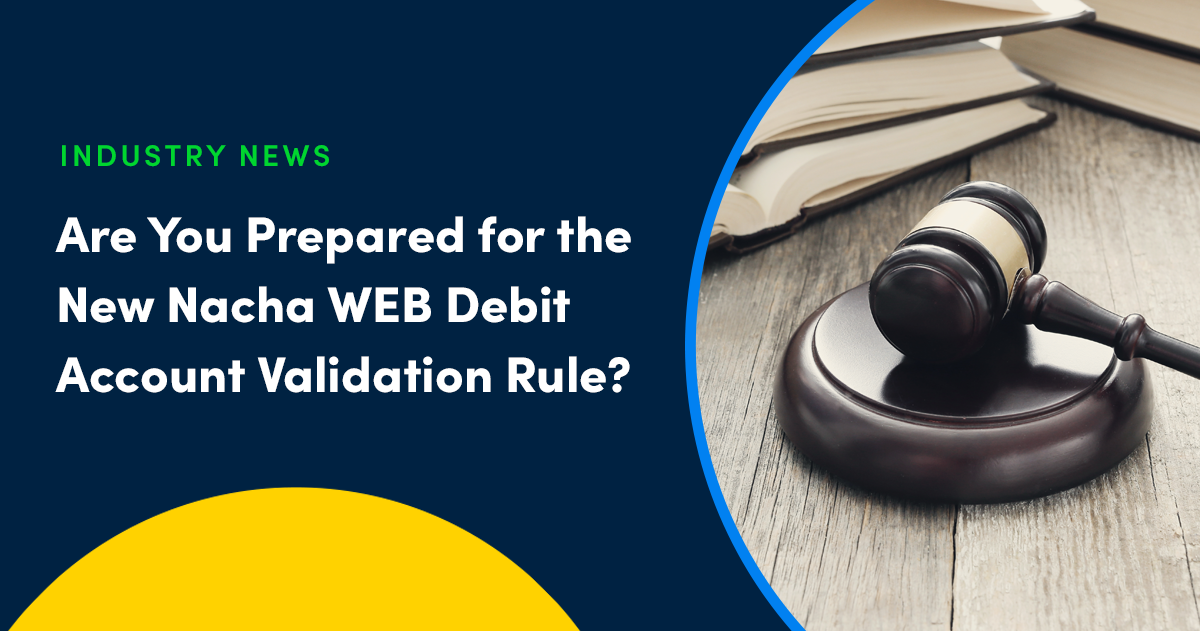 By: Steve Kramer 
To further combat online fraud, Nacha (the National Automated Clearing House Association) has changed the compliance standards for routing number and checking account verification for ACH (automated clearing house) debit transactions made over the Internet (WEB debits). 
Effective March 19, the WEB Debit Account Validation Rule requires every merchant that accepts ACH payments, including consumer finance companies, to have a checking account verification system in place as part of its "commercially reasonable fraudulent transaction detection system" to validate routing numbers and verify that checking accounts are open and in good standing. 
Nacha, which oversees the ACH network, implemented the WEB Debit Account Validation Rule to address concerns of online fraud and  cut back on returns. Excessive returns lower confidence in the ACH payments network, and failure to implement proper controls exposes organizations to unnecessary risk.
Because  of the effect of COVID-19 on companies' resources and staffing, Nacha won't enforce the WEB debit account validation rule for another year for businesses that are working to comply but need more time. However, the association  strongly encourages organizations to work toward compliance as soon as possible. 
Is Your Organization Ready?
Under the new Nacha rule, the way most companies have handled ACH payments in the past won't be compliant with the new rule. You may need to revise your current fraud detection system to go beyond verifying routing numbers to validate payments. 
The good news is that this rule change isn't retroactive, so you don't have to validate any customer accounts that have been used for valid transactions in the past. You only need  to validate an account number the first time a customer uses it to make a payment online or if the customer changes account numbers
Account Validation Methods
Although Nacha doesn't specifically tell you what methods or technologies to use to verify accounts, it does offer the following examples  to comply with the new validation requirement:
Prenotification entry

: Sometimes called "pre-notes," these are non-monetary ACH entries. With this method, you send a prenotification entry through the ACH network to verify that the account is valid. However, if you transmit a prenotification entry to validate the customer's account number and you don't receive a return entry or notification of change, you can assume that the prenote posted to a valid account. Transmitting a prenotification entry meets the minimum standard for validating that an account is open and can accept ACH entries. Under the Nacha rules, you have to wait three business days after you send the prenotification entry to initiate payment entries.

ACH micro-transaction verification:

This method usually involves two steps: First, the payee makes a small deposit, typically several cents, into the customer's account. Then the customer confirms the amount of the deposit. This process can take a couple of  days.

Commercially available account validation service:

This approach compares routing number and account information to a database of accounts that have already been validated. Nacha's

Account Validation Resource Center

provides a list of third-party vendors offering this service. Although this process happens in real time, the database doesn't contain every consumer's account information.

Account validation application program interface:

This method uses a secure digital connection to the customer's bank and an API to retrieve the routing number and account from the customer's online banking interface. This method happens in real time. However, for this method to work the customer has to share online banking login credentials. The customer may be reluctant to do this because of privacy and security concerns. 
You should consult with your attorney(s), risk department or other advisors to determine which account validation method is best for your organization. 
Benefits of the Web Debit Account Validation Rule
ACH payments, including same-day transfers, are increasing, and errors do sometimes occur. Additionally, bad actors are taking advantage of these rapid transactions and new processes to commit fraud. Account validation can help address these problems.
Use account validation to:
Verify a customer's bank account information in a timely manner

Reduce returns

Mitigate the risks associated with ACH returns

Avoid the financial penalties associated with an excessive number of returned transactions

Enhance the transactional experience for participants
Although adding account validation for WEB debits could increase transaction costs, the enhanced protection it provides is priceless.
Using an account verification system doesn't just save you the fees you'll incur when payments are returned. It also saves you the cost of recouping the initial payment from your customers, including paying employees to collect on the debts. 
Validating routing numbers and checking account numbers will help prevent unauthorized use of individuals' accounts and reduce the number of errors and returns in the ACH network. If your organization's returns exceed pre-established levels, it can be fined, not to mention prevented from originating any future ACH debit transactions. 
The Bottom Line
If you process ACH payments online and you're not already in compliance with Nacha's new WEB Debit Account Validation Rule, it's critical that you get started. Nacha is delaying  enforcement of  its WEB debit account validation rule for another year–but only if you're already working toward compliance. 
Upgrade How You Get Paid with PayNearMe
PayNearMe provides authorization and verification tools that can help your organization achieve Nacha compliance. In addition to meeting key regulatory requirements, our award-winning technology puts your business at the forefront of digital payments, helping you delight customers, improve operational efficiency and save money.  
Contact us today to schedule your demo.