Help Your Customers Stay on Top of Their Bills with Automatic Bill Pay Reminders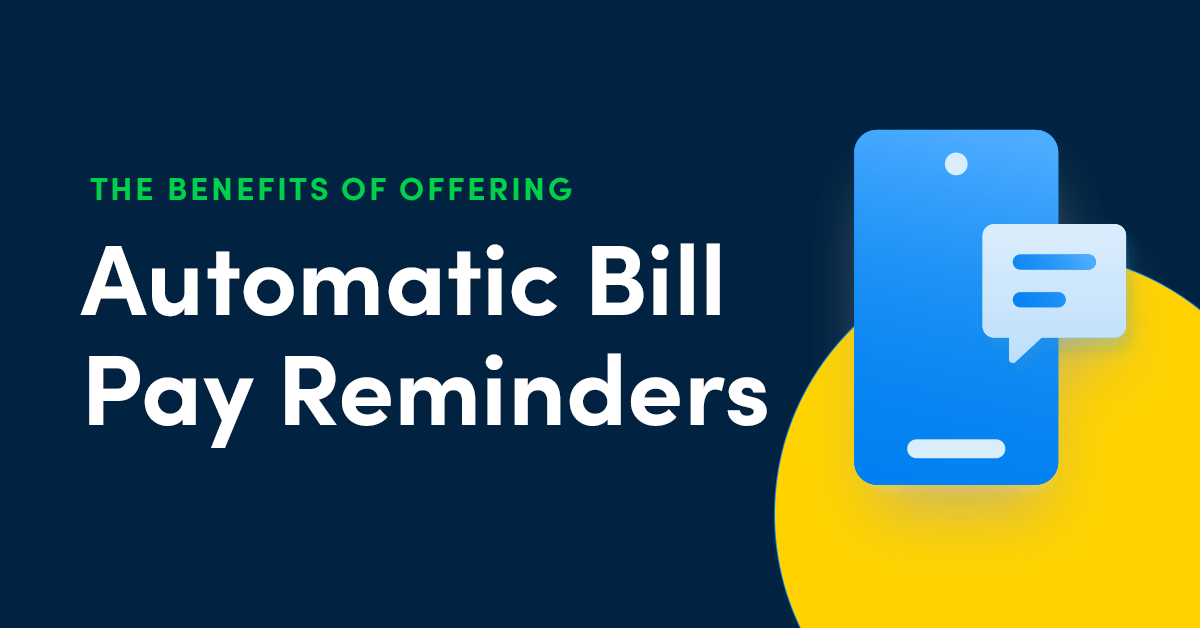 Making payments easier for customers is a win-win proposition. It reduces the stress of the bill pay process while helping you increase on-time payments, with a net result of better long-term customer satisfaction. 
Enabling automatic bill payment reminders is just one way to streamline this process for your customers. One consumer study found that customers who are offered reminders are 21 percent less likely to experience severe (60+ days) payment delinquencies and 12 percent less likely to experience a 30+ day delinquency.
Payment reminders not only reduce late payments, but can also support your customers' financial well-being. 
Why Consumers Struggle to Pay Bills on Time
The average US household pays 13 bills a month, including car payments, electricity, mortgage or rent, internet, credit cards, and insurance bills. Consumers have to remember to pay each one, often trying to manage paper bills, emails, texts and phone calls. 
The sheer number of bills, coupled with varying due dates and countless distractions, can often cause otherwise timely payers to become delinquent on occasion.  
How Automatic Bill Payment Reminders Work
With regular payment reminders, consumers know when an upcoming bill is due and can easily complete or schedule a payment. These reminders can be sent via email, text message, push notification or a combination of the three.
To improve the payment experience:
Enable your customers to set preferred frequency and dates to receive reminders.

Offer them the freedom to choose how they receive payment communications, either through email or text.

Make it even easier by combining automatic reminders with

advanced scheduling options

for recurring payments.

Allow your customers to pay with a variety of

payment methods

, including credit or debit card, ACH, mobile payments, and cash.

Educate consumers by offering resources online so they can quickly look up the information they need if they have a question about making a payment.
How Payment Reminders Benefit Your Customers
Automated reminders offer more than an easier payment experience. With reminders, customers are less likely to make late payments. As a result, they can avoid late fees and charges. When consumers make on-time payments, they can also avoid damaging their credit score.
To put this into perspective, the late fees and higher interest payments that come with overdue bills cost American consumers $77 billion annually. Helping to facilitate a smoother process can empower your customers to thrive financially simply by helping them to reduce financial pitfalls.
How Payment Reminders Benefit Your Business
Bill payment reminders are one of the best tools you can use to improve the customer payment experience, but your organization also . With automatic reminders:
Your customers have another opportunity to reach out to your call center if they have an issue with their bills or have a question. This can help to reduce call center volume, making it easier for your customer service representatives to address issues quickly.

Your organization will have less late payments coming in, which means a better cash flow for your business. Also, you won't have to spend as many resources on tracking down overdue payments.

With a robust payment platform, your customers have total flexibility over their payment schedule, reminders and method of payment. This freedom enhances the customer experience, making them more likely to remain a loyal customer.
Be There for All Your Customers with Easier Payments
In 2020, the digital-first generation, Generation Z, will make up 40 percent of global consumers. Combine Generation Z with the Millennial generation, and you have a huge segment of the population that expects a frictionless digital experience. They want everything to be digital, convenient and fast.
With automatic email or text payment reminders, these digital-savvy customers are more likely to pay attention to bills and stay on top of payments. When your payment system is set up for easy payment options such as mobile billing and digital wallet payments, they can pay right away with a tap on their phone.
Even Baby Boomers and cash paying customers will benefit from payment reminders. The reality is, most American households are overwhelmed with bills each month. If you want customers to prioritize your bills, it's important to go the extra mile to create a great experience. This means staying on top of evolving trends and consumer expectations and offering all of your customers the choices they want.
Find out how you can help your customers manage their payment due dates with text and email automatic reminders, how often and when they want, with PayNearMe.