Below the Iceberg: What Fuels a Successful AI-Driven Product
There's a popular motivational poster (and more recently, meme) that shows the tip of an iceberg sticking out of water, with SUCCESS printed in big bold letters. Above the waterline is what you see—the polished mountain of success with all its ticker tape and fanfare. Dive down below, however, and you'll see the enormous sum of factors that contribute to success; these include hard work, sacrifice, discipline and a slew of other motivational buzzwords. You've probably encountered this visual if you've worked in an office, frequented a gym, or browsed the web on your smartphone.
In a way, AI follows this same mold. Beneath every successful AI application is a set of smart people, meticulously crafted models, clean data, strong cloud infrastructure, and much more. Using generative AI from Adobe, we can recreate the classic poster to look something like this: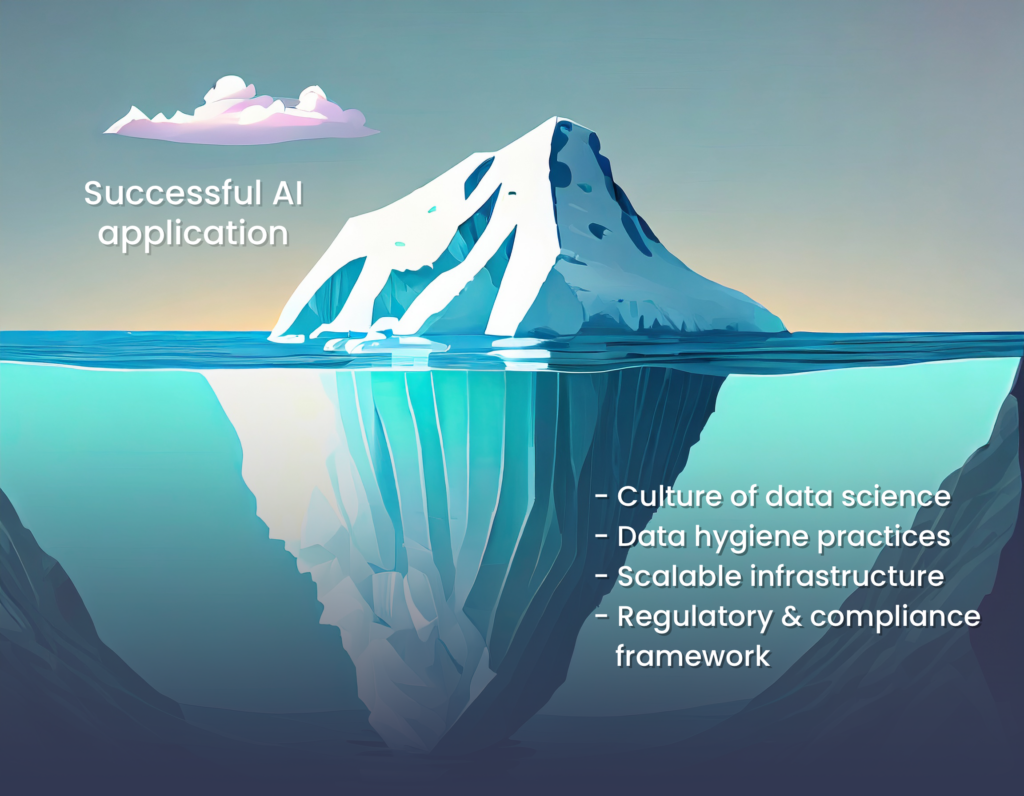 Successful AI and ML implementations aren't something you can simply bolt on and deploy on a whim. Creating an AI ecosystem that thrives, benefiting both our clients and our company, requires a foundational approach that encompasses every aspect of the business. It's the result of years of diligent work on infrastructure, team building, and maintaining a high level of data quality.
As PayNearMe continues to move forward with AI at our core, we wanted to share what we believe goes into building a successful AI-centric organization.
AI-Centricity as a Mindset
In our white paper "How AI is Transforming Bill Payments", we shared how we're embracing AI as a fundamental shift in the way we make decisions about our business, processes and people, aligning our organization around an AI-centric mindset for how we operate and serve our clients.
As fintech innovators, our primary focus with AI and ML is to deliver more value to our clients. This means making consumer payments easy, secure, and personalized, and optimizing client workflows for efficiency and data-driven decisions. Having AI at our core enables us to improve our internal processes, fostering faster innovation and boosting employee productivity.
At the heart of it all is our commitment to use AI responsibly. We want to innovate as fast as we can, yet do it in ways that are safe, auditable and responsible for our clients and our business. Responsible AI goes beyond meeting compliance, to really doing what's right for everyone involved.
A Data-Centric Ecosystem for AI
Building ongoing excellence into PayNearMe solutions relies on data. It's essential to have an efficient infrastructure for end-to-end data management, so we can more quickly put high quality data to use for improving personalized payment experiences for consumers.
The right approach to data is also necessary to enable our clients to influence better outcomes and mitigate risk. With insights based on transactions and payment behaviors, clients can more deeply understand their customers and predict likely actions, so the business can make more informed decisions.
That's where our centralized data management provides a distinct advantage. Providing access to broad, non-siloed data enables clients to get a more complete picture of what's happening across the enterprise.
How Our Platform Leverages Data to Enable AI
A fundamental of using AI/ML to solve business problems and optimize processes is having access to the right data. Well-chosen and well-prepared datasets can help a business identify the levers, indicators and patterns for taking targeted action.
With that in mind, we're optimizing the PayNearMe platform and data products in many ways, including:
Cloud agnostic infrastructure. To make it easier and faster for clients to access their data, we use a leading data lake house solution and combine data from multiple sources with a centralized data share. Clients can seamlessly access data using whatever structure they need, whether they use Google Cloud, Amazon Web Services (AWS) or Microsoft Azure.
Data warehouse/replication. Our data ecosystem is structured so that it can hold the same data in multiple places. This enables us to build off the same core dataset and cast a wide data net, while staying concurrent across all our products. An additional benefit is that it allows us to run efficiently and maintain production levels.
Data collection and cleaning. Machine learning is hungry for new variables, which involves connecting different databases, ETL transfers, and data cleanup. To speed up our workflows, we use tools that automatically bring in data and notify us of any schema changes. This AI-driven approach helps us identify data for model testing, prioritize it for cleaning, transformations, and visualization.
Data democratization. Capturing more business value from AI/ML requires opening up data access to both technical and non-technical users. For both our clients and our own business, broadening data access empowers employees to uncover more insights for a diverse range of use cases, ideate more and make better decisions.
Data visualization. Making sense of complex data using visualization helps business teams understand patterns and trends to more efficiently put insights into action. We integrate tools that make it easy for anyone to convert complicated data outputs into user-friendly charts and graphs.
Workflow Optimization with New AI/ML Capabilities
As part of the AI/ML innovation ecosystem, PayNearMe is testing a variety of tools and scenarios to determine how we can speed innovation to provide more value for our clients. Taking advantage of the latest technologies enables us to enhance our capabilities, including:
Innovate faster. We've increased agility and speed for testing hypotheses by running fast data science experiments in test environments. Before we go full scale with millions of rows, we test and iterate with a range of data. We then tune and deploy models into a decision engine to enable actions based on the insights.
Optimize data quality. Monitoring data quality is essential for the foundation of our data-driven business intelligence. It's also critical for maintaining the high trust our clients have in the products they rely on for their business. Our internal data warehouse uses an ML-driven observability tool that learns from the data and captures insights on various use cases and perspectives. For example, it tracks how data tables grow, their growth rates, typical values for tables or columns, and more. Additionally, it monitors spikes or drops in volume, which can indicate where data might become stale.
Scale to opportunities. AI/ML models want as much data and variables as possible. With that in mind, our product development cycle factors in a few essentials for healthy growth. First, we focus on building in a way to ensure we can easily and feasibly expand with new data sources; for example, creating new reporting or algorithms. Second, we're investing in capabilities to process high volumes of data at once, so we can keep performance at peak levels as AI/ML models grow more complex.
AI for the Future of Payments
At its best, AI can make workflows that were once daunting look easy. But under the surface, it is rapidly becoming more sophisticated, complex, and risky. That's why PayNearMe is taking a foundational approach, ensuring the right components are in place to enable AI and machine learning to do their best work.
From adopting an AI-centric company culture, to creating an infrastructure built for AI excellence, we're building an ecosystem that enables AI to thrive. And ultimately, that AI success is less about the technology, and more about the many ways it will empower our clients, their customers, and our own business.