Record Gas Prices Creates Need for BHPH Dealers to Evaluate Customer Payment Options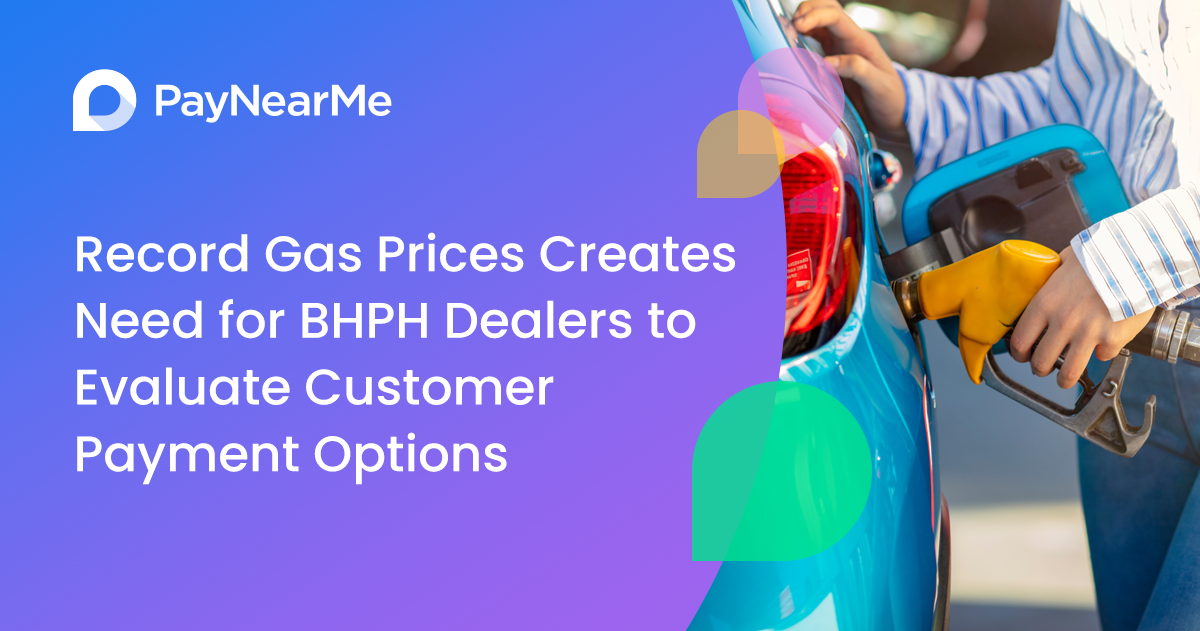 When was the last time you filled up at the gas station? Whether you're in the majority of the population who pump their own gas, or one of the lucky few residing in New Jersey where they still require gas station attendants, it's likely gas prices are top of mind as those glaring signs promote $4, or $5, or even $6 a gallon in some areas.
With prices at record highs, consumers feeling the impact at the pump is impossible to ignore and likely impacting spending behaviors in a big way. Families are forced to make tough decisions on where not only their money goes, but likely how far they're willing to travel this summer.
The current state of inflation is forcing consumers to watch their money even more closely. According to a LendingClub report released in May, 2022, "close to two-thirds of the U.S. population, 64% or about 166 million adults, were living paycheck to paycheck in March 2022."
Rising gas prices creates added stress for subprime consumers
Let's dive into what this means for subprime consumers. In a recent article released by PYMNTS.com, "roughly 49% of the paycheck to paycheck population that finds it difficult to meet expenses also have credit scores below 650; the average credit score here is 613."
It's apparent that the rise in gas prices is especially stressful for individuals and families relying on subprime loans for their vehicles. The surge in gas prices creates a perfect storm of payment panic for the unbanked or underbanked population. Many need to pay with cash on-site at their BHPH dealerships, which leads to special trips to do so. With older vehicles unable to operate at the most fuel efficient level, even 30-minute drives cause stress to one's wallet.
What's being done to address this?
If BHPH dealers sit back and do nothing, they could add unnecessary delinquencies which creates a lose-lose situation for the business. During times of stress and impending recession-like market behavior, it's in the dealership's best interest to evaluate customer situations so they are left feeling they're truly cared for by their dealership.
There are a couple of ways BHPH dealers can immediately act as a support system for their customers, and promote a positive experience that ultimately leads to more on-time payments.
How can BHPH dealerships support their customers and help them make more on-time payments?
Offering more self-service and remote options are likely to save time and money for dealerships. By assessing the payments process, BHPH dealers have an opportunity to help customers solve for the following:
Lessen the burden of burning unnecessary fuel commuting to their BHPH location to make in-person payments, which is likely out of the way from their home.
Promote self-service payment options for customers. They will be pleasantly surprised that they are able to make a payment remotely, and at a lesser fee per transaction.
Pass long-term operational cost savings on to your customers by way of payments discounts and promotional incentives due to less staffing needs in collections and other administrative positions.
Offer customers who prefer to pay with cash the option to make a guaranteed cash payment to your dealership at retail locations they already shop at, including tens of thousands of participating 7-Eleven, CVS, and Walmart stores.
Build loyalty and trust at your BHPH
The economy is certainly in flux and rising gas prices could spark consumers in the subprime space to evaluate which bills are non-negotiable for that given month. Establishing trust with customers will ensure a long term relationship through this uncertainty.
Advocate for your customers by providing education on less expensive ways to make a car payment. This will help your dealership top of mind for customers each time their bill is due. By doing this, you can recommend the more reliable payment methods for your dealership while driving self-service payment options.
Does your payment provider offer the payment options your customers desire?
PayNearMe research shows that consumers want more options when making payments. Providing a healthy mix of in-person, online and over the phone options helps appeal to customers across generations, income levels and other important demographics.
Check out all of PayNearMe's original research to learn more about consumer expectations and behaviors.
If you're a BHPH dealer looking for solutions to help support your customers and ensure more on-time payments, let's talk.
See why PayNearMe is trusted by some of the biggest names in bill pay with our on-demand demo. In less than fifteen minutes you can:
See our most popular features in action
Experience the industry's most customer-friendly bill pay platform
Learn how companies like yours are driving more on-time payments and improving operational efficiency