Case Study: CapitalCredit Significantly Reduces the Cost of Accepting Payments with PayNearMe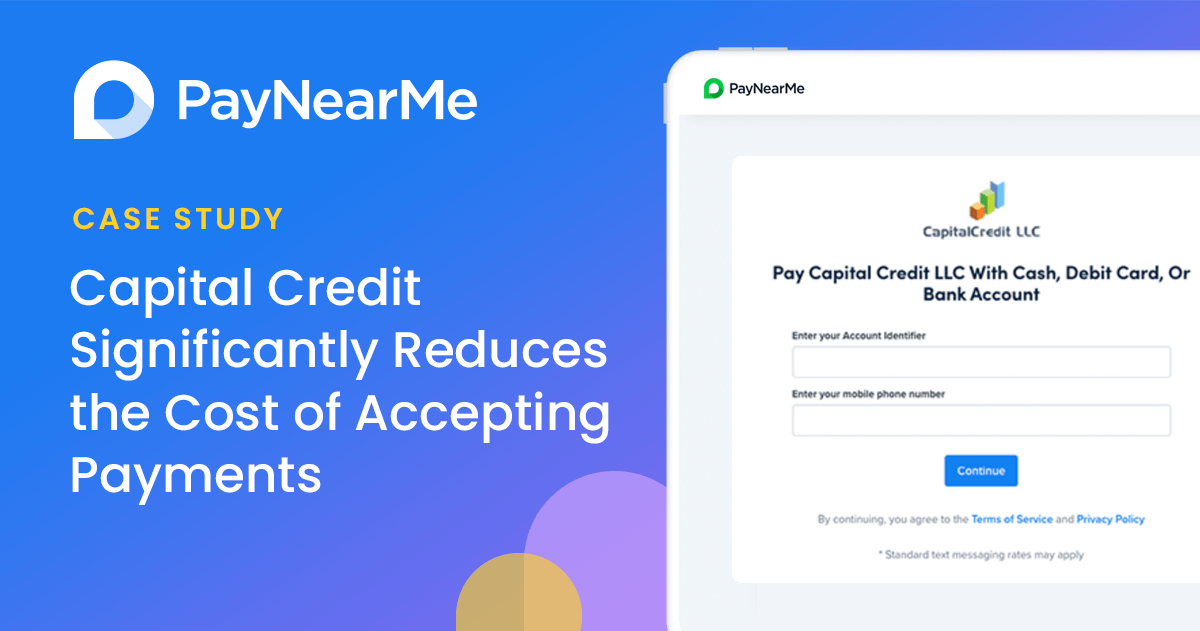 CapitalCredit LLC, a subprime finance company operating primarily in the Southeastern United States, was disappointed with its legacy payments platform.
The company's accounting department was having trouble reconciling payments quickly because its current solution didn't provide account numbers with the payments, making for hours of daily manual work.
In addition, the lender was getting an increasing amount of inbound phone calls to agents to take payments. This was costing the business far too much time and money—and meant staff couldn't focus on revenue-generating activities. Finally, because the lender was taking on all of its payment processing fees, the cost of accepting payments was beginning to eat into margins.
Making Payments Easy for Customers & Staff
To solve these and other issues, CapitalCredit moved to a self-service bill payment model with PayNearMe. Within the PayNearMe Portal, customer service agents were able to send customers a payment link by text or email, drastically reducing the number of payments taken over the phone.
PayByText in action.
Once the customers used this system, they loved the self-service aspect, and CapitalCredit saw an almost immediate ~40% drop in agent-led payments. Since starting with PayNearMe a year ago, this number has continued to drop, and agents have been able to focus on more pressing sales and service activities.
As part of its switch to PayNearMe, CapitalCredit wanted the flexibility to charge convenience fees for different payment channels, allowing them to offset the high cost of card-not-present and over-the-phone transactions.
As Todd Brister, Vice President of CapitalCredit, explains:
"When customers can manage the payment process themselves using their personalized payment links to make payments, they're happy. They don't have to call in to talk to an agent. All they need to do is click a few buttons."
CapitalCredit, for its part, has saved thousands of dollars in processing fees by moving to this self-service, customer-led model.
Additionally, the reconciliation process has improved significantly for CapitalCredit. While the process used to take the company's account staff about 2.5 manual work hours on Mondays (the lender's biggest days), it now takes fewer than 30 minutes each day. This number could continue to drop as the lender moves to an auto posting process in the future.
Future Initiatives
Capital Credit plans to continue growing with PayNearMe by adding additional custom fields to show more loan information to customers during the payment process. The lender is also considering adding exciting new features like automated customer communications and digital disbursements.
If your business needs to lower costs and optimize payment-related processes, PayNearMe can help. Check out this quick Platform Overview or request a demo to see how we make payments easy for you and your customers.