Case Study: OneMain Financial Saves Big by Digitizing Cash Payments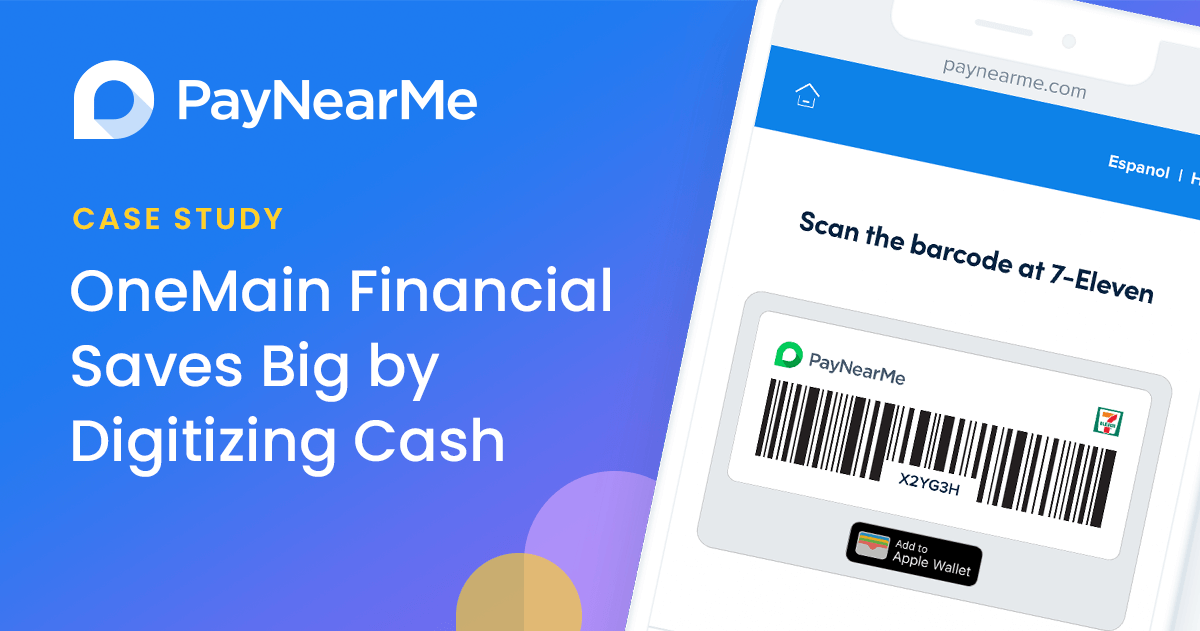 While a popular myth may have you believe consumers either cannot or will not pay their bills using cash, data reveals more than 10% of bills are still paid with cash each month. That means a number of car loans, home loans and personal loans are being paid with cash every month.
The problem is, in-person cash payments can be expensive for businesses and they drive up risk.
First, there's the labor cost of having employees accept cash payments and manually count, sort, reconcile, and deposit cash throughout the day.
There are added risks of theft, counting errors, handling errors, and for many who pay cash, the risk of incomplete or non-payments. These costs can make cash the most expensive payment method to accept.
To mitigate these risks and reduce operating expenses, one of our clients — OneMain Financial, a lender with local branches nationwide — needed a more economic, secure and convenient way to accept cash payments.
Read a Q&A in Digital Journal where our CEO Danny Shader explains why cash still matters in the digital age. He answers questions such as "Who are the consumers who want to pay in cash and what are their options?"
OneMain Financial's Challenge: In-Branch Cash Payments
When looking at the number of customers making cash payments, the leadership team at OneMain Financial found that it did not make good sense to make large investments in perfecting a payment process that it no longer wanted its branches to handle. There was also a series of operational risks in taking cash payments that could be avoided if the payment method was eliminated.
Additionally, to make cash deposits, branch team members would average two trips to the bank per day. Multiplied by 1,500 branch locations across 44 states, it became clear that the cost of accepting cash on-site had reached significant levels. The total cost of cash acceptance was large enough that it forced the lender needed to rethink cash.
The Solution: A "No Cash" Initiative
To solve these problems, OneMain Financial implemented a "No Cash" initiative and partnered with PayNearMe to make it possible for every single customer to make electronic payments.
The solution was simple: Turn all cash payments from customers into electronic payments. With PayNearMe's payment barcode technology and extensive retail network, OneMain Financial's customers can continue paying their bills with cash by showing a barcode on their smartphone at more than 27,000 participating retail locations.
Here's how it works:
Customers receive unique payment barcodes from OneMain Financial.
Customers visit nearby retailers, such as 7-Eleven or a CVS Pharmacy, to make cash payments at the checkout counter.
Cashiers at participating retailers scan the barcodes and the customers pay the cashiers — just like any retail transaction.
Cashiers provide customers with receipts and guaranteed cash payments post to customers' OneMain Financial accounts in real time.
The "No Cash" initiative didn't come without challenges. This novel approach required an educational marketing campaign to drive customer adoption.
With this in mind, PayNearMe partnered with the lender's marketing team to help implement an upfront customer communications strategy. We worked with OneMain Financial's operations team to train employees across 1,500 branch locations on how to confidently communicate the new "No Cash" policy and generate payment barcodes for customers.
As partners, our goal was to leave no customer or employee behind. Communicating OneMain Financial's "No Cash" policy and training employees on how to use our payment platform resulted in overwhelming success.
The Results: Big Savings
"PayNearMe completely eliminated our in-branch cash payments," said Steven DeLutri, Assistant Treasurer, OneMain Financial. "Our customers who prefer to use cash now receive a single barcode for the life of the loan. Each time they want to make a payment, they visit a neighborhood retail location and pay the cashier. It's a brilliant, elegant solution that our customers adopted quickly without any disruption to our business."
PayNearMe has a participating retailer within five minutes of 95% of the U.S. population. Our expansive retail network combined with our mobile-first payment technology platform converts cash into digital payments seamlessly.
Partnering with PayNearMe, OneMain Financial:
Realized significant hard and soft savings by eliminating trips to the bank
Reinvested in more digital payment and disbursements for consumers
Eliminated operational risks associated with handling cash
Received no customer service complaints during its transition to No Cash
"Our growing partnership with PayNearMe has not only been financially rewarding but has helped us shift the mindset operationally," DeLutri continued.
"PayNearMe solved our challenges posed by cash payments. As a result, our 'No Cash' initiative has been an overwhelming success with our customers and team members across the nation. This would have not been possible without our colleagues at PayNearMe."
Want to learn how you can redirect cash while still servicing all your customers? Schedule a demo to learn how PayNearMe can help you replicate OneMain Financial's success.