Celebrating International Women's Day at PayNearMe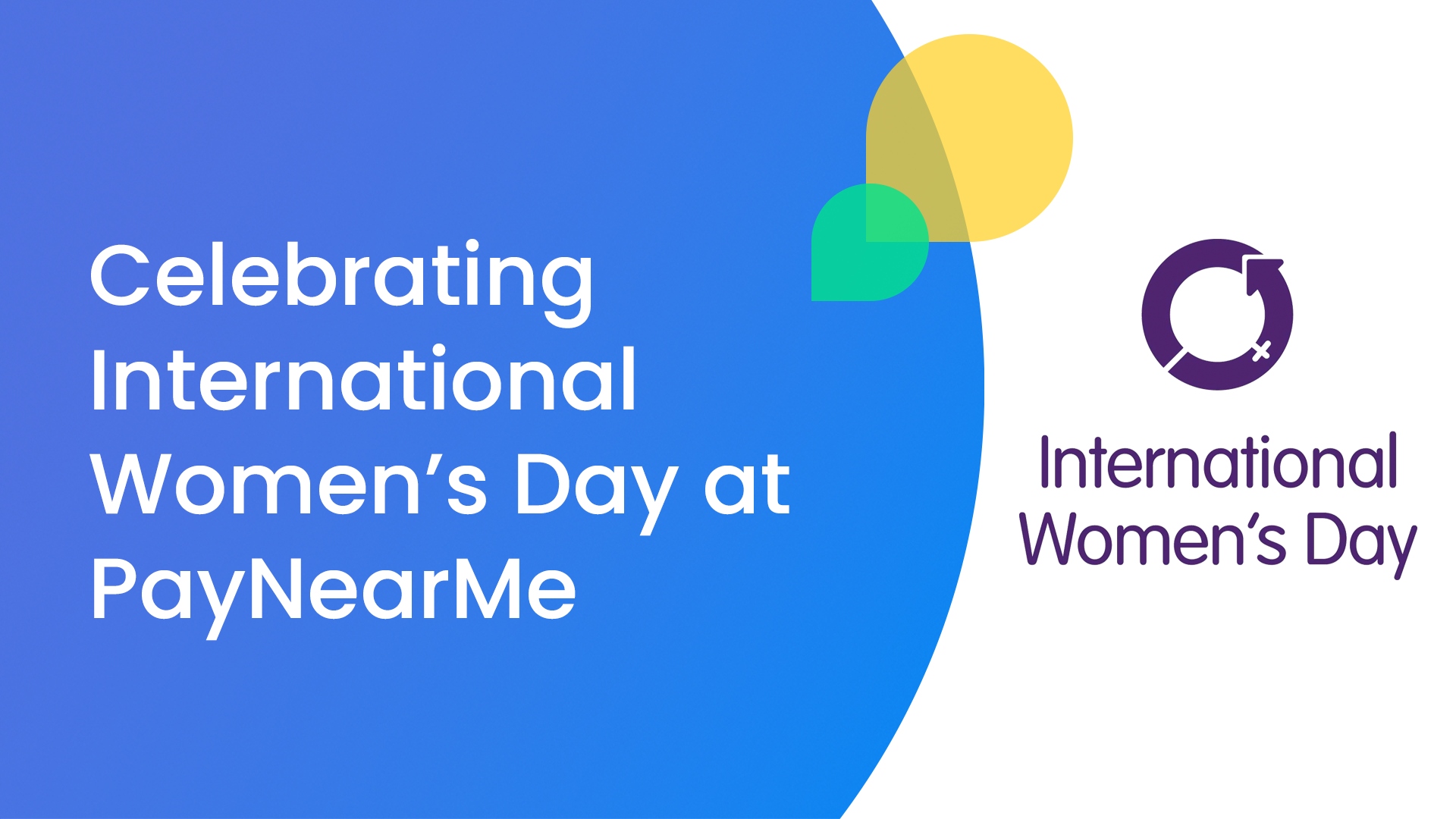 Wednesday, March 8 is International Women's Day, a global day celebrating the social, economic, cultural and political achievements of women. The day also marks a call to action for accelerating women's equality.
Women are an integral part of the U.S. workforce. As of January 2023, they make up 57% of the U.S. labor force. At PayNearMe, we're fortunate to have a brigade of brilliant women within the ranks of our team that help drive our organization's success. To celebrate and spotlight some of these smart and talented women, we'll share some of their stories as women in the business world and working in the tech industry–throughout this blog post.

Women have unique experiences, so it's important to have a diverse set of thoughts and opinions in organizations because we all bring distinct perspectives to the table. "Women have an innate ability to not only understand our clients' needs, but also their customers in a compassionate way," said Emily DelTufo, Marketing Manager, PayNearMe. "I believe women are critical to the future of fintech's positive development." Applying a variety of perspectives leads to creative solutions and a deeper understanding of customer needs.
Ladies in Leadership
It's also important to the health of a business to empower and elevate women at all levels of the company—from leadership to individual contributor positions throughout all areas of the organization. PayNearMe's Chief Financial Officer, Mirna Daouk, has had a long and successful career, but she grew up in a time and place where opportunities were scarce. "Being a successful woman in business today means that I was able to defy many odds along the way, which fills me with appreciation and gratitude," said Daouk. 
For PayNearMe's Donna Rines, Director of Partner Operations, reaching a leadership position was a long journey. "I started my FinTech journey in my 30s and trying to work while balancing family life, it took me much longer to obtain my goals."
Seeing women in leadership can be inspiring for employees all across the organization. Aniuska Rovaina, Legal Counsel, PayNearMe shared. "It's inspiring to see women in leadership roles, including as part of our executive staff, especially in an industry that I think still predominantly consists of male leaders. Our General Counsel and CFO are brilliant women."
The Importance of Women in Mentorship
As Lori Crew, Senior Director of Data shares, in the early days, women were unrepresented in business—particularly in tech. For Lori, that sometimes meant being the only woman on the team, and unqualifying herself for positions and growth opportunities. "It took me a long time to learn that a job description isn't set in stone; it is the start of a conversation, it can be negotiated and skills can be learned on the job," said Crew.
When women are underrepresented in organizations, this can also mean a shortage of mentors. "This is a reason why I make myself available to mentor other women, because I didn't always have female mentors to help me earlier in my career," said Crew.
At PayNearMe, there is no shortage of women in leadership positions to learn from and look up to. "I feel proud and fortunate to be in a position at PayNearMe where I can now "make space at the table" for women, as others have done for me in my career," said Anne Hay, SVP and Chief Marketing Officer. "Our female senior leaders bring diverse experiences and perspectives to the team, which allows us to make the best decisions for our company, our clients and our team members," said Hay.  
A Culture of Support
Time after time, PayNearMe team members share their appreciation for the respectful, transparent company culture. For Trinity Van, Senior Director of Product, PayNearMe has not only given her the flexibility to manage her own schedule, but provided her with growth opportunities, including managing her own team. For Suma Manjunath, Engineering Manager, the journey to growth opportunities at PayNearMe was quite simple. "All I had to do was express an interest, and I had plenty of support in every role I pursued."
"PayNearMe has been incredibly supportive in my career journey," said Lauren Brown, General Counsel. She continued, "I have been given many opportunities to grow and prove that I have what it takes to make it at the next level. I have also received support while expanding my family and figuring out life as a working mom of two young children."
We're proud to have the women highlighted in this article, as well as all of the other talented, smart women in our organization, as part of the PayNearMe team!