Are Chatbot Payments the Future of Self-Service?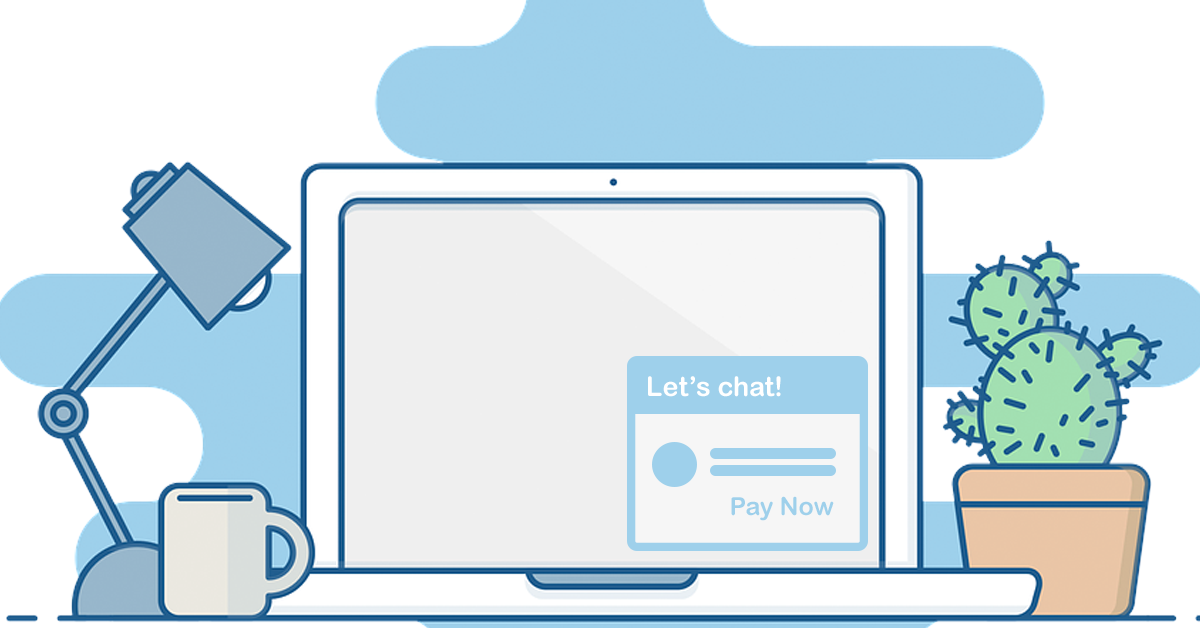 Photo courtesy Pixabay
Updated December 2022
The launch of OpenAI's ChatGPT has defined the zeitgest of late 2022, ushering in a tidal wave of conversations about the practical applications of AI, machine learning and chatbots. The app attracted over a million users in the first week of its existence, delighting users with its natural, speedy responses to a variety of questions. 
ChatGPT just crossed 1 million users; it's been 5 days since launch. https://t.co/cM1rQRSP8r

— Greg Brockman (@gdb) December 5, 2022
Among other things, chatbots could be particularly helpful in customer service functions. The AI excels at addressing questions with clear, definitive answers. The ideal role for a chatbot would not be to replace live agents, but to offer a first line of defense to help customers with simple, transactional requests.
But could chatbots take things a step further and become a viable way for businesses to accept payments online? While many practical (and critical) questions about this use case have yet to be answered, explore some of the ways that chat could be used to enable and facilitate self-service payments in the future.
Let's discuss what chatbot payment is, how it works and its benefits to your business.
What's a Chatbot?
A chatbot is defined as "software designed to simulate conversation with human users, especially over the Internet." These bots are popularly used on websites including Facebook Messenger, Telegram and WhatsApp business accounts.
Simple chatbots can ask customers a series of predetermined questions and allow customers to pick an answer, similar to how many IVR systems work. More sophisticated chatbots can effectively mimic a customer service agent by taking advantage of Natural Language Processing (NLP), deep learning, machine learning and other forms of AI that can understand customer intent.
According to recent research, over 80% of consumers have used a chatbot for customer support. These bots can speed up support response time by up to 80% and help businesses save up to 30% in customer service costs. Given the high cost of payment acceptance over the phone, chatbots could help billers significantly reduce the total cost of acceptance over time.
Today most chatbot innovation is happening in e-commerce and at large enterprises, but the technology is beginning to make its way into bill pay as consumers continue to adopt chatbots as viable customer service channels.
Using Chatbots for Payments
The future of chatbots in the payments space holds much promise. One could imagine a world where conversational bots can be used to facilitate payments by helping customers access accounts, understand payment options, check balances and more.
Here are some of the reasons chatbots may become an integral part of the payments process in the future.
Always-On Customer Engagement
The obvious benefit of chatbots is how they enable customers to access information about their accounts at any day, time or place. Bots act as a support agent that can provide quick and detailed answers to queries as well as resolve complaints or issues regarding billing and payments.
Smart chatbots that use advanced AI could potentially use context to detect certain emotions (like frustration or anger), allowing them to transfer queries or complaints to human agents. This is particularly helpful when addressing challenging situations during business hours.
Easier to Navigate
As with a lot of websites and apps, the user typically prefers to complete a payment in the fewest number of clicks, taps and swipes as possible. Chatbots allow users to get answers and make payments in a single chat window, allowing them to do more without leaving your site or getting lost in the navigation menus.
By including chatbots on all your website, social profiles or apps, you could create a predictable and intuitive payment channel for customers.
Cross- and Upsell Opportunities
Since bots can provide a real-time experience that customers are craving, they have proven their ability to integrate sales and marketing strategies into your messaging. For example, you could program your chatbot to identify cross-sell opportunities or introduce new products and services to customers after they complete a transaction.
Free Up Customer Service Rep Time
The use of chatbots is not only good for your customers, but can increase productivity for your customer service agents. By offloading frontline service requests to chatbots, such as balance inquiries or payments, your agents will have more time to proactively spend on outbound collections activities or addressing customer service issues.
Some chatbots will even let agents see the chat history after a customer is transferred, allowing agents to quickly see a history of the support request instead of having the customer repeat it.
Fast Answers to Billing Questions
Chatbots could also be used to answer FAQs such as "When is my bill due?" or "What's my account balance?" with just a touch of a button or a simple voice command. This could extend to proactive activities, such as sending reminders to customers about upcoming and due bill payments, making the process timely and more efficient. You could also collect valuable user feedback from the bots and send it to the relevant team in real time.
Be at the forefront of technology
While true chatbot payments are still in the very early stages, you can still begin using traditional, human led chat to test whether or not your customers are responsive to the technology. For example, with PayNearMe's Agent Interface, your call center agents can generate personalized Smart Links and paste them into chat flows with customers, enabling fast and compliant payment interactions online.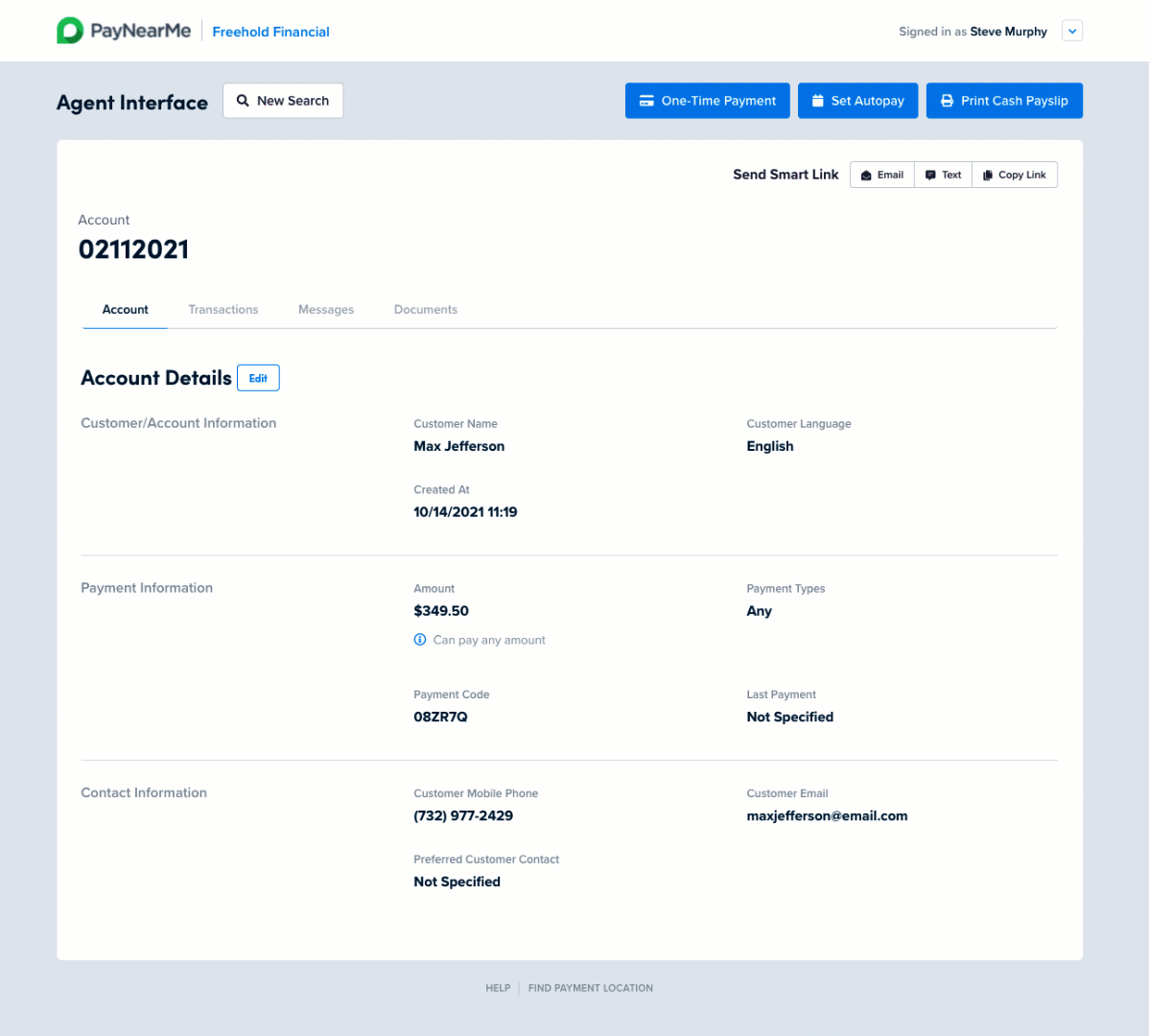 Want to learn more about using technology to improve customer communications? Talk to the PayNearMe team today.