From Fighter Jets to Bill Payments: Why Configurability Matters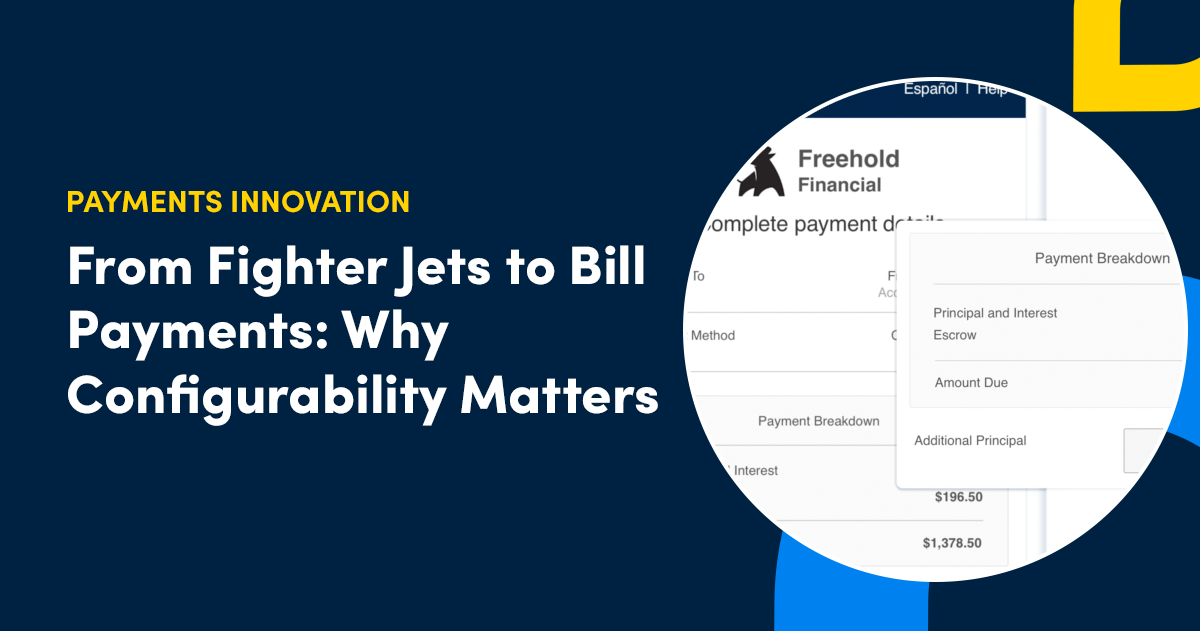 In his celebrated Ted Talk "The Myth of Averages", Harvard Professor Todd Rose shared an obscure but insightful story about the dangers of designing one-size-fits-all solutions. 
It was the early 1950's, and the U.S. Air Force noticed an alarming trend: despite superior aviation technology and in-depth training, new pilots were struggling to control their planes—resulting in the tragic deaths of too many talented youths.
The problem, they discovered, stemmed back to a production flaw from decades past. Early cockpits were designed to fit the average 1920's era pilot. At this time, aviation was in its infancy and jets were nowhere near as complex or powerful. They commissioned the help of Lt. Gilbert Daniels (another Harvard graduate) to investigate the situation and arrive at a new standard for cockpit design—one that prioritized both performance and safety.
Daniels measured 10 dimensions, such as torso length and chest circumference, across more than 4,000 pilots to come up with the new average. But what he did next would change the entire discussion.
Lt. Daniels decided to see how many of the measured pilots fit the mold of "average", and discovered that no individuals fit all 10 measurements. Not a single one. When he cut the criteria down to just three of the dimensions, only 5% of those measured fit.
The Air Force was building jets for everyone, and yet they didn't fit anyone.
The Power of Configurability
The solution to the problem was something we often take for granted today. The Air Force demanded that manufacturers build cockpits with adjustable dimensions, such as moveable seats and arm rests, so that pilots could configure the space to meet their unique dimensions. Deaths plummeted, performance soared, and the rest of us now have the luxury of adjustable seats and steering wheels in our cars.
While the stakes aren't quite as high, the same mindset can be applied to technology, and specifically bill payments. Technology should allow for a certain degree of configurability that meets the needs of many businesses, without requiring custom code or integrations for every use case.
For example, think about the lending industry, where risk management standards may vary based on a myriad of factors. One lender may have strict risk thresholds, opting to keep chargebacks and NSF rates as low as possible, while another could be willing to accept more risk in order to maximize the chances of capturing second and third attempt payments (something that becomes extremely important in the non-prime world).
The ability to turn features on and off to meet changing business needs is an important part of this equation as well. For example, a lender that has a five-year digital transformation plan may want the ability to turn off agent-led payments over time, shifting their focus to a self-service model of IVR, web, digital wallets and cash at retail over time.
Configurability, Not Customization
It's tempting to think that using a custom payments solution is an even more appealing option, especially for larger organizations with in-house expertise and resources. While this may work for a few organizations, customization comes with significant drawbacks.
Resource Intensive: Creating and maintaining a custom system requires resources from a number of internal departments (IT, compliance, security, etc.) that could otherwise be deployed on competing projects.

Difficult to Upgrade: The more customized your payments platform, the more difficult it will be to make changes in the future. For example, your payments vendor may release a critical security patch that interferes with your custom code.

Integration Challenges: A custom-built or even slightly modified payments platform can make it extremely difficult to integrate with other critical systems, such as loan management systems or emerging payment types.

Maintaining Legacy Code: Over time, the developers that helped you customize your platform may leave your company or retire. This means that institutional knowledge of the customizations, and how they interact with the rest of your systems, becomes more challenging to maintain over time.
Configurability largely avoids these problems, as it sits on top of your payments platform and offers a degree of flexibility without writing new code, managing updates or creating integration challenges.
The Right Tools for the Job
PayNearMe offers a variety of configurability options to create a flexible, scalable and personalized payments experience.
Business Rules
Putting it simply, PayNearMe's logic-based Business Rules use if/then statements that allow you to automate different payments experiences. Don't let this simplicity fool you though—this functionality can create endless possibilities for your business.
Business rules can pull from standard data collected in the platform, custom fields that you import and behavioral actions to create novel approaches to solving different payments challenges.
For example, you can create a business rule that will hide ACH as a payment type if a customer has two or more NSF errors in their history, forcing them instead to use a card, cash or alternative payment method and reducing the risk of repeated failures.
Other popular rules include:
Restricting the total number of payments allowed each month
Showing a new "late fee" field on the payments screen when a customer is past due
Triggering an agent override when certain high risk criteria are met
And more
Custom Fields
The growing number of digital tools in use today means you likely are collecting hundreds, if not thousands, of data points across your software. The ability to import and use this data in your payments platform can vastly improve system usability, customer satisfaction and employee adoption.
PayNearMe allows you to import or create any number of fields into the platform. These may be fields pulled from third party software, such as an LMS or DMS, or created from scratch to meet your needs.
Custom fields can then be used in a variety of ways across the PayNearMe platform, including:
Display company or industry-specific information on customer payment screens, such as escrow balance or interest rate
Allow customer service and contact center employees to edit and view important customer information on a single screen without having to switch tabs or software
Create new business rules that use custom fields to automate important payments tasks
Pass values back to an integrated system of record or other software provider
UI Toggles
While custom fields allow you to determine what information you want in the system, a variety of user interface toggles give you the flexibility to choose how, when and where that information is used.
Some examples include:
Adding and removing fields from the standard Agent Interface screen so that contact center reps only have to see information they use most often
Allowing error alerts or warnings on Agent Interface that do not show up on customer facing screens
Giving managers broader access to sensitive customer information than rank and file employees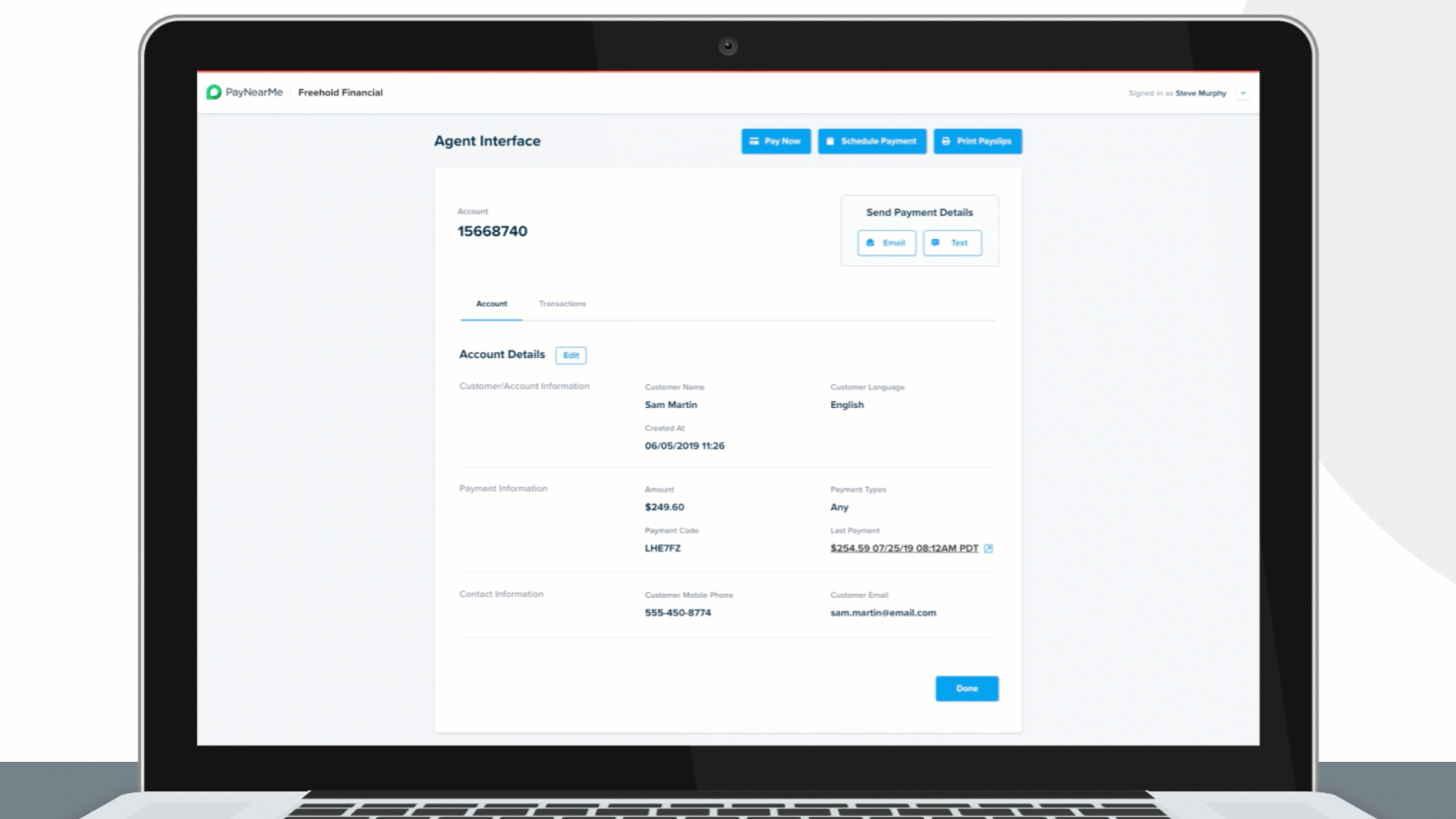 Branding
A consistent user experience is important for gaining the trust of your customers. PayNearMe allows you to match the look and feel of your business, even when using our fully-hosted, turnkey payment screens. This includes adding your logo, colors and unique terminology to each channel where you accept payments, whether that be online or in a digital wallet.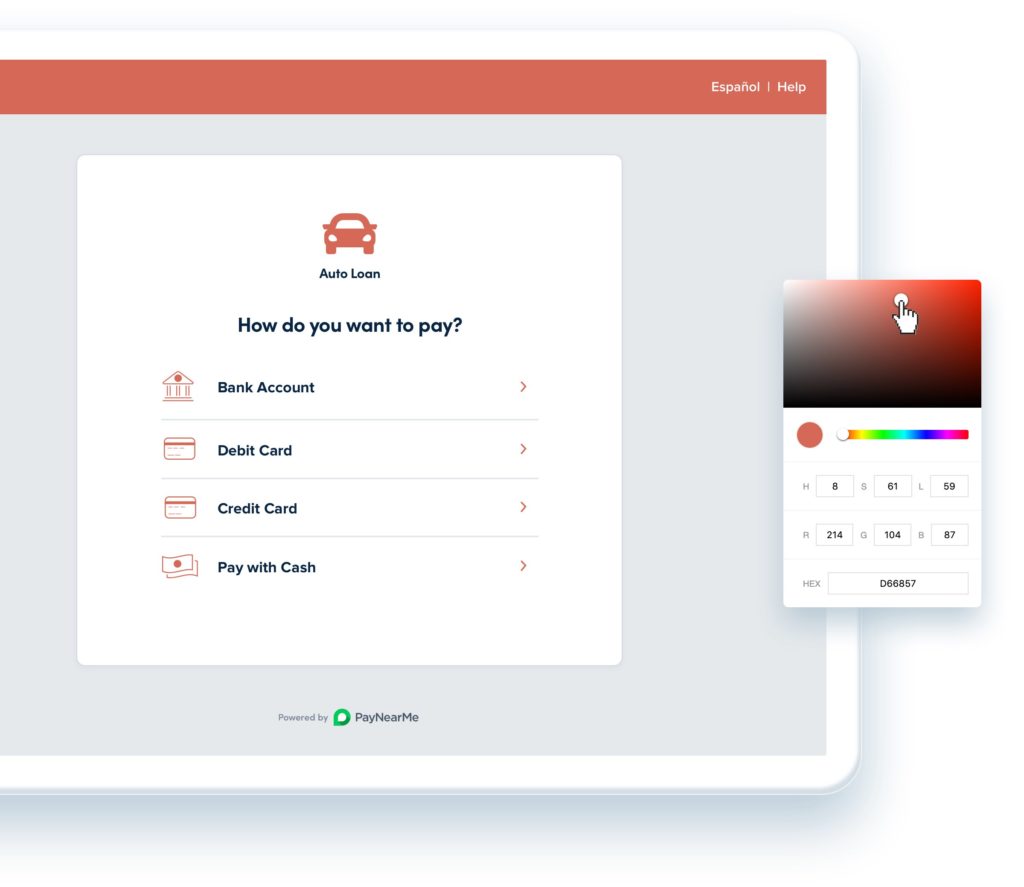 Flexible Payments with PayNearMe
Using a configurable platform gives your business the flexibility to make payments work for you, rather than changing your processes to match your provider's capabilities. PayNearMe's focus on configurability is one of the many reasons we've been named "Best Consumer Payments Platform" by Fintech Breakthrough the past two years.
To learn more, view an instant demo or request a personalized demo today.