Case Study: Grameen America Supports Local Entrepreneurs and Fights the Cycle of Poverty with Expanded Use of PayNearMe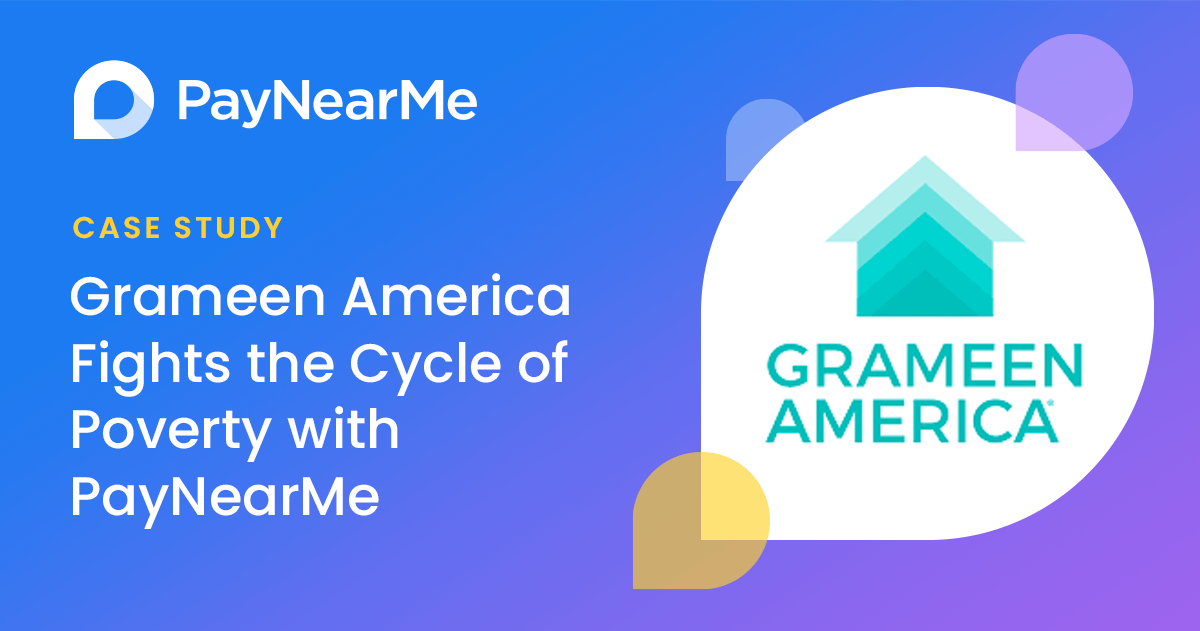 Small businesses across the country have been and continue to be hit hard by the COVID-19 pandemic. When your customers own and operate some of the smallest businesses, in some of the most impacted areas, you need to think quickly and act fast to keep their businesses afloat. This also applies to those companies helping these customers.
This was the case for Grameen America. As soon as the pandemic hit, Grameen America realized its members, and their fledgling businesses, were at risk. The organization knew it needed to help its members navigate these unprecedented circumstances so their businesses could emerge in the best condition possible. To do that, Grameen America needed to transform the way they enable members to manage their loan repayments.
About Grameen America
Grameen America helps break the cycle of poverty in the U.S. through targeted microloans to women entrepreneurs. The charitable organization provides training and support in addition to loans to ensure its members have everything they need to launch and grow their own small businesses. The majority of its members are unable to access the mainstream financial system due to their economic status; Grameen America provides them with a clear path out of poverty, helping them to build their capabilities, establish credit, and grow savings.
Grameen America's Challenge
Grameen America's program requires its members make regular, weekly payments on their loans. This helps the organization maintain its strong repayment rate and, simultaneously, helps members build up their credit scores. Prior to the COVID-19 pandemic, member payments outside New York were largely made using PayNearMe's cash network, which allowed them to easily stay up-to-date on their loans through simple cash transactions at participating local retailers.
But when the COVID-19 pandemic took hold in the U.S., Grameen America realized it needed more electronic payment options for its members. Its 23 branches are spread across 15 major cities, in areas hard hit by widespread infections. The team didn't want its members to go out and risk the safety of their families and communities to make bill payments. However, Grameen America understood that maintaining its operations and receiving loan payments were essential to its mission. Compromising member success was not an option.
PayNearMe and Grameen America: A Long-Term Partnership
PayNearMe and Grameen America first partnered in 2014 to solve the logistical issues around cash repayments that were causing concern for the organization. Before the partnership, center managers would collect cash from members at weekly meetings and carry that cash from meeting to meeting until they were able to make a deposit. Grameen America turned to PayNearMe to take those payments through its cash network and reduce the risk associated with center managers carrying around repayment sums.
"PayNearMe's cash payment options have worked extremely well for our members," Marcus Berkowitz, Vice President of Technology and Innovation at Grameen America, said.
So, when the COVID-19 pandemic created an immediate requirement for Grameen America to accept additional forms of electronic payment — even some payment options that don't require members to leave the safety of their homes — it turned to PayNearMe for a solution.
Quick Turnaround to Preserve Business as Usual
When Grameen America reached out about the need to augment the existing solution with electronic bill payment options, PayNearMe knew they needed to act quickly to ensure Grameen America members could focus on preserving their businesses, rather than worrying about loan payment logistics.
The teams worked together to get the platform updates deployed to members in about a week's time. The PayNearMe platform's intuitive user interface allowed members to start using the new functionality immediately. Regardless of member payment preference — cash, ACH or debit — the platform provides a central hub for the acceptance and reconciliation of loan installments.
"We already knew PayNearMe was agile and responsive, but its support of Grameen America during this crisis has been amazing," Berkowitz said. "The COVID-19 pandemic posed a significant threat to our mission — lifting women and their communities out of poverty. We wanted to give our members options to keep their businesses afloat during this time, and PayNearMe's partnership in delivering this capability, as fast as we needed it, was essential."
Fast and Flexible
Getting the PayNearMe platform up and running quickly is a large part of the story — but it's not the only thing that was important to Grameen America. Its commitment to the economic advancement of its members is a core pillar of the organization's national COVID-19 response; as part of that commitment, eliminating digital repayment costs for its members was also important.
PayNearMe's flexible, configurable platform allows Grameen America to absorb all digital repayment costs to promote safe, virtual operations, and help members focus on shifting their own business models in response to the slower economic activity resulting from the pandemic. PayNearMe gives organizations the power to configure payments and fees in the most appropriate manner for their business model, and the option to easily change or modify those configurations as needed, on their own terms.
"We're a mission-driven organization, first and foremost," Berkowitz said. "Financial responsibility is the backbone of our business model, but that backbone exists to support our goal of building prosperous and sustainable communities. The PayNearMe platform gives us the flexibility to adapt to market conditions to provide the best, most effective support for our members."
Enabling Electronic Loan Disbursements
Recently, Grameen added digital disbursements from PayNearMe to its growing list of payment options. The Grameen America team had been thinking about enabling debit card disbursements for its members for some time, as it consistently received requests to do so from its members.
Due to these requests, Grameen America added debit card disbursements to its two-to- three-year business plan. But when COVID-19 hit, the nonprofit's members needed assistance quickly. Grameen America accelerated the disbursements program. The nonprofit decided it was most important to put its members first and offer the best experience possible during these tough times.
And because Grameen America was already familiar with the PayNearMe platform and our implementation process, the team was excited to further our relationship by adding disbursements in July 2020.
The nonprofit has received positive feedback from members; they like having the option of debit card disbursements and how quickly they receive them.
"The members love the experience of disbursements to their bank cards because it's really instant. They can go into their banking app (or call into their bank), and it's just immediately there. We set the expectation for one hour, but it's almost always immediate, and they're happy about that and the fact that it goes to their own personal card," Marcus Berkowitz, Vice President of Technology and Innovation at Grameen America, said.
Grameen America is happy it has been able to deliver a solution based on member requests. The nonprofit has built trust by keeping its promise to find a bank card disbursement solution.
Additionally, Grameen America is happy to have reduced its PCI compliance burden by using PayNearMe's self-service disbursements solution, in which members can enter their own account details.
It has always been important to offer customers flexibility and make payments easy. But now more than ever, an agile and responsive approach will separate the businesses that fail from the businesses that succeed.
To learn more about how PayNearMe's platform can deliver convenient bill payment options for your customers and get you paid faster, request a demo to see the platform in action.