How PayNearMe is Using AI in the iGaming and Sports Betting Space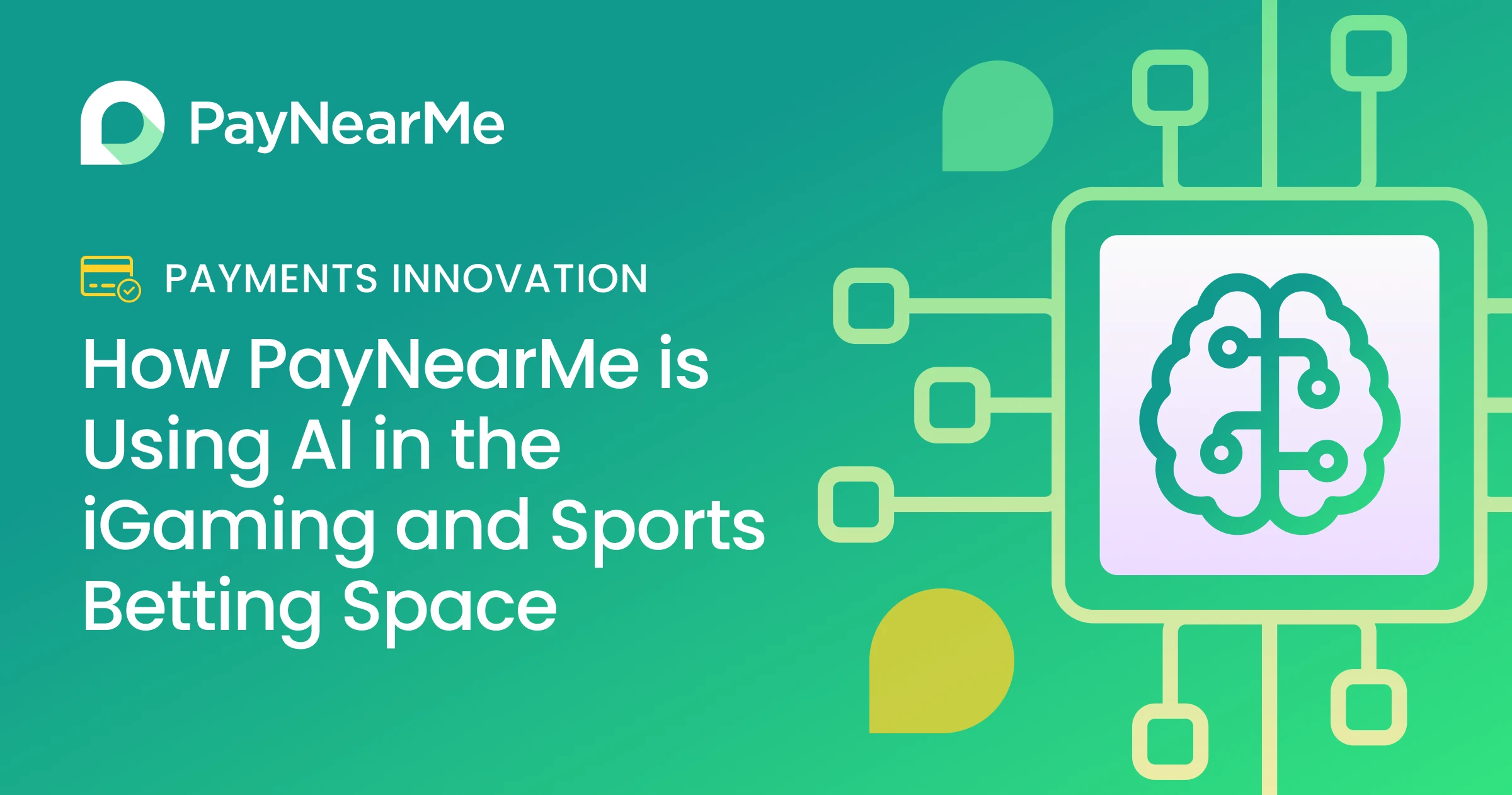 Artificial Intelligence (AI) has reached a pivotal turning point in history. Machine intelligence has been evolving since the 1950's—but never at the breakneck speed we're seeing today. The payments industry, in particular, is rapidly transforming as AI and machine learning (ML) are redefining how businesses operate and serve their customers. AI/ML is reshaping the competitive landscape, making it the new imperative for companies to survive in a crowded market.
The race is on, as, according to IBM, 77% of businesses have already adopted AI or have an adoption plan. To put that in perspective, a recent IGB article predicts that the global AI market value will rise to more than $930 billion by 2028.

A major focus is using AI/ML to improve processes and cost-efficiency; in fact, studies done by Forbes show that 64% of companies expect AI to increase productivity. While that's critical to the bottom-line, another vital consideration is keeping pace with constantly evolving consumer expectations. Forbes estimates that 55% of Americans interact with AI at least once a day, often through AI-driven personalized experiences, thus businesses are under pressure to meet new demands.
Jump ahead:
Why AI Matters for iGaming Payments: Practical Use Cases
AI and ML give operators the power to help increase profitability, deliver more effective payment experiences and reduce operational complexity. But what does that really look like on a practical level?
As a fintech innovator, PayNearMe is focused on identifying ways AI and ML can help our clients solve their biggest challenges, such as increasing acceptance rates, as well as reducing fraud, risk and compliance scope. As part of that, we're actively delivering product functionality and running experiments to evaluate a wide range of use cases where we believe AI and ML may do better than manual or rule-based processes. Below, we'll highlight several use cases where AI can provide significant benefits in relation to payments in the gaming industry.
Minimize Fraud and Risk
Operators' risk and fraud teams are the front-line witnesses to the fraud attempts that occur on a daily basis. As the frequency of fraud increases, operators often address the problem by adding more employees to those teams with the hopes that throwing more resources at the issue will ultimately resolve it.
This may help in the short term but creates a huge long-term problem of its own, as explained by Mark McLaughlin, Player Sustainability Operations Manager at Unibet, who manages the payment and fraud analysis team. In an interview with OneSpan, he noted that as Unibet's customer base grew, he needed to hire more and more analysts to handle the rise in fraud attempts. After hiring his 14th team member, he realized that model wasn't scalable.
This is where AI can come into play to help reduce operators' fraud and risk.
By tracking patterns of payment behavior over time, models can identify players most at risk for committing friendly fraud and legitimate, organized fraud schemes. This can be enhanced with operator thresholds to create an environment that reduces both deposit and withdrawal fraud at scale. For operators entering a new market with no historical player data, this can be a significant difference maker.
ML is well-suited to analyze large sets of payments data to flag unusual events and possible threats. AI tools can often detect issues faster than manual reviews, alerting the operator of potential risk and tightening rules to stop larger scale fraud schemes from gaining momentum.
Personalized Payment Experiences 
Personalization at scale has long been a challenge in payments, and this is especially relevant to online betting where dozens of deposit options may exist in the cashier screen. An interface that adapts to a user's behaviors and preferences can reduce clutter to focus on what matters for each player, such as frequently used deposit and withdrawal methods.
Our early internal data has shown that even though general audiences prefer a variety of payment options, each individual is more inclined toward using certain methods. AI can dynamically reorder deposit options to match the needs and preferential behavior of a
player to increase the likelihood of a successful deposit transaction.
Responsible Gaming
AI-powered insights on player behaviors can help operators identify at-risk players. Models can be developed to analyze player data including:
Deposit and withdrawal amounts
Players' average wager amount
Time spent on platforms
Pace of bets placed
Wagers outside a players' standard deviation
Various betting patterns
This data can then be analyzed to identify players that might be at risk for harmful betting behaviors and provide them with services to seek help.
How PayNearMe Thinks About AI
There's no question AI and ML can deliver practical business value. However, getting there requires more than a focus on products. PayNearMe is embracing AI as a fundamental shift in the way we make decisions about our business, processes and people. Achieving AI and ML excellence relies on being part of a company's DNA, touching every part of the business in some way.
Expanding our AI/ML capabilities will enable innovation at a rapid pace, making it easier for our clients to get value from data, solve complex problems and compete in the market.
We're also using AI to improve our business processes and increase employee productivity. Across the organization, PayNearMe's data science team is collaborating with our finance, product, legal, sales and marketing teams to identify patterns and insights. This helps us make better decisions, and these learnings may have significant downstream benefits for our clients and their customers.
While our goal is to become an AI-first company, we know it takes more than commitment—it takes time. Therefore, we see AI as a journey, focused on identifying and capitalizing on opportunities that deliver real business value.
Our AI-Centric Approach for Delivering Value
AI will play a crucial role in our goal to make payments easy, secure and personalized for consumers, and to empower clients to optimize their business with cost-saving efficiency and data-driven decisions. Particularly for operators that collect and disburse payments, gaining better and faster insights from data using AI/ML can help reduce risks related to security, privacy, governance and compliance.
"As a foundational approach, we're focused on using AI responsibly. We want to innovate as fast as we can–yet do it in ways that are safe, auditable and responsible for our clients and our business."

–Roger Portela, Senior Director, Product Management, Customer and AI/ML, PayNearMe
Focused on Operational Wins
Helping clients improve their bottom-line and minimize risk includes elevating how they meet core operational needs. Our AI-centric approach is designed to deliver important improvements, such as:
Unlocking business value from data. Our approach to AI will enable operators to use data from their players' transactions and payment behaviors to optimize a variety of operations, expanding payments from a back-office metric to a fundamental driver of business performance and risk mitigation.
Increasing predictive power. AI/ML will enable operators to predict player activity for making process and decisioning improvements. By using ML decision models and other techniques, we can help our clients better understand their customers and predict likely behaviors, so the business can take action to influence better outcomes. And using ML to identify emerging issues can inform where to make targeted improvements.
Democratizing data access. Our infrastructure is built to make it easier and faster for clients to access their data. Using a leading data lakehouse solution, PayNearMe has combined data from multiple sources with a centralized data share that is cloud-agnostic for seamless access. Breaking down data silos provides a 360o view of each client's business, which enables key stakeholders to get access to the data they need quickly and completely.
Safeguarding consumer privacy. Compliance and privacy is integral to any business taking payments, and a significant driver of operational costs. To protect consumer financial data, we have implemented appropriate data security measures such as encryption and secure data storage.
Speeding Innovation with AI/ML Capabilities
As part of the AI/ML innovation ecosystem, PayNearMe is testing a variety of tools and scenarios to determine how we can innovate and deliver faster to provide more value for our clients. Taking advantage of the latest technologies enables us to enhance our capabilities, including:
Innovate faster. We've increased agility and speed for testing hypotheses by running fast data science experiments in test environments. Before we go full scale with millions of rows, we test and iterate with a range of data. We then tune and deploy models into a decision engine to enable actions based on the insights.
Scale to opportunities. As AI/ML rapidly evolves, models can be very 'hungry'—they want as much data and variables as possible. With that in mind, PayNearMe's product development cycle factors in a few essentials for healthy growth. First, we focus on building in a way to ensure we can easily and feasibly expand with new data sources; for example, creating new reporting or algorithms. Second, we're investing in capabilities to process high volumes of data at once, so we can keep performance at peak levels as AI/ML models grow more complex.
Leverage the potential of generative AI. With an eye toward the future, we are investigating ways to take advantage of large language models (LLMs) and generative AI for a wide range of use cases, keeping in mind the risks presented with this approach. Beyond payment-specific insights, PayNearMe could also use these technologies to optimize operations and help operators do the same.
How Our Platform Leverages Data to Enable AI
With all the buzz about AI and ML, many companies are racing to extend capabilities by 'bolting on' solutions. PayNearMe believes in a more far-reaching approach, using AI/ML to improve and evolve what we offer as well as how we operate, so we can continually provide more value to our clients.
A fundamental of using AI/ML to solve business problems and achieve key objectives is having access to the right data. In building and iterating ML models, well-chosen and well-prepared datasets can help a business identify the levers, indicators and patterns for taking targeted action.
We have a centralized approach to data management. While the nature of what different audiences look at and how they use it varies, core results from broader, non-siloed data enables clients to get a more complete, cohesive picture of what's happening across their entire organization.
For example, unlike traditional A/B testing, machine learning can rapidly ingest large quantities of data to provide a broader context behind what's happening and why, as well as predicting future behaviors—much more rapidly and with more nuance.
Inherent Risks and Responsible AI
AI and ML can deliver significant wins, but data-driven technologies can also introduce risks. As part of our commitment to use AI responsibly, PayNearMe closely tracks the risks to ensure there are safeguards in place. Here are some key examples:
Protect consumer privacy. Solutions that work with consumer financial information and payments data must maintain a secure and compliant environment to respect data privacy.
Reduce data bias. Any unintended biases that come out of AI or ML could result in misapplication of data, and could be costly in reputational and compliance risk. PayNearMe is focused on mitigating AI bias by using techniques such as fairness and bias detection, regularly monitoring and making necessary adjustments.
Enable auditable decisions. Operators making critical business decisions based on AI/ML recommendations or predictions may need explainable audit trails to back it up. As a best practice, our models are built using explainable AI techniques to enable clear, contextual descriptions about how decisions are being made. These explanations are also useful for proving the business value of AI to build buy-in with C-level executives.
Avoid AI hallucinations. Most often associated with LLMs used for generative AI, hallucinations refer to algorithms and neural networks providing false information. These outputs don't match the model training data, and instead seem to occur when generative AI attempts to fill in gaps in the data with potentially plausible content. Companies eager to tap into this technology will need to exercise extreme caution and manual oversight, especially for customer-facing applications where reliability of information is essential to avoid risk.
Powering the Future of Payments with AI
In an era of unprecedented digital innovation, payments are at the forefront—and AI is driving transformation on many levels. PayNearMe believes the advancements will have significant impacts on how operators do business and what players expect.
The future of payments is about making the user experience seamlessly simple, secure and personalized. For many businesses, that's the path to solving the biggest challenges—creating personalized payment experiences and reducing costs and risk. As fintech innovators, we're excited to help shape that future with AI/ML.
To achieve broad, sustainable wins, it will take more than just 'bolting on' the latest shiny object. That's why PayNearMe is committed to moving forward with a data-driven, AI-centric focus. With AI at our foundation, we expect to innovate faster and optimize operations to empower our clients to improve bottom-line results and increase their competitive advantage.
Trust the MoneyLine™ Platform for iGaming Payments
PayNearMe's MoneyLine platform gives operators a complete deposit and withdrawal solution that maximizes your revenue by boosting player satisfaction, lowering conversion costs, improving reliability and future-proofing your business.
To learn more, contact our team or view an on-demand demo of the platform.