How Unbanked Americans Pay Bills
From the outside looking in, 2023 appears an unlikely time to be unbanked. There are over 4,800 FDIC recognized banks in the U.S., along with 6,500 registered credit unions and an ever-growing number of digital "neobanks".
Still, the most recent reporting from the Federal Reserve shows that 4.5% of households (or roughly 10.5 million adults) are currently unbanked—defined as those without access to a checking or savings account.
Unbanked consumers don't typically have access to the same financial opportunities as their banked counterparts, with 4 in 5 lacking access to mainstream credit options. This often leaves them without a thin or non-existent credit file, leading them to seek financing options with non-prime specialty lenders and buy here pay here (BHPH) dealerships.
For lenders who serve this market, understanding the behaviors and preferences of unbanked consumers is critical for improving portfolio performance, reducing delinquencies and most importantly, providing a better servicing experience for all customers.
The Payment Behaviors of Unbanked Americans
Unlike their banked counterparts, unbanked Americans rely on less traditional payment instruments to pay bills each month. The aforementioned Federal Reserve study, along with a 2021 FDIC survey, provide interesting insights into the bill payment behaviors of unbanked consumers.
For unbanked Americans, cash reigns supreme. These individuals make a whopping 71% of all their payments with cash. This is a staggering number, considering banked individuals only rely on cash for 19% of all transactions.
A similar trend can be seen when isolating for bill payments (such as an auto loan, rent or utility payment.) For unbanked Americans, cash is the primary payment method for more than half (54%) all bill payments, compared to only 5% for banked individuals.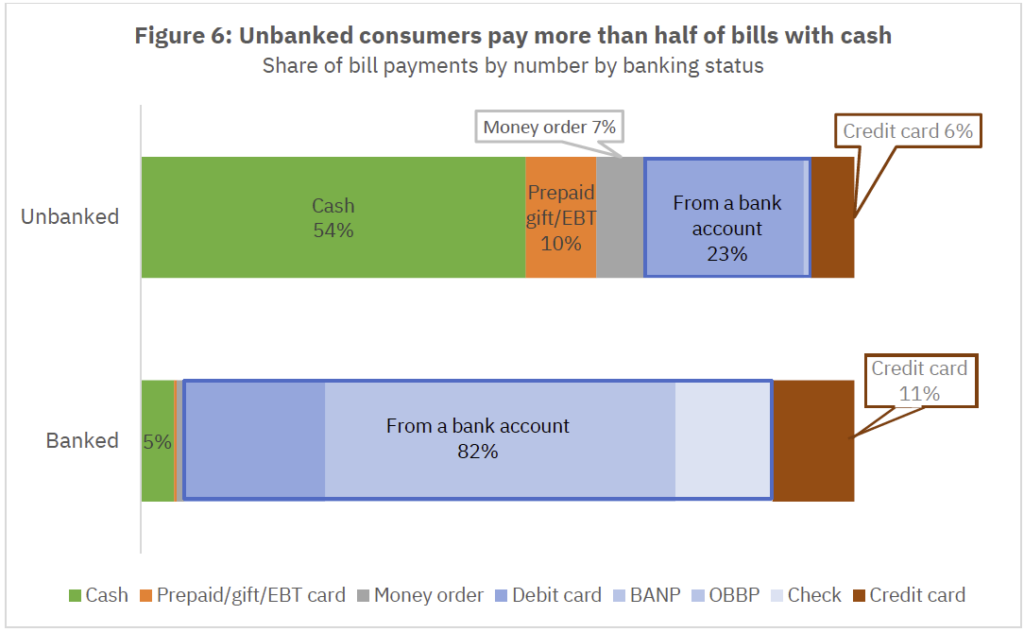 Another interesting trend is the use of mobile wallets (also called non-bank payment accounts) by this consumer segment. A third of unbanked individuals use mobile wallets such as PayPal, Venmo, and Cash App to make payments. Within this group, nearly two thirds (64%) are using mobile wallets for bill payments. This is interesting considering that a majority of unbanked consumers (55%) do not link their mobile wallets to another funding source, such as a prepaid card, to fund the account.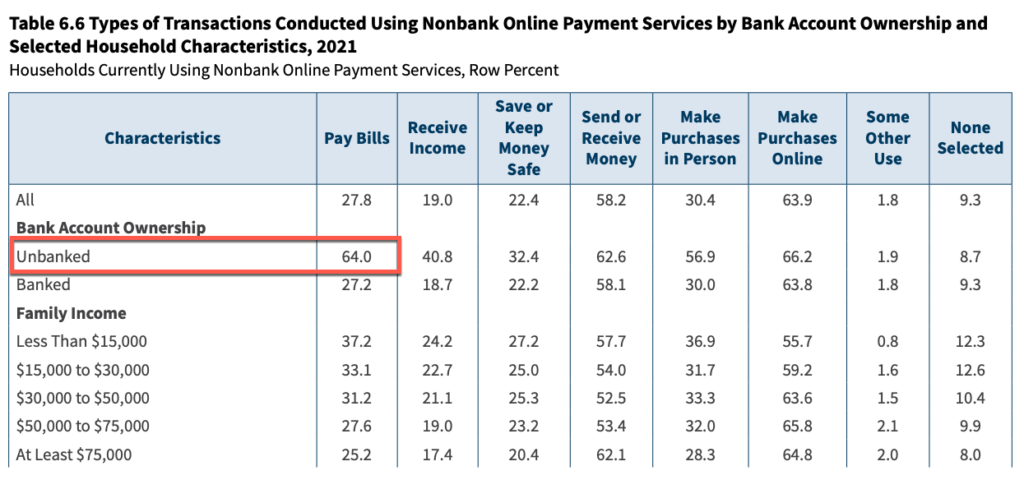 Instead, it can appear that these individuals are using the mobile wallets as pseudo bank accounts, using peer-to-peer (P2P) transfers and other means to fund accounts and then use them for paying bills.
Another surprising statistic that emerged was the correlation between age and unbanked status: 44% of unbanked consumers are younger than 35, compared to only 28% of banked consumers. Common narratives around younger consumers say that they prefer to be cashless, and yet the overwhelming reliance on cash for unbanked individuals could suggest otherwise.
Providing Payment Alternatives to Serve Unbanked Consumers
As non-prime auto lenders adapt to a new market where competition from credit unions and banks is at an all-time high for more creditworthy consumers, servicing unbanked individuals should be a priority. But what specific approaches can lenders take to service this group?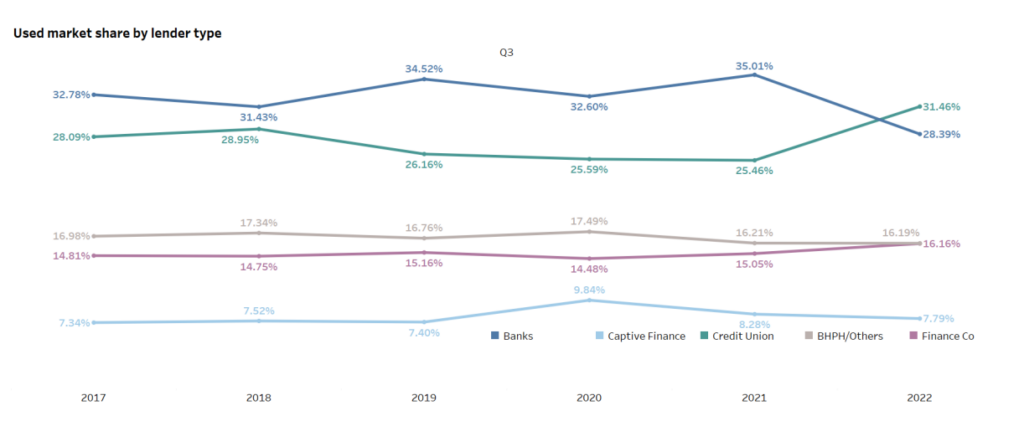 Offering more online bill payment options is a smart suggestion for lenders. For example, PayNearMe gives lenders the ability to offer nearly all major payment methods in a single experience—including cash at retail and mobile wallet payments that appeal to unbanked individuals.
The added benefit for lenders is that this can also reduce the cost of acceptance and improve on-time payments. When a lender only allows cash payments in person, the consumer has to drive to the lender's location during business hours and transact with a cashier or kiosk. This creates friction in the payment process and could result in a delinquency if the consumer cannot make it in time. Offering a "pay with cash" option in a self-service mobile flow enables the consumer to pay with cash at tens of thousands of local retail locations, many of which are open 24/7.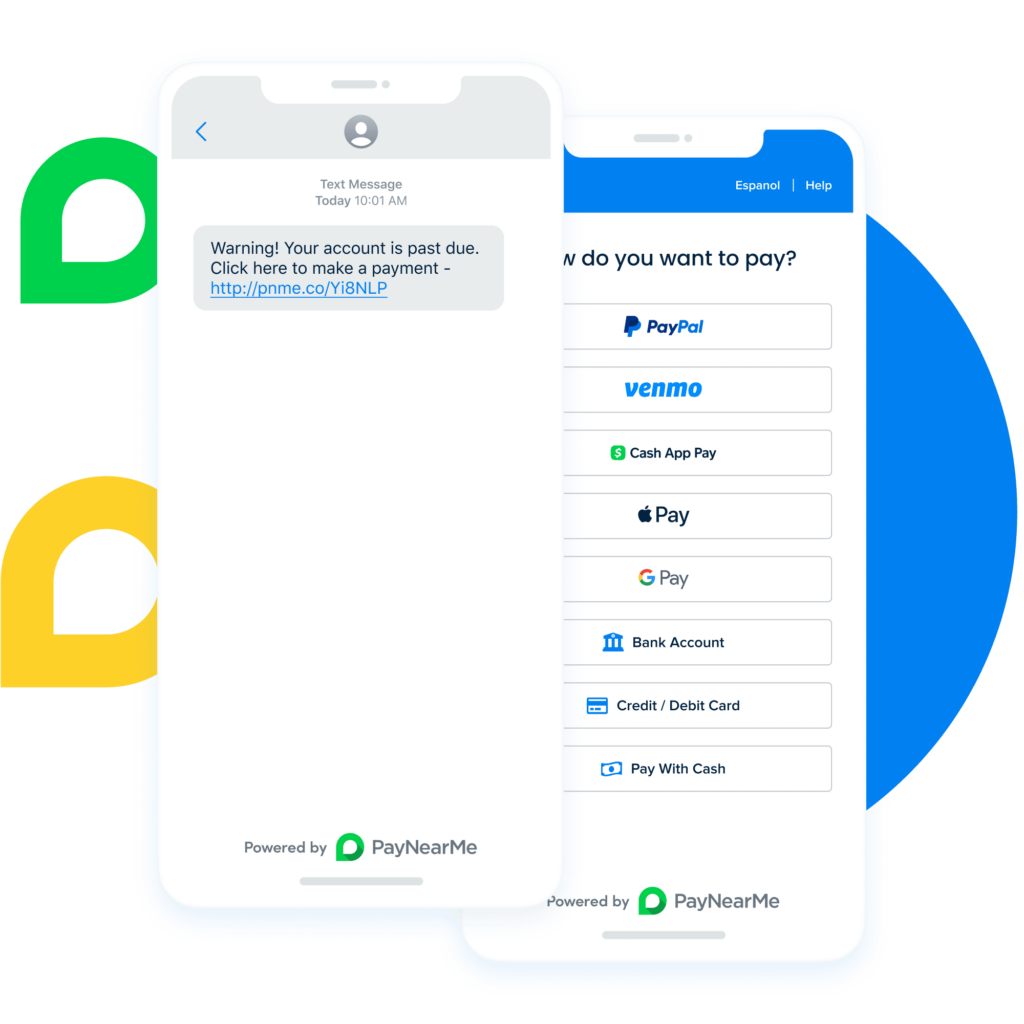 Flexibility with mobile wallet payments is also important. Lenders should not only consider enabling all the major wallet options (think Apple Pay, Google Pay, Venmo and PayPal, among others), but also allow payments to come from a stored balance in the wallet rather than just using the wallet as a means to facilitate card or bank account transactions. This can enable unbanked individuals to pay with their existing balance, rather than pursuing alternative funding methods that may take days to enter the mobile wallet.
Finally, auto lenders should consider flexibility in their payment offerings to make the payment experience as seamless as possible. This could be accomplished in a number of ways, including:
Offering convenient, mobile-first payment reminders by SMS, email or push notification
Enabling autopay features that embrace flexible scheduling (i.e. weekly), mobile wallet options and simple enrollment/cancellation options
Built-in bilingual options to allow self-service for non-English speaking customers
A Better Payment Experience for All Customers
PayNearMe provides a complete payments platform that gives lenders the flexibility to service customers from all walks of life. Learn how PayNearMe is helping many of the nation's leading auto lenders drive more self-service, reduce delinquencies and lower the total cost of acceptance.
Contact us today or view our customer success stories.