Guest Post: Three Reasons Incorporating a LHPH Model Could Benefit Your Dealership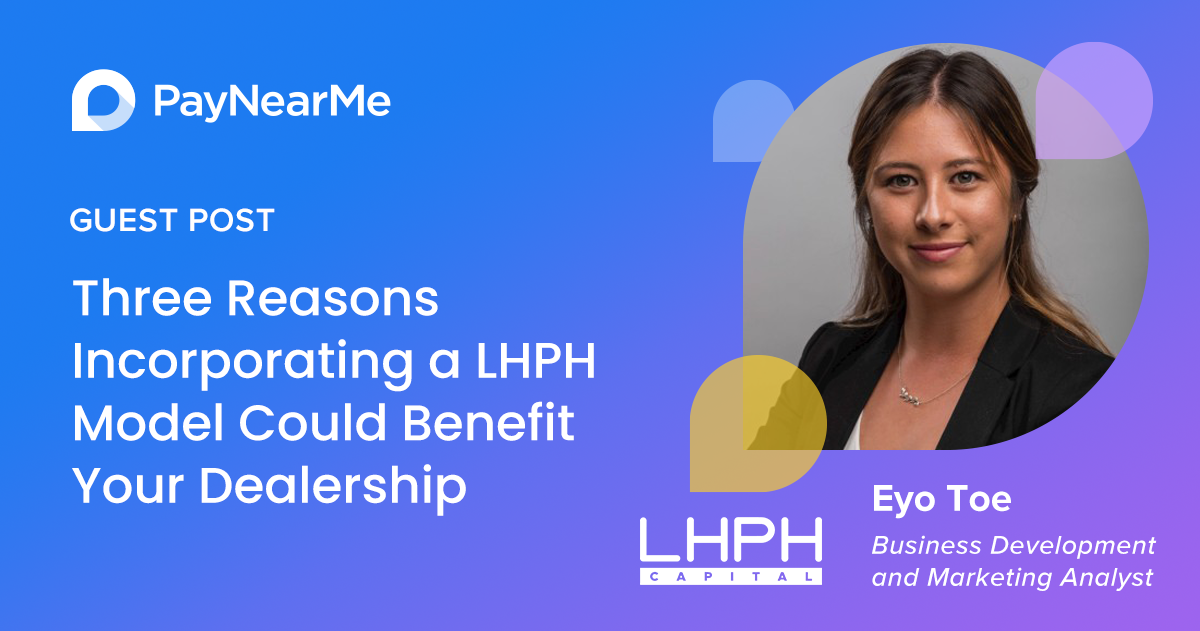 The Lease Here, Pay Here (LHPH) sales model has been around since the early 80s and has recently gained un uptick in interest among dealers. With the increase in used car prices over the past few years, some dealers are considering incorporating a leasing program to offer customers more options to get them in the driver's seat. A leasing program can give dealers more financing flexibility, creating additional ways to attract and retain customers.
Here are a few reasons why LHPH has come into favor in the auto financing industry.
Budget Friendly
One unique aspect to incorporating a leasing program is that leased vehicles maintain a residual value for the dealer at the end of the term. The residual value typically ranges between 20%-40% on the agreed upon value (or retail value), depending on the term of the lease and mileage on the vehicle. This allows dealers to offer more affordable monthly payments to customers than in a traditional retail sale.
Essentially, the customer is only making a payment on the vehicle for the number of months they will be operating it as opposed to paying retail price. On average, LHPH Capital sees that dealers who incorporate a leasing program can provide their customer a payment that is about $100 less per month compared to traditional BHPH, without extending the term.
In times of economic uncertainty and rising inflation, those additional funds can be a difference maker for customers and an enticing sales promotion for dealers.
Nurturing Loyal, Repeat Customers
Despite collecting smaller monthly payments, dealers can make additional profit on leased vehicles by reselling them at the end of the lease term. LHPH Capital data shows that only about 7% of customers will choose to purchase the vehicle at the end of the lease for the residual value.
Dealers can then recondition these vehicles, and return it to sales inventory.
Return customers offer an opportunity to keep the value of vehicles high over the lease term. If they have proven to pay on-time, or have already set up autopay, consider offering them a discount on their monthly payment, or a free quarterly oil change–this keeps customers feeling the love, and your asset in good condition.
Asset Protection
The bankruptcy remote nature of the lease is a benefit that should not be overlooked. Unlike the retail installment sales contract in BHPH, a lease cannot be included in a bankruptcy. Because the dealership owns the vehicle, the lessee must decide to either "accept" the lease and continue making the agreed upon payments, or "reject" the lease and return the vehicle to the lessor (the dealership).
If your customer accepts the lease, there might be some ways you can help make the payment process easier. Do you offer customers the flexibility to control how, and when they pay their lease? Check out a recent PayNearMe blog post covering Five Ways to Reduce Repossession Rates for more tips your team can leverage at your LHPH/BHPH.
When working with subprime customers, there is a possibility that some of them will file for bankruptcy. Leasing allows you to protect your collateral by ensuring your asset is either returned or receiving payments in this type of situation.
Interested in learning more about leasing?
Download the LHPH E-Book to see what it would take to get your program started and explore additional benefits of leasing or learn from current LHPH dealers at the LHPH Summit in San Diego, CA this Month! Check out the agenda here and use code PNM100 to save $100 off your registration fees.