How to Improve Call Center Agent Productivity with PayNearMe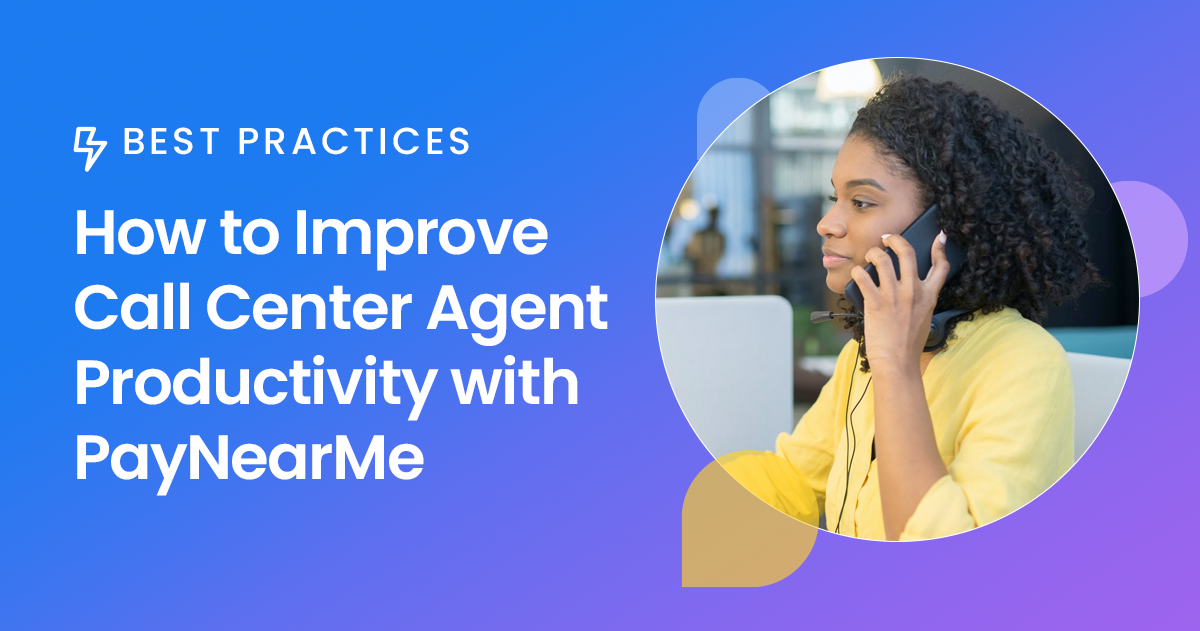 Updated December 2022
Collecting payments from customers every month can be time consuming and tedious for your customer service agents—and expensive for your business. According to Gartner, "live channels such as phone, live chat and email cost an average of $8.01 per contact, while self-service channels such as company-run websites and mobile apps cost about $0.10 per contact."
This is especially true if your payments platform requires agents to navigate through multiple screens and switch windows just to complete a simple transaction. This increases call time, creates more opportunities for human error and decreases the number of calls an agent can handle a day. In high volume call centers, this can significantly increase the total cost of acceptance over time.
Here are several ways that PayNearMe is helping billers reduce call center talk time and increase agent productivity.
Reduce Transactional Payment Calls
Many call centers service the same payers regularly. These individuals often have no issues making a payment; rather, they call because it's what they've always done, or because they aren't aware of other options to pay. These transactional payments can account for a large share of call volume and often don't require much from your agents aside from moving the customer from step to step.
Creating "frontline" intercepts to take these calls can be beneficial for both customers and agents. For example, providing a bilingual IVR service can provide fast and easy service for Spanish speaking customers, without having to wait on hold for an agent fluent in their language.
Smart ways to reduce transactional calls:
Start with IVR: Route all first touches to an IVR that can take payments from regular customers.
Print QR codes on statements: Print QR codes on statements to enable easy digital payments for customers who still receive paper bills.
Offer multiple languages: If you service a sizeable number of Spanish speaking customers, consider offering bilingual options on both your IVR and web portals to help them self-serve.
Avoid Payment Adjacent Calls
Helping customers solve difficult payment challenges should be the core focus of customer service agents. In reality though, many agents spend a significant portion of their time fielding payment adjacent calls—i.e., calls that come in about something other than the actual transaction itself. This may include a password reset, a lost account number or a question about where to make a payment online.
Primary research supports this claim. In a 2021 PayNearMe consumer research study, we asked consumers what made the bill pay process difficult. The top answers were all related to organization, including remembering login information, keeping track of due dates and amounts, and navigating poorly designed websites. These friction points can be the genesis of many customer service calls, but often don't require agent intervention to solve.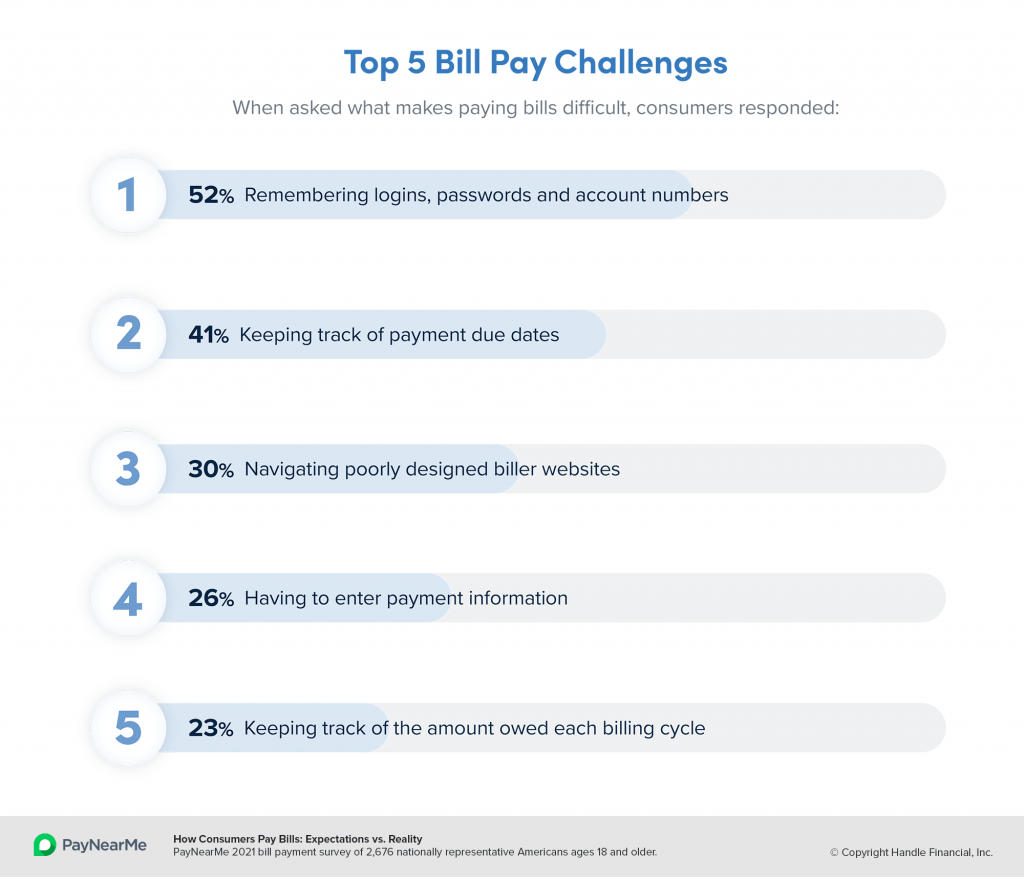 Using the right technology can alleviate many of the challenges shared above, and in turn, lower payment adjacent calls into your call center. This frees up your agents to focus on customers who need more attention, such as delinquent payers or those who have complex payment issues that require human assistance.
Smart ways to reduce payment adjacent calls:
Use Smart Link™️ technology: Send personalized payment links that don't require customers to enter a username, password or account number.
Send automated reminders: Send one-click payment links via text message, email and push notification to remind customers about payment due dates and amounts.
Enable eBill presentment: Attach PDFs of your ebills directly to your payment screens, making it easy for customers to access vital account information in one place.
Speed up call velocity
While our first two recommendations focused on avoiding needless calls, its inevitable that your contact center agents will eventually have to engage with customers over the phone. This may be inbound calls from those who need or prefer to pay over the phone, or outbound collection calls to delinquent payers. In either case, reducing the duration of each call by speeding up the payment process gives contact center agents more time to spend engaging with customers.
One way to do this is to simplify agent workflows by streamlining the user interface of their collections software. Removing unnecessary fields, providing fast access to payment links and limiting the number of buttons, menus and pages an agent has to navigate each call can make a significant impact on agent talk time.
Additionally, providing agents with "push to pay" buttons in the interface allows them to send payment links directly to the consumer while staying on the line. This allows the agent to walkthrough the payment process without having to handle sensitive card or ACH information over the phone—a boon for your compliance department as well. Pushing payment links also opens up new payment channels for customers, allowing them to complete the transaction with payment types such as Venmo, PayPal, Apple Pay or Google Pay.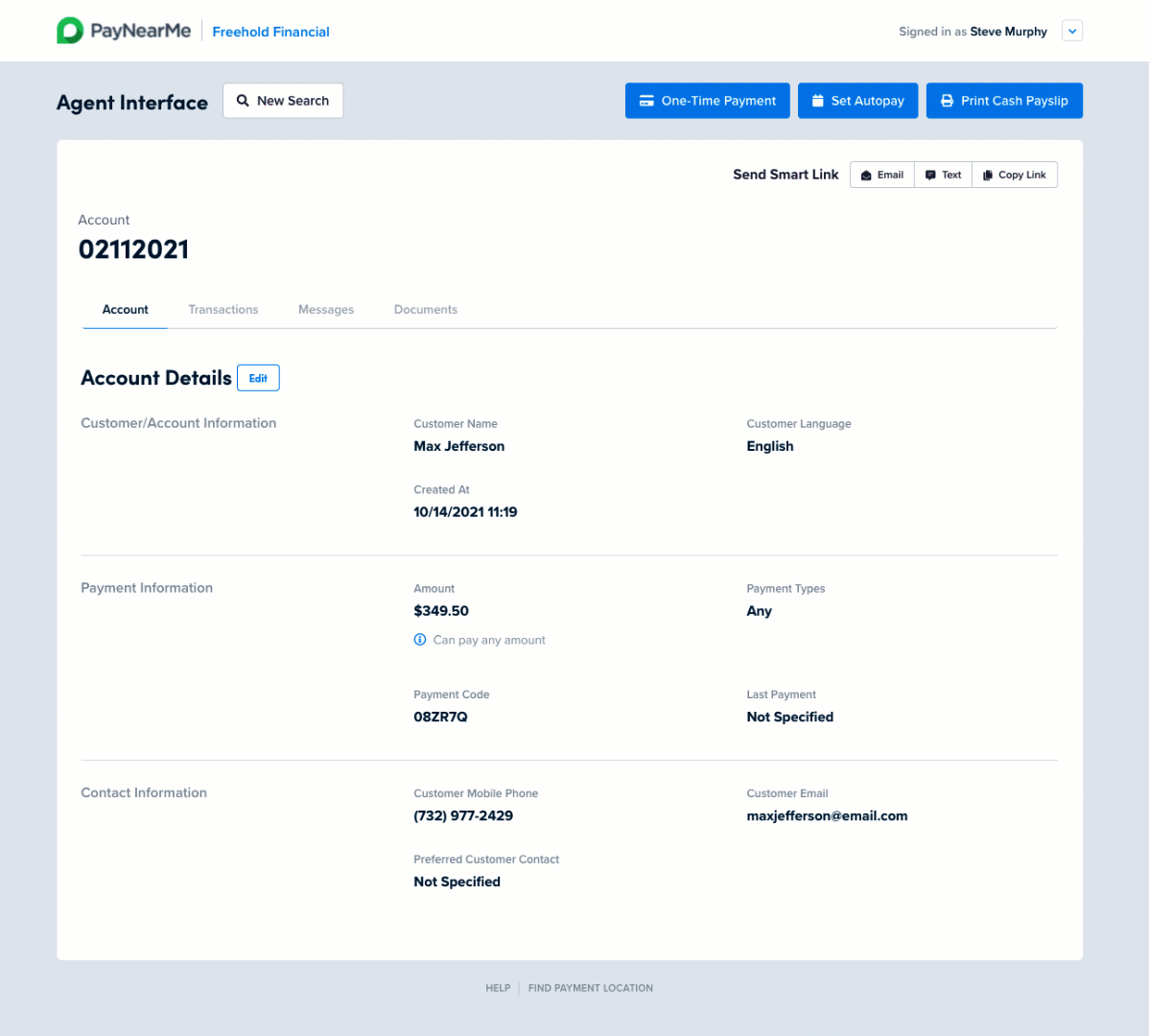 Smart ways to speed up call velocity:
Configure the Agent Interface: Use role-based configurations to only show agents the information they need to process a call, and nothing more.
Integrate with your LMS: Consolidate the number of times agents have to enter data by integrating PayNearMe with your LMS, DMS or other system of record.
Use push to pay links: Send payment links via text message, email or chat to enable customers to self-service while staying on the line with agents.
Encourage agents to promote self-service
The first goal of your contact center agents should be to leave the customer satisfied with their call. The second? To make sure they won't have to call back in the future.
Train your agents to be advocates for self-service in the future, educating customers on how to setup recurring payments and save important payment information on their phones. Following the first three steps in this guide should open enough bandwidth for your agents to spend time doing this, helping to reduce future call time in the process.
If agents are using push to pay Smart Links (mentioned earlier), they can tell customers that these links are reusable for future payments. Customers can simply save the message and use the same link to make future payments—no login, account number or password required.
This is also a great time to setup customers with autopay. Agents can easily enroll customers for automatic payments in PayNearMe's Agent Interface, allowing them to setup a flexible frequency, amount and duration. For example, a customer that would like payments to correspond with their payday can setup a custom schedule that hits on the 5th and 20th of the month, while another customer can setup a recurring payment for the minimum plus $200 that recurs the first of each month. Pre-set authorization templates and scripts make these transactions compliant.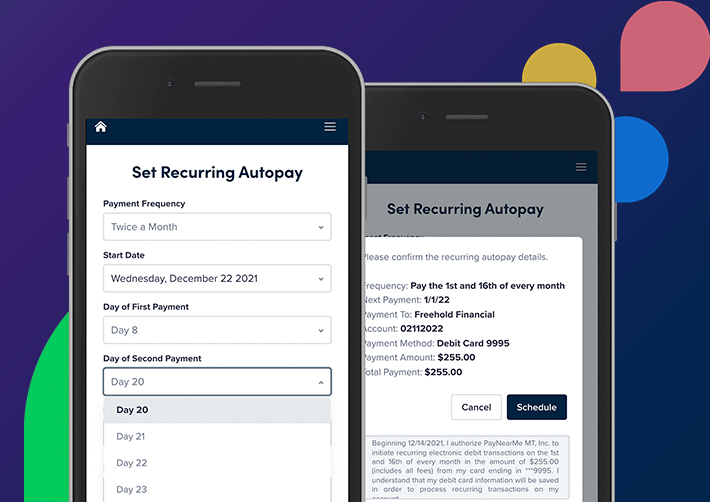 Finally, agents can encourage customers to add payment information to their Apple or Google wallets on their mobile devices. This gives the customer instant, up to date information on their account (such as balance and due dates), along with access to one-click payment links and more.
Smart ways to promote future self-service:
Enroll customers in autopay: Reduce inbound calls by scheduling and automating future payments.
Add to digital wallets: Show consumers how to add payment information to Apple and Google wallets, enabling them to quickly access bill info and make payments on their smart phones.
Make your call center more productive with PayNearMe
Your agents are often the first (and only) live interaction your borrowers will have with your business once a loan is originated. You need to ensure every interaction with your company is a positive one, and you can verify this by giving your agents the time and resources to properly service every caller.
PayNearMe gives you the tools to free up agent time while helping your business collect every payment, every time. Learn more by requesting a demo, or by viewing a short on-demand walkthrough now.