PayNearMe's MoneyLine Platform Shortlisted for "Payment Solution of the Year" – Here's Why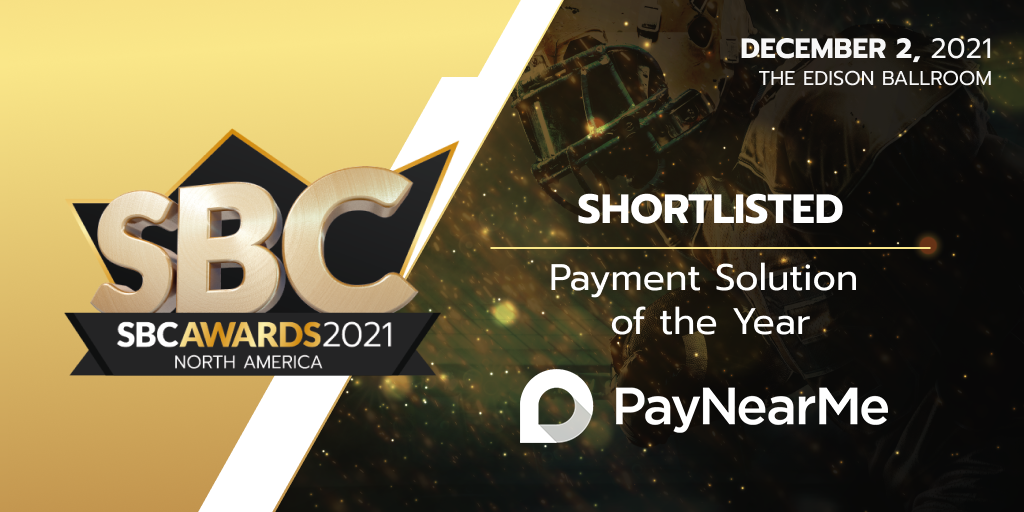 We're thrilled to announce that PayNearMe's MoneyLine™️ platform has been shortlisted for the Payment Solution of the Year award at the SBC Awards.
MoneyLine simplifies money movement for iGaming and sports betting operators by incorporating deposits, payouts, cashiering, cash at cage, analytics, messaging and engagement into one powerful platform. This single-platform approach results in higher player satisfaction, lower operating costs, improved speed to market and a future-proof foundation for adding new capabilities.
Here are a few highlights from our award submission to show why the MoneyLine platform was selected for this prestigious award shortlist.
Notable Features
The Latest Mobile Deposit Options: With MoneyLine, operators can appeal to mobile-first players, allowing them to easily make deposits with native integrations with mobile options like Apple Pay & Google Pay, among other options. This greatly reduces friction in the deposit process, particularly at the point of acquisition, by increasing payment acceptance rates vs. more traditional methods.
Fast Deposits with PayNearMe Smart Link™: PayNearMe Smart Link allows players to click a link in a text message, email, push notification or other channel and make a deposit—without the need to log in. Each Smart Link is securely connected to a players account, giving operators more ways to personalize the deposit experience (i.e. a personalized QR code on a direct mailer or a mid-game text message).
Elegant Retries: Card not accepted? No problem. Instead of restarting the deposit process when a card is declined, PayNearMe allows players to instantly swap to a bank account to complete the transaction, saving players time and reducing frustration. Elegant retries are possible due to PayNearMe's unique platform architecture, which allows operators to build rules based on player payment history and preferences to drive ideal deposit and payout experiences.
Streamlined Payouts: Get funds back to players quickly with push-to-card payouts that are available in minutes. On the operator side, these payouts can be configured to streamline the compliance and risk process, allowing for improved operational efficiency and fewer manual interactions.
Guaranteed Cash Deposits: Skip the card declines and ACH errors by allowing players to deposit with cash at thousands of retail locations, including 7-Eleven and CVS stores. Player barcodes are linked to their gaming accounts, which means there's no complicated paperwork or signup process—just scan and deposit at the counter.
These features only scratch the surface of what PayNearMe empowers operators to accomplish. PayNearMe's configurable and scalable platform helps new operators get to market quickly, while providing a more flexible, reliable and innovative payments experience for those already up and running.
Why This Matters
iGaming and sports betting payments are broken. High card declines, low conversion rates and slow and difficult withdrawals results in a poor player experience and high operational costs. MoneyLine delivers a next-gen approach that solves for the challenge of reliable payments, with a flexible platform that leverages key customer insights to deliver a personalized player experience.
Trusted by Leading Operators
Operators are able to quickly and easily launch PayNearMe due to our modern, flexible technology base and unique platform architecture. This has led to PayNearMe powering deposit solutions for 9 of the 10 largest US operators, in every legal US market.

PayNearMe's payment technology powers more than 100 gaming and ADW sites across all legal U.S. markets. Some of our customers include BetMGM, TVG, PointsBet, FanDuel and William Hill. PayNearMe directly powers, or has integrations with underlying third-party platforms that power over 95% of US operators (GGR).
PayNearMe has facilitated cash payments since 2009, and today is accepted at over 26,000 retail locations across the U.S. including 7-Eleven®, Family Dollar®, and Casey's General Stores®. These stores are optimized for cash acceptance, giving players peace of mind when making a deposit.
Take the Next Steps
See how the MoneyLine platform makes deposits, payouts and engagement easy for you and your players—all in a single, powerful platform. Schedule a demo.