Payments 3.0 in iGaming: Creating a Player-Centric Approach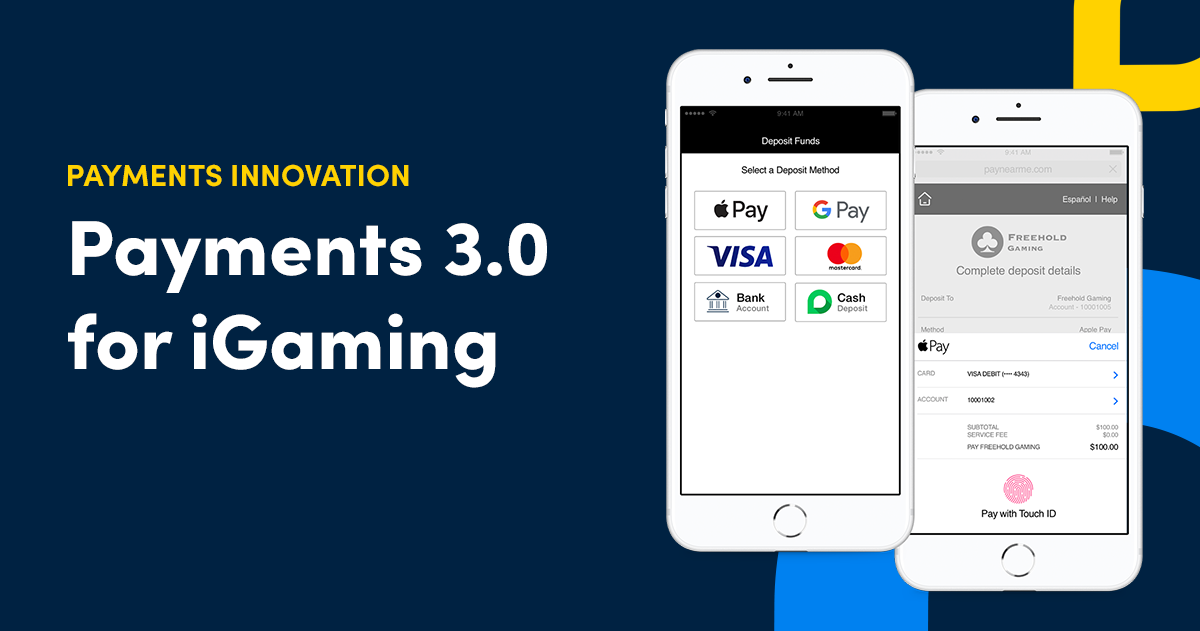 iGaming payments are broken. High decline rates, fragmented technology and poor customer experiences have made it difficult for players to deposit and withdraw funds, creating friction and frustration for everyone involved.
Compare this to other industries—such as ecommerce and ride sharing—where advances in technology have made the payments process nearly invisible. You can check out on Amazon in a single click, take an Uber without fumbling for fares or tips, or have an expired card update automatically on Netflix.
These experiences are shaping consumer expectations for what payments should be, and once these behaviors are established, it's difficult to go back to disjointed and clunky payment processes that exist in many iGaming apps and services.
Despite these limitations, the industry continues to grow at an exponential rate. "It's amazing how successful the market has been," says Mike Kaplan, CRO of PayNearme, "seeing as we've made it so hard for players to move money in and out of their accounts."
Given this growth, the potential for payments to act as a differentiator and deciding factor in player acquisition has many in the industry rushing to adopt a payments 3.0 approach that has brought incredible results to other industries.
The Evolution of Payments
Wait—Payments 3.0? Let's take a step back and look at the evolution of payments on a broader scale. 
In the early days of online payments (which we'll dub Payments 1.0), the goal was to give consumers more options to complete transactions. This meant finding new ways to allow secure card and bank payments that could meet the needs of most users.
A classic example, as explained by former WePay CEO and PayNearMe investor Bill Clerico, was the early days of eBay. "When eBay first came out, they didn't have payments built into the platform. Sellers had to put all the options on the listing, such as Western Union, PayPal, money order by mail. To me, that was Payments 1.0—consumers had many ways to pay, but payments were completely separate from the underlying software or platform." 
In many ways, the iGaming industry still fits into this mold. Operators tend to have a cashier page listing all the different payment types, with each being run by separate vendors and technology platforms. This creates a disjointed and often frustrating experience for players.
Payments 2.0 focuses on integrating payments into the software experience. This is where you'll see features such as seamless UIs, a streamlined checkout experience, and a single point of entry for providers to collect payments in one place. Most e-commerce platforms (and some innovative iGaming operators) utilize this approach, and is considered table stakes for most consumers.
The next iteration, Payments 3.0, is still in its infancy as a technology. This version of payments doesn't focus on individual transactions, but rather the relationship between players and operators and all the ways money moves between them. By creating fully integrated payment experiences, everyone benefits.
"Think about Shopify," says Clerico. "Shopify Pay is closely integrated with the core shopping platform, and includes many value-adds on top of just processing payments. When a consumer makes a payment on a Shopify merchant, they'll immediately get texted a code that can be used to pre-fill important information, making each transaction on the next Shopify storefront even simpler. That same payment information then allows you to coordinate your purchases across different Shopify storefronts, so you can track deliveries in one place, for example."
For the consumer, this means a frictionless, invisible payment. For merchants, it means tight integration into value-added services, new possibilities to cross- and upsell, better operational efficiencies and higher retention rates.
This can be an incredible differentiator for iGaming operators who wish to quickly onboard and retain new players, while gaining an edge in operational efficiency.
What a Payments 3.0 Approach Means for iGaming
Change for the sake of change isn't always practical (or profitable). At the end of the day, operators need to see the business results that a Payments 3.0 tech stack can bring to the table.
Here are some of the ways PayNearMe is using this framework to create better payment experiences for players and operators.
Better Acquisition Through Streamlined Deposits
The deposit process is the first interaction players have with your brand. Ensuring they can quickly and easily add funds to their account is critical to the player acquisition process. One way to do this is with a unified deposit experience across payment types. This means combining all practical payment types—such as cash, cards, bank accounts and Apple Pay, to name a few—into a single, unified experience that removes unnecessary steps.
For example, imagine sending a player a Smart Link to deposit $100 via Apple Pay. When the link is clicked, the deposit screen fills in all the necessary information and all the player has to do is confirm the amount and use TouchID or FaceID to finalize each payment. This drastically reduces complexity and makes first time deposits accessible and easy.
Reduced Failures with Elegant Retries
Given the current state of card acceptance in iGaming, it's inevitable that some players will have to deal with rejections. What they shouldn't have to deal with is repeated rejections on the same cards.
By building smarter payment history into the deposit experience, you can nudge players to deposit with cash or ACH if they've already had a card rejected in the past. Alternatively, when a player has made a successful deposit, you should be able to set that payment method as the default to make future payments simpler.
Removing monotonous retries and replacing them with a more elegant, simple solution helps improve player loyalty while reducing the cost of failed deposits.
Faster Payouts with Automation
Despite what others may claim, simply turning on "faster rails", such as RTP, doesn't necessarily make payouts instant. You still need to acquire the correct payment details for the player, run the transaction through compliance, and clear other backend hurdles before a payout can be processed.
Thinking about it this way, there are clear opportunities to use existing data to streamline and automate the payouts process. For example, did the player already deposit successfully with a bank account or card? If so, can you default to this method to speed up the payout process. You may also build in smart compliance rules to reduce the amount of manual processing required for each outbound transaction.
These processes, coupled with faster payout methods, can help you get money into players' hands quickly and easily—keeping them happy and loyal.
Embracing Payments 3.0
As iGaming continues to grow, payments will become a differentiator that helps smart operators separate from the pack. Embracing advances in payment technology both internally and with vendors will be the key to building a winning brand.
Learn how PayNearMe is helping operators make the shift to Payments 3.0 by requesting a demo today.