Spotlight Series: A Conversation with Emma DeJong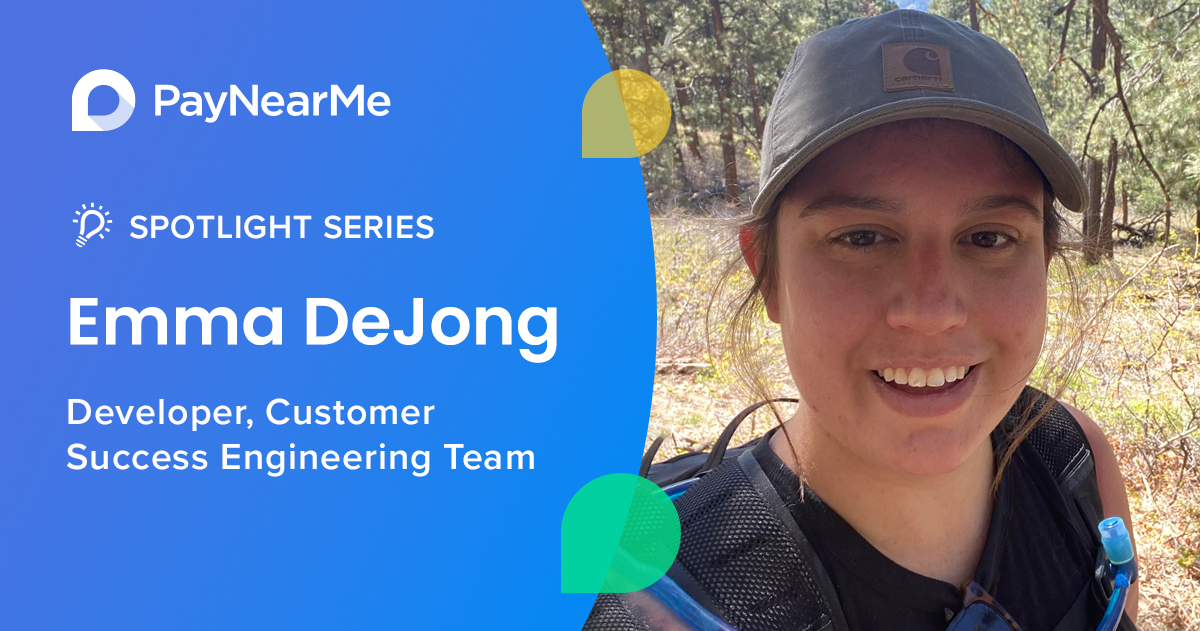 In the PayNearMe Spotlight Series, we shine a light on the people that make our company thrive. In this month's interview, we sat down with Emma DeJong, Developer, Customer Success Engineering Team, to chat about her role in the company, why she loves working at PayNearMe and her life outside of work.
Q: Can you tell us about your career journey and what led you to PayNearMe?
Emma DeJong: After college, I worked at the San Antonio Humane Society as an administrator for their CRM software. This sparked my interest in customized development work, so I enrolled in Code Up, a web development boot camp located in San Antonio, TX. After I completed Code Up, I was hired at a real estate brokerage accounting software start-up organization. This was essentially my introduction to the tech and start-up worlds, and it really made me fall in love with engineering.  
From there, I moved on to a larger San Antonio-based company. While I was there, a PayNearMe recruiter contacted me about an engineering opportunity. Honestly, I wasn't really looking for a job at the time, but I appreciated the interview process because it gave me a lot of time to consider my decision. I was able to talk to multiple people within the engineering team to make sure that my goals and career aspirations aligned with the company's culture and trajectory. Through the transparent interview process, I was able to determine if it was a good fit, and now that I've been at PayNearMe for two years, I know I made the right decision!  
Q: Have you always wanted to pursue a career in engineering?
ED: I always wanted to be a veterinarian, but I wasn't really sure if I wanted to be in school that long, so I decided to go into accounting. After graduation, as I mentioned, I worked at the San Antonio Humane Society, so I basically found a way to marry my passion for working with animals with my degree. It was during that time that I got interested in engineering.   
Q: How has PayNearMe helped you in your career development?
ED: One of the things that I was looking for was the ability to expand my skill set, and I've been able to do that at PayNearMe because my manager and my team have a great deal of trust in me. When I started with the company, my manager saw growth potential in me and it led to the opportunity to work on larger, more complex projects that allowed me to learn so much about myself and the company.
I've learned that I love working with people in a collaborative nature just as much as I love working on code, so with my manager's help, we've been able to develop a career path that allows me to marry my passions and strengths with the needs of the company. PayNearMe has given me opportunities that extend far beyond my title.    
Q: Do you have any advice to share with those who are just getting into the fintech industry who might want to join a company like PayNearMe? 
ED: I would definitely recommend remaining flexible. Things constantly change, and you'll likely be required to wear different hats, so it's important to remain open. It's also important to learn how to be vocal and advocate for yourself when you need help or additional resources to be successful. 
Q: What are some of your favorite things about working at PayNearMe?
ED: PayNearMe has great managers across the entire company. Not only do I have a really supportive manager, but I love that I can go to managers in different departments and everyone at the leadership level is always willing to help; I feel really supported.
In all of my years as an Engineer, this is the first company I've ever worked at that has dedicated resources for women in tech. The Women in PEP Group (individuals identifying as women in Product Engineering and Product) Employee Resource Group (ERG) goes above and beyond to make the women at PayNearMe feel supported and like they have a safe space to discuss challenges and opportunities. We read books together, have guest presentations and gain access to outside resources. It's really nice to see the support become tangible.     
One of the other standout things about working at PayNearMe is I feel like my input and contribution are valued just as much as my male counterparts. This unique culture has helped me build my confidence and ability to speak up and advocate for myself and my teammates.
Q: Let's shift the focus to your role. What does a day in the life of an Engineer look like?
ED: It varies depending on the day. My day typically starts with a daily standup call with my manager and team to level-set on projects and general headspace. I work on the customer success team, so it requires a level of flexibility because my daily priorities can shift based on customer needs. Fortunately, because of PayNearMe's flexible remote work environment, I have the ability to structure my day around when I'm most productive and effective. For example, I can schedule my coding work during hours of the day when I know my social battery may be a little more drained. 
Q: Let's talk about remote work. How are you able to stay connected with your team virtually?
ED: Because we are all geographically dispersed, learning each other's schedules has really helped to keep our team connected. Our daily standup calls tend to be a little more informal and it gives us a chance to check in on each other to make sure everyone's workload is manageable and offer support. The company also does a great job of facilitating in-person meet ups for team members that are located in close proximity to each other. 
Q: What are three things you have to have on your desk each day for a productive workday?
ED: I'm a traditionalist that still likes to physically write things down, so I must have a notebook and pen; my water bottle; and I have a dice that has a little duck inside of it that my teammate molded for our entire team that sits on my desk!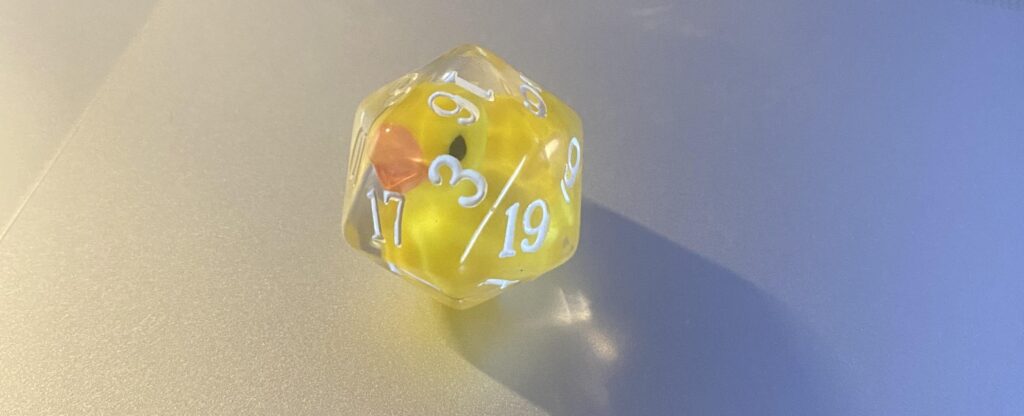 Q: What are some things that you've learned about yourself while working at PayNearMe?
ED: Since working at PayNearMe, I've found my groove in terms of the direction of my career. My confidence has also significantly grown.
Q: So what about you—what kinds of activities or hobbies are you interested in outside of work?
ED: I really enjoy doing anything outdoors. I have two dogs, and I love taking them to the beach!
Q: If you could do another job for just one day, what would it be?
ED: I've always wanted to be a pilot and actually plan on taking lessons soon!
Q: Any fun facts you'd like to share with us?
ED: My partner and I traveled around the country, working remotely in our RV with our two dogs and three cats. The experience really solidified how important remote work was to me because it allowed me to focus on living a full life without work hindering me from experiencing the things I really enjoy like hiking and being outdoors. 
Q: Do you participate in any volunteer work or have any organizations you'd like to shine a light on?
ED: The only thing that I really want to shine a light on is the importance of making tech accessible to young girls and women. I believe that the tech industry will continue to thrive as more women, persons of color and people from different economic backgrounds have the opportunity to participate. Diversity of thought will drive the industry forward in so many positive ways.