Spotlight Series: A Conversation with Mike Green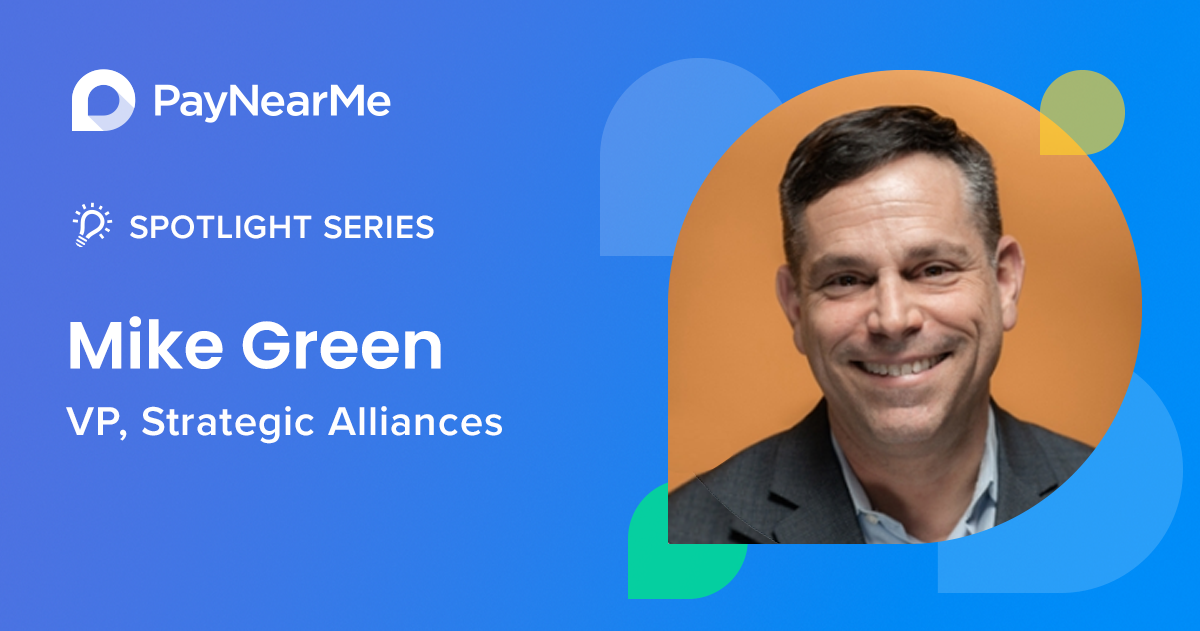 In the PayNearMe Spotlight Series, we shine a light on the people that make our company thrive. In this month's interview, we sat down with Mike Green, Vice President of Strategic Alliances, to chat about his role in the company, why he loves working at PayNearMe and his life outside of work.
Q: Can you tell us about your career journey and what led you to PayNearMe?
Mike Green: I'm a classically trained sales guy. My career began at a large digital printing solution company. From there, I followed a mentor to a paging company where I was a part of the advanced technology team. At that company, I discovered a new product that was being launched, so my friend and I started our own company where we became the first distributors of the BlackBerry in NYC.
A few career moves later, I got a call from another friend about a new company that he was starting with a guy named Danny Shader (PayNearMe's Founder and CEO). I brought several other friends along with me and we built a phenomenal culture.
I did a little more moving around, consulting to start-up companies that wanted to sell their products and services to Wall Street, until I joined a small business lending company that built an artificial intelligence platform, which was sold during the pandemic.
Fortunately, I remained very good friends with Mike Kaplan, PayNearMe's CRO and John Minor, PayNearMe's Chief Product Officer. Eventually, I was able to join the PayNearMe team supporting the Revenue Operations and Product teams.
It's been quite a journey, but I'm really happy that I'm finally in an organization where I get to work with my friends each day.
Q: Have you always wanted to pursue a career in Strategic Alliances?
MG: I was an economics major at Rutgers University. I basically always wanted a career where I could build wealth and have the resources to take care of my family, while still having the freedom to spend time with my friends and family.
Q: How has PayNearMe helped you in your career development?
MG: My time at PayNearMe has taught me how important it is to build and maintain strong relationships. I have recruiters reach out to me constantly, but I have no interest in working anywhere else or with anyone other than my friends at PayNearMe. The trust and accountability that we have with each other is priceless.
Q: Do you have any advice to share with those who are just getting into the fintech industry who might want to join a company like PayNearMe?
MG: In the tech industry, specifically with sales, it's really important to be passionate about the technology and products you're selling. You really have to believe in what you're offering, otherwise you won't be able to overcome objections or passionately show an organization how your product or service can help them.
Another important thing to remember in fintech and sales is not to be afraid of failure. Failure is part of the process, and you just have to learn from it and keep growing.
Q: What are some of your favorite things about working at PayNearMe?
MG: As I mentioned earlier, I've been working with the executive team for decades at other companies, so after joining PayNearMe where I get to work with my friends again, it finally feels like I'm home. PayNearMe is a strong company filled with good people doing great things.
Even though we're a distributed company, PayNearMe does a great job of facilitating in-person interactions for those of us that do really enjoy regular in-person meetings.
Q: Let's shift the focus to your role. What does a day in the life of a Vice President of Strategic Alliances look like?
MG: In my role, I'm focused on building alliances and partnerships that can impact the company's bottom line. I generally speak to each of our partners regularly to ensure things are going well and we have mutually beneficial relationships. I also actively participate in long-term planning, and support our Product Managers by investigating new technologies to continuously enhance the value of the PayNearMe platform for our clients.
Q: Let's talk about remote work. How are you able to stay connected with your team virtually?
MG: In my role, I attend a lot of tradeshows, so fortunately, I'm able to see different members of our team pretty regularly. We also have a coworking space on the east coast where many of us get together weekly to have that in-person interaction and connection.
Q: What are some things that you've learned about yourself while working at PayNearMe?
MG: I've learned that I'm happy not being in control of everything. I just want my work to positively impact the organization and ensure I'm doing what I need to do to make the company successful.
Q: So what about you—what kinds of activities or hobbies are you interested in outside of work?
MG: I've been married for 32 years and have two adult children. I love spending time with my wife and kids. I have a shore house in New Jersey, and my wife and I love to go out on our boat and be on the water. For anyone who knows me, I love wine, and just spending time and breaking bread with friends and family; I'm very social.
I'm also a complete Philly fan – go Eagles, Flyers, Phillies and Sixers!
Q: Any fun facts you'd like to share with us?
MG: I was once in Newsweek Magazine protesting at Exxon's shareholder meeting after the Valdez oil spill in 1989.