Merchant Processing 101: What It Is and How to Choose a Partner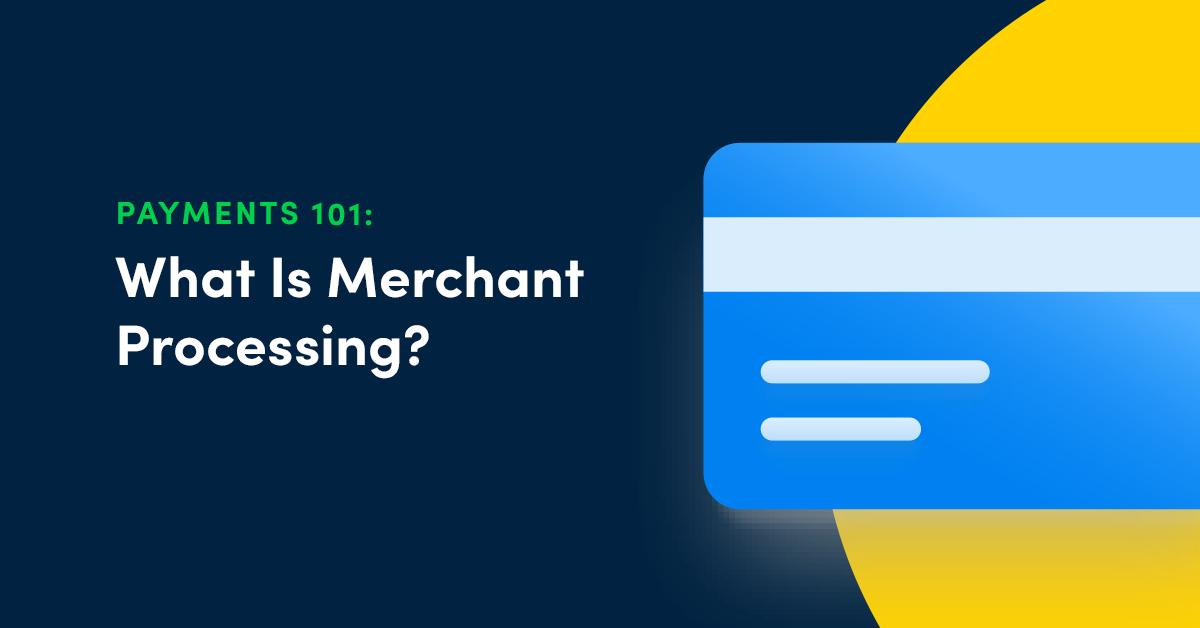 Cards have quickly become the most popular way to pay bills in the US. Debit, credit and prepaid cards account for 28.7% of all bill payments, second only to ACH/bank account transactions.
Payment cards have also experienced near-universal adoption in the US, with a 96.6% adoption rate among eligible US consumers in 2019.
Put simply, cards are an extremely important piece of the bill pay puzzle, and it's critical not only to accept them, but to understand how cards are processed.
What is Merchant Processing?
Merchant processing, also known as card processing and merchant services, enables your business to accept electronic payments, such as debit cards, credit cards and ACH transactions from your customers.
Choosing the Right Merchant Processing Company
Merchant processing companies act as an intermediary between your customers' bank accounts and your business bank account. For your business to accept credit cards or any other electronic payments, it needs to use the right merchant service provider (MSP).
Here are some factors to consider when choosing a merchant processing company for your business:
1. More Than Just Processing
When picking a merchant processing company for your business, ensure it boasts of the latest processing features, above and beyond just pushing payments across networks. For example, you'll want to select a merchant processor that provides a secure, mobile-friendly payment experience for customers, while providing security and compliance features for your business.
You can also seek out companies that accept mobile-first payments — including Apple Pay and Google Pay — to make your business more customer-centric.
2. Ensures PCI Compliance
The Payment Card Industry (PCI) compliance is a security standard that ensures businesses accept, process, transmit, and even store credit card details securely.
The merchant processing company you choose should be PCI compliant, while helping your company stay compliant as well. For example, PayNearMe offers a set of tools that help you reduce your PCI scope, as well as giving you more ways to get paid via self-service options.
Working with a proactive merchant service provider ensures your business complies with these instructions to avoid any security breaches.
3. Plays Nice with Other Technology
You should choose a merchant processing company that can connect to your other systems through an API, batch file transfer, or direct integration. This helps you keep all your system of record information up to date and simplifies the settlement process.
Businesses with advanced IT resources should look for a partner with a sophisticated API and detailed documentation, allowing you to take your merchant processing integrations even further.
4. Secure and Reliable
Ensuring the security of your customers' personal information and payment data should be at the top of your list when evaluating merchant processing providers.
Choose a partner that prioritizes security at every level of interactions, from payment processing to system access to vendor onboarding and beyond. In addition, you should review the different security processes, certificates and accreditations of your provider thoroughly
5. Proven Track Record
While it may sound like the obvious thing to do, many businesses end up with poor payment solutions simply because they chose the wrong merchant processing company.
Before going into any contract, start by doing a complete and thorough review of the merchant processor's business. You may also want to ask other business owners who have worked with the provider for reviews and recommendations.
Streamline Your Payments with PayNearMe
At PayNearMe, we believe that purchase transactions and bill payments should be quick, easy, and safe. That's why our team of innovators can help you facilitate safe and fast payments for your business.
As your trusted payment partner, we can also help you reduce the burden of online bill payment compliance, including PCI compliance and other specific requirements in your industry.
Contact us to learn how we can help you streamline your business processes.