The Benefits of Apple Pay for Merchants & Consumers
Photo by Adrianna Calvo from Pexels
The buzz around Apple Pay is no longer constrained to the retail sector. With customer adoption growing and the demand for digital payment types rising, merchants from all industries are starting to realize the benefits of Apple Pay in their payment mix. Let's dig into some of the reasons that both businesses and consumers are warming up to this novel payment method.
What Is Apple Pay?
Apple Pay was launched in October 2014 as mobile payments were just breaking into the mainstream. With native support on the iPhone, Apple Watch, Mac, iPad and Safari browser, the service has quickly gained traction with millions of users. It allows consumers to make payments on the web, in iOS applications, and in person.
Today, Apple Pay is available in 24 countries across the globe at participating retail stores and financial institutions and through iOS apps.
Many businesses are embracing Apple Pay in an effort to streamline processes and attract mobile-preferred customers.
Benefits for Consumers
Enhanced Security
With identity theft, data breaches and credit card fraud on the rise, payment security has become a major concern for consumers. Apple Pay is an extremely secure payment option designed with privacy front-of-mind. It has security features built in to both the hardware and software of compatible devices, helping to protect the user's transactions and financial details. This includes the use of biometrics, such as fingerprint readers and face identification, that bolster the authentication process.
Further, although Apple Pay stores users' debit and credit card details and bank account information, this data is not transmitted to the receiver or merchant. This reduces the risk of transactions being interrupted on air by malicious criminals looking to steal payment information and personal identifiers.
Finally, Apply Pay is not reliant on a physical card or cash, which can be easily misplaced or stolen. Instead, payments are made via a smartphone, laptop, or Apple Watch that all offer additional layers of protection for customers.
One-Click Payments
Making a payment with Apple Pay is fast. There is no need to manually enter credit card details and other personal information — it is all stored securely within the Apple Pay system. This means transactions can be executed with one single click (or tap), reducing friction and improving overall customer experience.
Convenient
Most people cannot live without their smartphones. We use it to connect, communicate, shop, work, play, and more. On average, users spend three hours and 15 minutes on their phone every day, with the top 20 percent of users spending more than four and a half hours. In other words, our phones come with us everywhere we go.
Making payments via mobile is incredibly convenient — people can use a payment method that they, in all likelihood, already have in their pocket. If they leave their wallet at home, no problem.
Recurring Payments
Many consumers prefer recurring bill payments, as they streamline the payment process and help to reduce late fees and other penalties. Apple Pay allows users to set up these recurring payments without having to fill out forms or change account settings on their biller's or bank's website. This, again, improves the customer's overall experience.
Benefits for Merchants
Service Mobile-Preferred Customers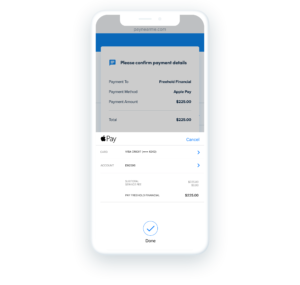 Mobile payments are growing in popularity. Research by Statista shows that mobile payment transaction value in the United States grew from $69.81 billion in 2018 to an estimated $130.36 billion in 2020. As detailed in the graph linked here, growth is expected to continue over the next few years.
Apple Pay helps merchants attract and retain customers that prefer to make payments via mobile. These are likely to be Millennial and Gen Z consumers, representing the next generation of customers for your business.
Giving customers flexibility in the way they pay can enhance their overall experience. It empowers them to personalize their payments journey — and personalization is critical in today's saturated marketplaces. More than one-third of consumers believe companies need to do more to offer personalized experiences.
Get Funds Quicker
Apple Pay can delivers funds from the customer to the merchant significantly faster than traditional payment methods. This benefit can help relieve issues with cash flow, a leading concern for many businesses.
Attract New Customers
Apple Pay has a staggering 30.3 million users in the US alone. By adding Apple Pay to their payment options, businesses can cater to this substantial pool of mobile-preferred consumers. On the other hand, if a company fails to embrace mobile payments, they risk alienating a significant portion of potential customers.
Getting Started With Apple Pay
Organizations looking to gain a competitive advantage and secure mobile-preferred customers must embrace alternative payment methods like Apple Pay. To do this, they'll need to adopt a payments platform that enables Apple Pay, preferably one that has streamlined built-in integrations.
PayNearMe has Apple Pay (and Google Pay) on all of our payment screens by default. Users that prefer mobile payments can quickly and easily select Apple Pay when making a payment, ensuring their experience is quick, easy, and fuss-free.
If you are ready to give your customers the power of choice, learn more about PayNearMe today. Our payments platform allows your customers to make payments and store billing information in their digital wallet.
Request a demo now and see the value of PayNearMe firsthand.