Consumer Payment Expectations vs. Reality: What Our 2021 Survey Uncovered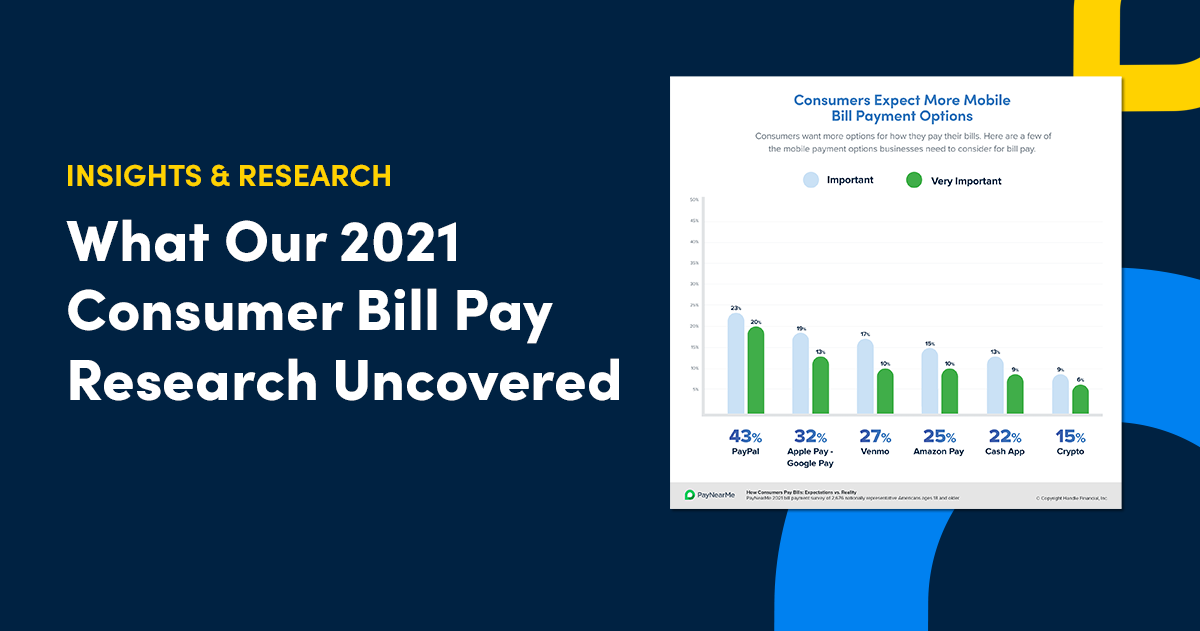 In early 2021, PayNearMe conducted a consumer research survey of 2,500+ U.S. adults aged 18+ across a wide range of demographics to determine their bill pay preferences. 
The survey aimed to uncover not only how consumers are paying bills today but how they want to pay their bills, what types of features and functionality would make the bill pay experience easier, what they expect from the bill pay experience now and in the future and what businesses need to do to better meet these expectations. 
What we found is that consumer bill pay expectations don't always match reality. As the payments industry continues to innovate, bill pay lags woefully behind quicker, easier and more convenient payment experiences consumers might find in eCommerce or P2P payment apps.
Industry Innovation is Driving Consumer Demand for Better Bill Pay Experiences 
According to a study by PWC, nearly 80% of American consumers believe that speed, convenience and easy payments are the most important elements of a positive customer experience.
But what happens when things go wrong? PayNearMe's recent survey found that nearly half of consumers (44%) wish managing and paying bills was easier.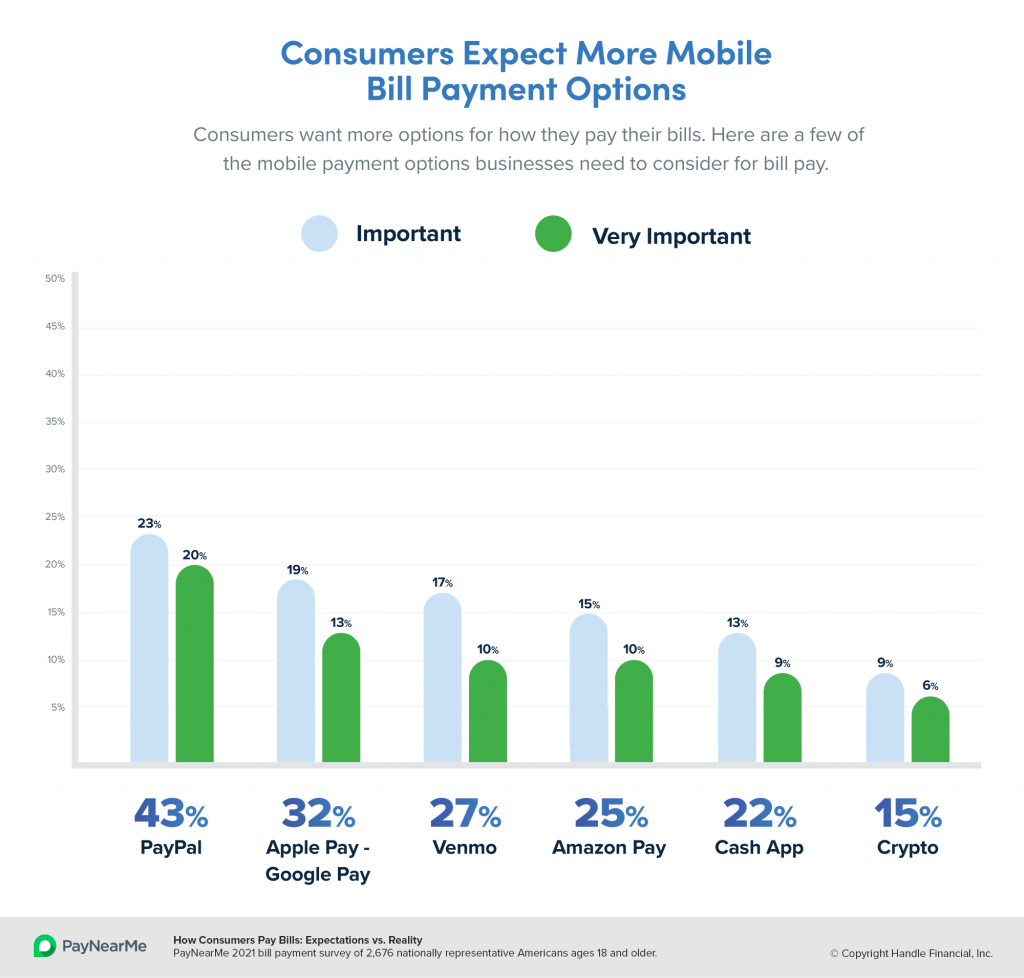 As part of this experience, consumers want the same breadth of mobile payment options they have elsewhere. If available, 48% of consumers  are likely or very likely to use Apple Pay and Google Pay to pay their bill, with 40% saying it's important or very important to have this option. Additionally, nearly half of U.S. consumers (43%) say the convenience of using PayPal to pay bills is important or very important. 
While most billers are not currently offering these mobile payment options to their customers, doing so could help them increase customer satisfaction and on-time payments by simply matching customer payment preferences to facilitate an easier, more convenient bill pay experience.
Another option that can help with bill pay ease of use? QR codes. For billers that are still printing physical bills, QR codes can help increase payment self-service. Customers simply scan the QR code with their phones and can easily and quickly pay online.
If given the opportunity, 33% of consumers would be likely or very likely to pay their bills by scanning a QR code on their mobile devices. That's a lot of customers billers can begin to move from physical to digital payments.
Adding these types of self-service channels not only improves consumer ease of use but can also save billers money. Live customer service channels (phone, live chat, and email) cost an average of $8 per contact, while self-service channels like QR codes come in at only $0.10 per contact, according to Gartner.
Bill Payers Feel Stressed Out & Disorganized 
Missing payment options and poor customer experiences aren't the only things keeping bill payers down. Nearly half (48%) of consumers feel disorganized managing and paying bills, and more than a fourth (29%) of consumers say bill pay causes them stress and anxiety.
Surprisingly, it isn't a lack of funds that consumers are finding the most stressful part of the process. Instead, the actual process itself seems to be the issue. 52% of consumers find remembering logins, passwords and account numbers the most difficult part, while 41% have trouble keeping track of due dates. 30% have a hard time with poorly designed biller websites.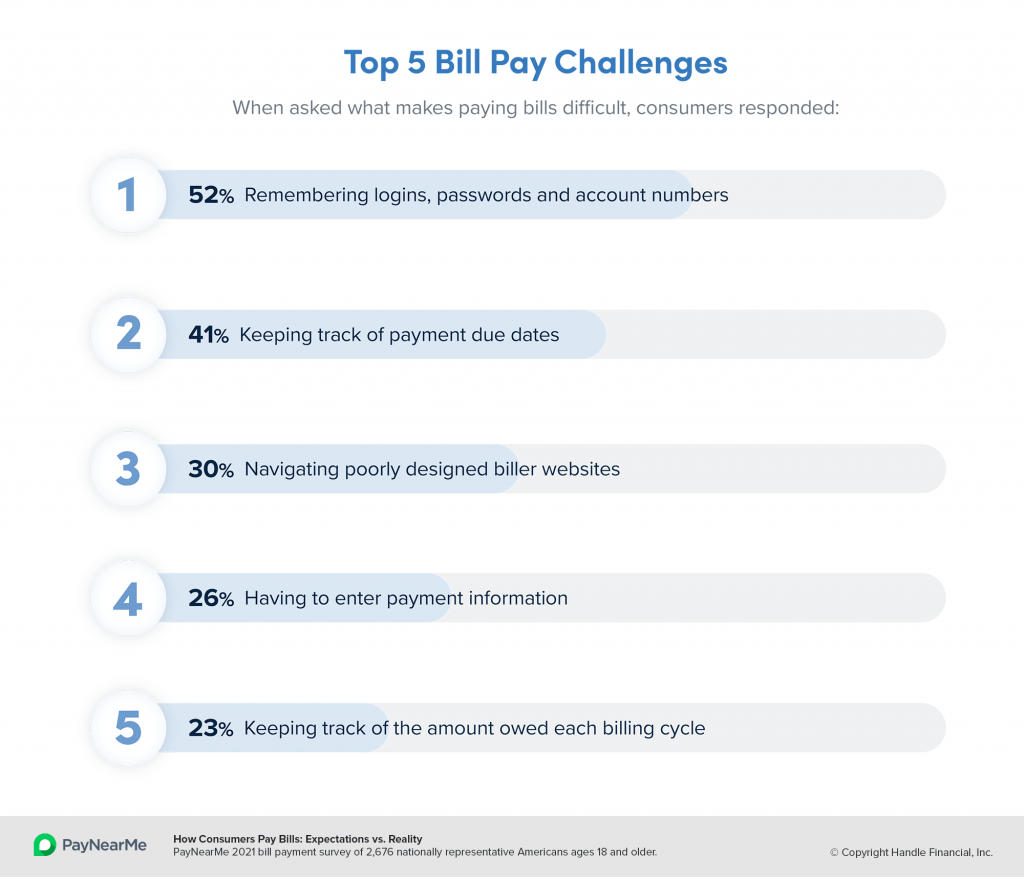 PayNearMe addresses the first issue with PayNearMe Smart Link™, an easy way to drop customers directly into their registered payment flows and facilitate payments in just a few clicks, without the need to remember and input a ton of information.
Billers can also make keeping track of due dates simple with automated text, email and push notification reminders from PayNearMe Engagement Engine. According to PayNearMe's recent survey, 45% of consumers want bill pay reminders.
With PayNearMe Engagement Engine, billers can send reminders on the date a bill is due or a few days before. Billers can even send delinquency notifications to encourage faster self-service payments once a due date has passed.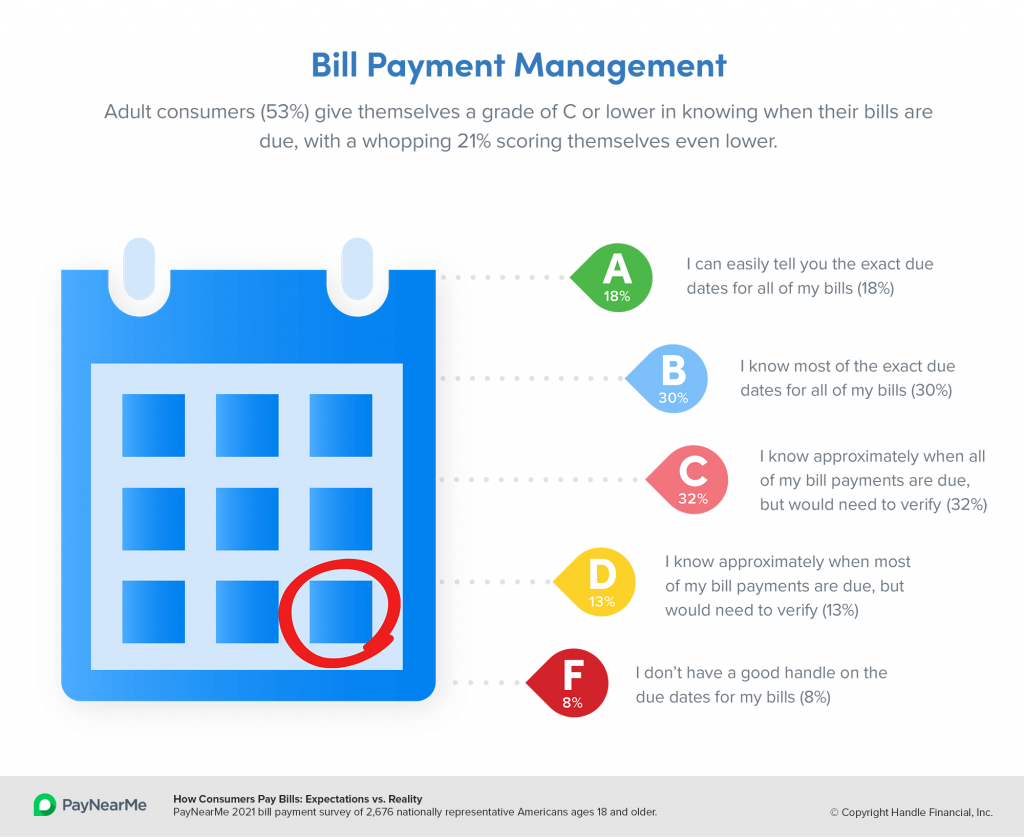 By making the bill pay experience easier for consumers, billers can reduce their stress and anxiety and help them feel more organized and confident during the bill pay process.
Consumers Desire More Options at Their Fingertips 
In addition to being open to receiving reminders, consumers also report they'd like access to more information at their fingertips. 77% of consumers say it would be helpful or very helpful to have access to their entire bill when making or managing online bill payments.
Accessing these eBills and other important documents during the bill pay process can give consumers the information they need to make informed financial decisions and drive more on-time payments.
And consumers don't just want this information in one place; they're interested in seeing it across a number of channels. 41% of consumers would use digital wallets (e.g. Apple and Google Wallet) to view and manage bills if given the option. 
Digital wallets are a great way for billers to give consumers a quick look at their billing statements, information about their current bills and the ability to easily click through to pay using Apple Pay or Google Pay.
Find Out More About Bill Pay Expectations vs. Reality 
Billers can no longer afford to make customer payment experience a 'nice to have.' To create a consumer-friendly bill pay experience, they need to provide the payment options, channels and frictionless payments experience that consumers expect. In doing so, organizations can not only improve customer satisfaction but also future-proof their business.
Get the full research report "How Consumers Pay Bills: Expectations vs. Reality," to learn more about how consumers want to pay their bills and how billers can meet their expectations.