Four Things You Probably Didn't Know About Digital Wallets from PayNearMe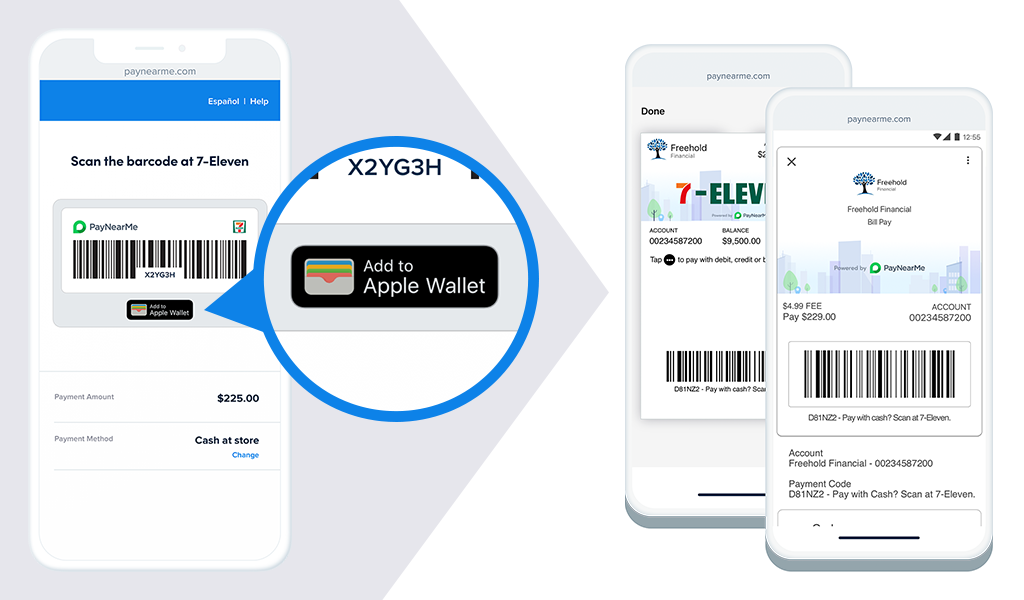 Digital wallet platforms such as Apple Wallet and Google Pay are an easy way to store airline passes, concert tickets and coupons, but did you know that they're also a simple solution for bill payment and management?
With PayNearMe Digital Wallets, customers have access to living billing statements, payments information and more. Paying a bill happens with the click of a button via Apple Pay or Google Pay—without the need to remember additional log in or account information.
There's also no need for you to create a separate billing app or have customers download it. Digital wallets are native applications that are automatically available on consumer smartphones. (However, if you do have an existing app, we can also integrate via API).
When customers make a payment in the PayNearMe Consumer Portal, they have a couple of options for also moving that billing information into their wallet.
Easily Save a Reusable Cash Barcode
One way your customers can use PayNearMe Digital Wallets is to save and store their cash payment barcodes there. When customers choose cash as their bill payment method, the "add to Wallet" button will pop up (Google or Apple Wallet will show automatically based on the device's iOS).
This gives your customers the ability to easily access their barcode, which can be used over again any time—the customer's payment ID remains the same. The barcode can be accessed offline, appealing to customers with slow or spotty internet connections.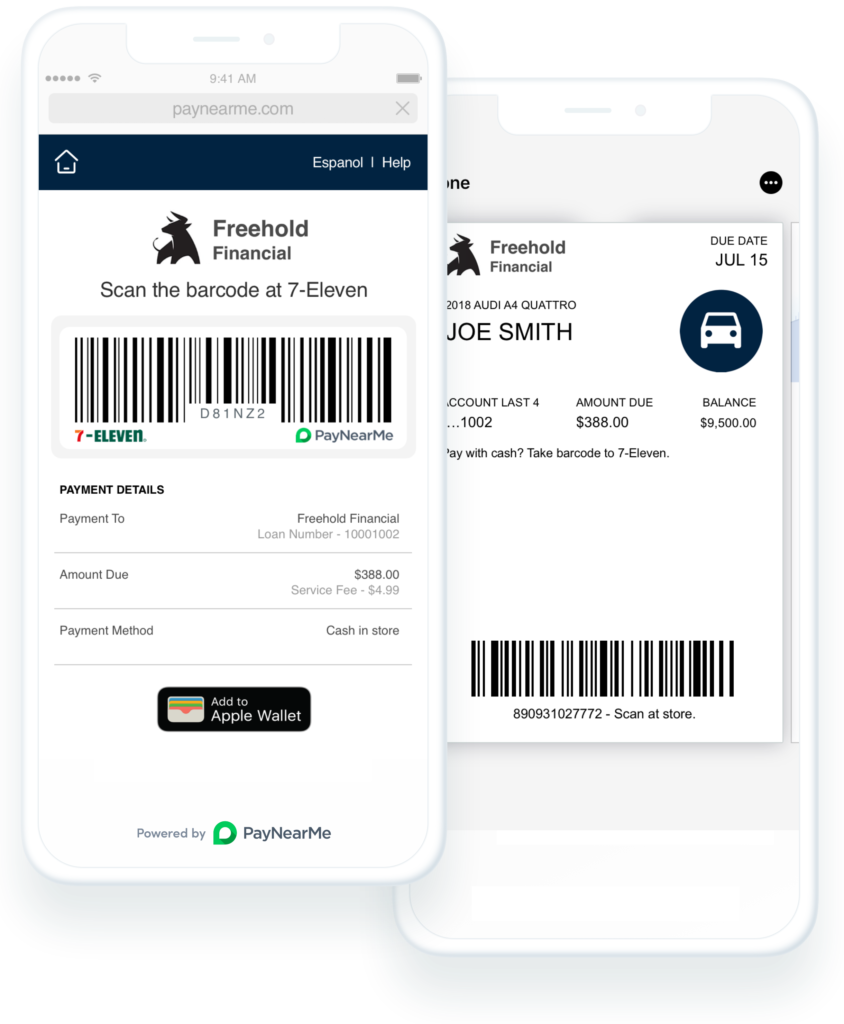 Customers can also add their billing information to their digital wallet at the beginning of any payment process, while in the Make or schedule a payment screen. This makes saving billing information to digital wallets easy and intuitive for the customer.
Completely Configurable Passes
Your customers already appreciate digital wallets because they're an unobtrusive feature that allows key information to be available with the click of a button. But did you know that with PayNearMe Digital Wallets, you can completely customize your company's wallet "pass" (which acts similar to a card in a physical wallet) on both sides?
In addition to customizing colors, logos and other look-and-feel items, PayNearMe clients can personalize their passes using custom fields to include information such as "last payment," "date due," etc.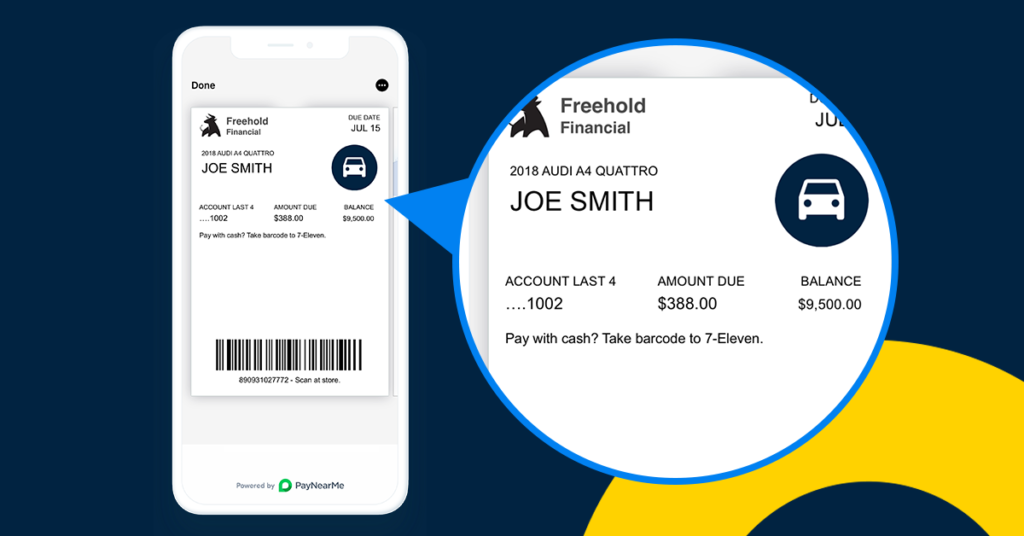 This allows their customers to use their digital wallets as "living" billing statements that always remain up to date. Everything payments is available right there when they need it.
Here are some fields you may consider adding to your customizable wallet pass:
Custom logo
Payment amount due
Next due date
Previous amount paid
Previous payment method
Bill status
Custom messages
Payment schedule
Payment locations
Customization can also include providing quick links on the back of your pass, allowing customers to easily make a payment, view PDF bills, link back to your website and more).
Highly configurable wallet passes are made possible with PayNearMe Custom Fields, which expand the possibilities of the data that can be passed to and from the wallet.
Dynamic Updates
While customization is important, it's also crucial that wallet pass information updates dynamically. With automatic updates that change as your customers' billing information changes (e.g. when a payment is made), your customers always have the latest information they need to make and manage payments.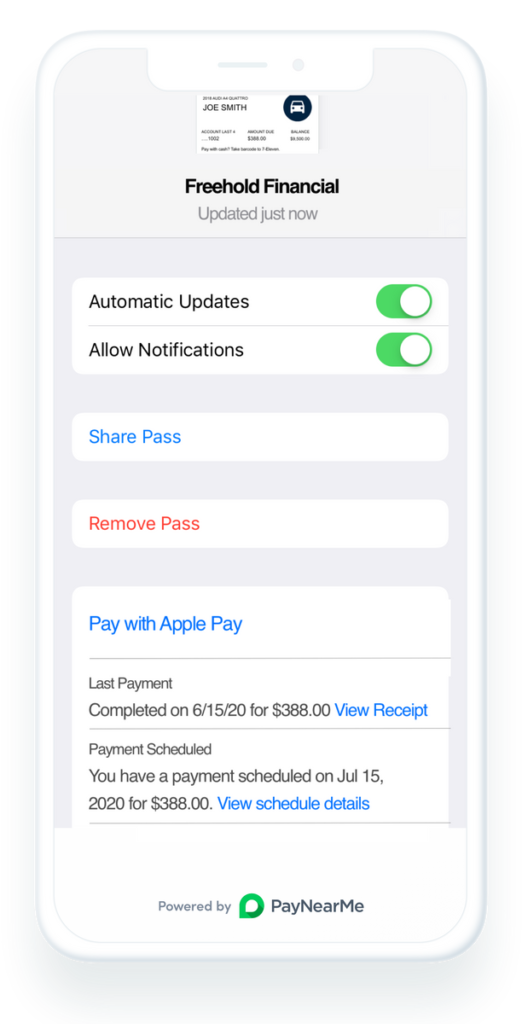 Instead of searching for a static paper bill that has previous balance information, digital wallets allow customers to check their information in near real-time—without the need to log in to their accounts.
Enable Push Notifications
Another way to use wallets is push notifications. When customers have digital wallets enabled, they can receive push notifications.
Push notifications are customizable alerts that pop up on the consumer's device. PayNearMe clients can push key messages straight to customers using push notifications that include a Smart Link to make payments in as little as two clicks.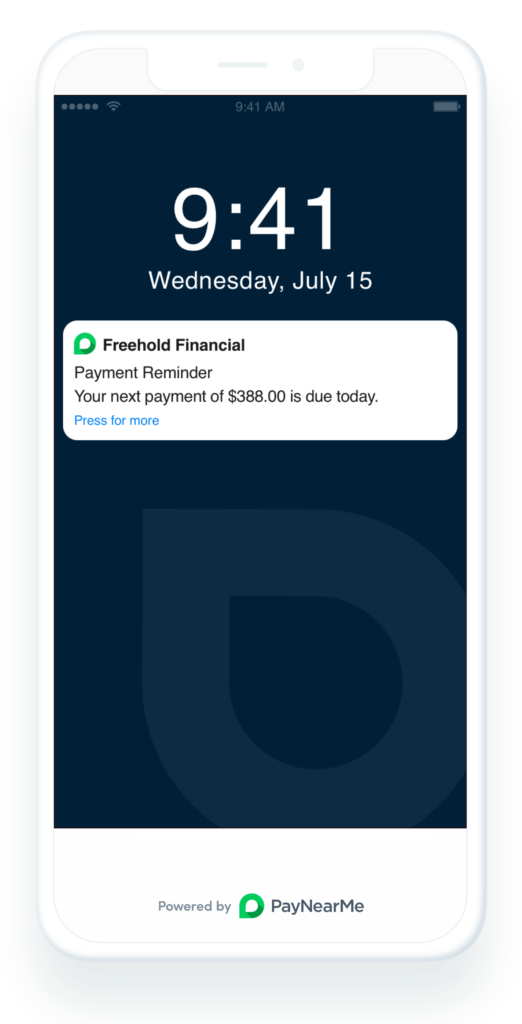 Payment reminders are generally welcomed by consumers, whether by email, text or push notification (as enabled through PayNearMe Engagement Engine), because they allow for easy, self-service payments. Some consumers may find push notifications less invasive than text or emails, particularly if the content is important to them.
Learn more about how PayNearMe Digital Wallets help you give customers full control of making and managing payments with the click of a button. Request your demo today.