Introducing Cash App Pay from PayNearMe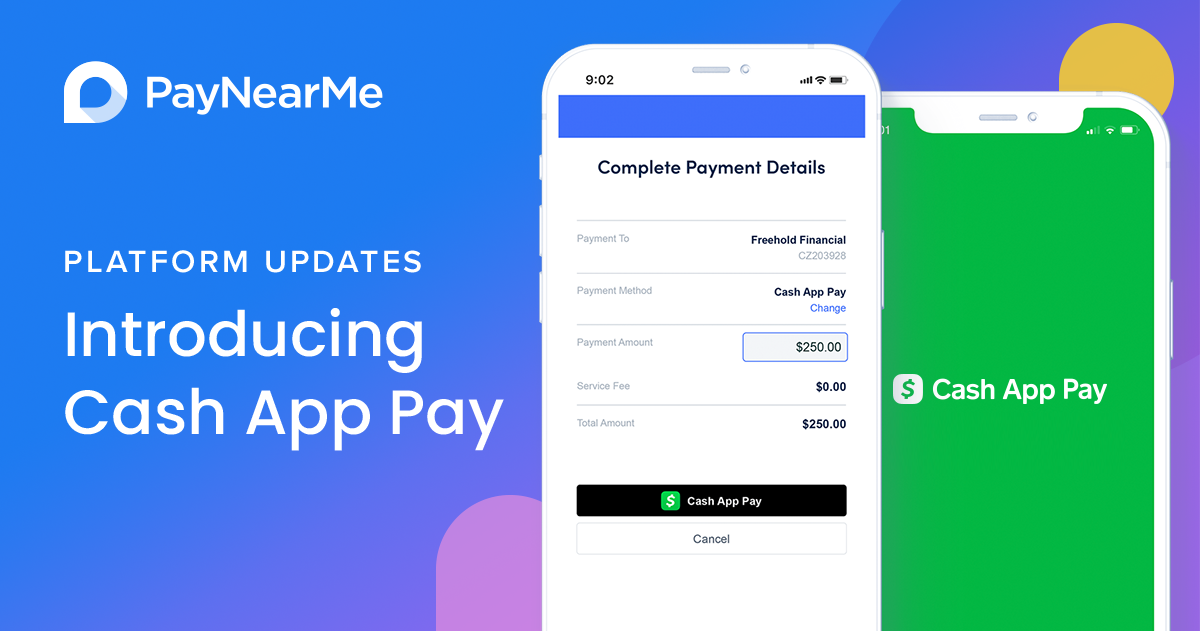 PayNearMe is excited to announce that Cash App Pay is available as a payment option for billers. According to PayNearMe research, 1 in 5 consumers say Cash App is an important or very important option for bill pay. Now, PayNearMe clients can offer even more convenient options for payments.
Cash App entered the market with their peer-to-peer money transfer service years ago and has since amassed 53 million monthly transacting actives as of March 2023*. In 2021, the financial services app made it possible for merchants within the Square network to accept consumer payments via Cash App Pay. And recently, they welcomed merchants outside of the Square network– including PayNearMe clients – to also reap the benefits of Cash App Pay.
Although there is a growing number of payment technologies, businesses need to discern which options adequately address consumer needs. More payment options increase a consumer's ability to pay which ultimately leads to more on-time payments at scale.
Growing Demand for Mobile Wallet Payment Options
While many events have led to the accelerated adoption of mobile wallet technologies as a whole, it is important to recognize that mobile apps like Cash App have become everyday payment habits. In fact, two-thirds of Cash App monthly transacting actives are transacting at least once a week on average, demonstrating how a majority of Cash App's customer base is highly engaged**.
Americans were using Cash App to pay bills long before the app's announcement of Cash App Pay. The Pew Research Center found that roughly "44% of adults ages 18 to 29 use peer-to-peer payment apps like Cash App​ for splitting expenses with others."
The same research cited that 61% of respondents said they use payment apps because they make "paying for things easier" while 47% of respondents shared payment apps make "sending money to people safer."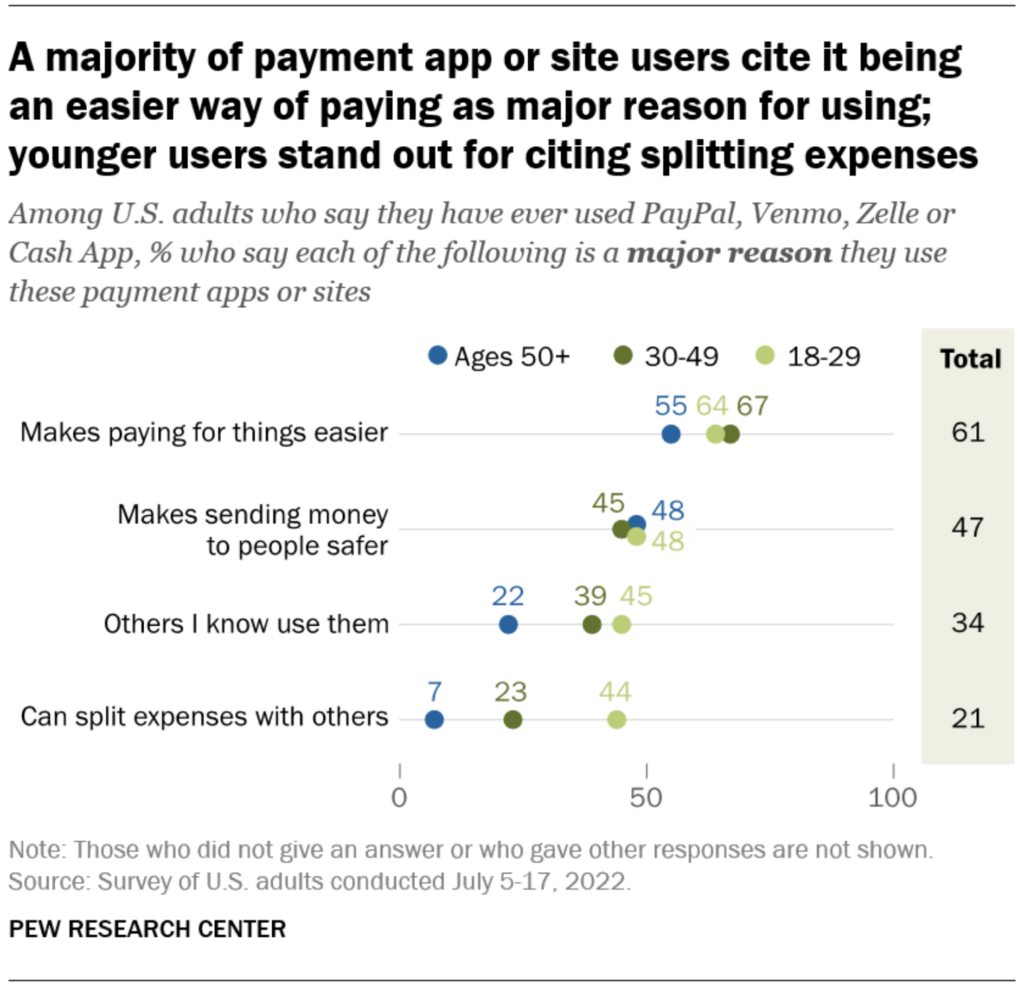 In the U.S., macroeconomic trends have fueled payment app usage. According to PayNearMe research, 74% of respondents shared that inflation has impacted their ability to pay bills. Accepting payments from additional payment options, including Cash App, helps consumers face economic uncertainty. A survey conducted by Forbes Advisor and OnePoll found that nearly half (47%) of users say they're "using payment apps to split costs in ways they normally wouldn't due to inflation."
Cash App Pay: Unique Position in the Payment Mix
Cash App has 53 million monthly transacting actives as of March 2023. Despite entering the market after many of their counterparts, Cash App has become the #1 finance app on the App Store***.
Cash App's transacting active base skews Millennial and Gen Z. As of 2022, Millennial and Gen Z customers made up more than two-thirds of Cash App's monthly transacting actives*. It's best for businesses to consider accommodating the preferred payment habits of Millennial and Gen Z customers as these customer segments are the largest generation groups in the U.S. in 2022.
Just as consumers choose to use multiple financial products at the same time for various reasons, the same remains true in their digital lives. Businesses focused on tailoring their customer experience also understand the unique needs Cash App serves.
The Benefits of Accepting Cash App Pay
We detailed how driving consumer choice through more payment options creates value and increases customer satisfaction. Below are some of the top reasons businesses leverage the PayNearMe platform to strengthen their payments with Cash App Pay.
Popular and modern – Enable your customers to pay with one of the most widely-used digital wallets, especially amongst Gen Z and Millennial consumers.
Service mobile customers – Meet the needs of your mobile-first customers and drive an intuitive payments experience with a single platform that accepts mobile wallet payments including Cash App Pay and others.
Simplified reconciliation – Your staff can quickly reconcile Cash App Pay with all of your transactions in a single settlement report.
Seamlessly integrated – Our native integration with Cash App can be deployed without needing any development resources to get started.
Serve more customers – Offer a convenient, online payment option for your underbanked customers.
How it Works
PayNearMe's native integration with Cash App lets our clients begin accepting Cash App Pay without devoting additional development resources. Your customers will appreciate having the option to pay with another fast, convenient and familiar payment method.
To get started, your customers can:
Select Cash App Pay as their payment method
Enter in their payment amount
Authenticate the transaction via their Cash App account
Complete the payment and get a digital receipt instantly
Customer's must be logged into their Cash App account to pay with Cash App Pay. Once the customer confirms the payment amount in Cash App, the seamless integration returns the customer back to the payment flow to complete the transaction.
As consumers face a multitude of macroeconomic headwinds, it's in a biller's best interest to offer assistance however they can to support their customer base. One way of doing so is by expanding flexible payment options for customers. Our research on How Economic Uncertainty Impacts Bill Pay Behavior found that 51% of respondents "store funds in a mobile wallet or payment app." Creating an avenue to pay with digitally stored funds significantly helps consumers participate in the financial ecosystem.
Getting Started Today
Interested in offering Cash App Pay as a payment option? Contact PayNearMe today for a demo of these and other innovative features.
---
*Source: Block Q4 2022 Investor Presentation
**Source: Block Q4 2022 Shareholder Letter
***Source: Block 2022 10-K