Drive Consumer Choice with PayNearMe's Digital Disbursements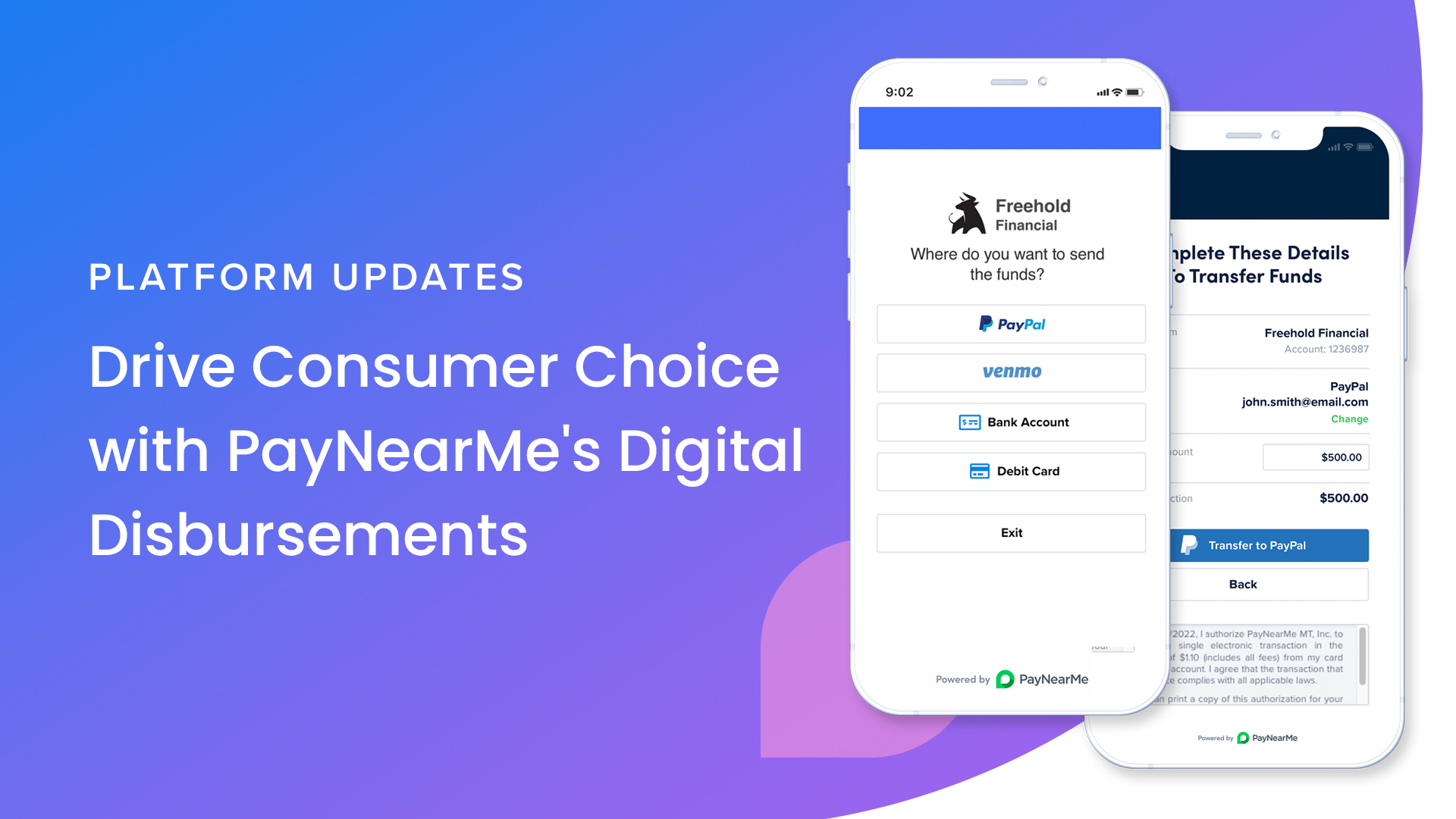 PayNearMe has become synonymous with helping businesses offer more ways to accept payments. To further advocate for consumer choice, we have added new payment types to our Digital Disbursements.
In addition to cards and ACH, PayNearMe clients can now send funds to their customers via PayPal and Venmo. These additional disbursement options bolster the PayNearMe platform by unlocking consumer choice throughout the payment journey.
There are many use cases for business-to-consumer (B2C) disbursements. Here are some of the most common examples:
Loan funding
Escrow refunds
Overpayments
iGaming withdrawals
Insurance claim payouts
Tax refunds
Legal settlements
Bonus payouts
With these new options, PayNearMe clients can make disbursing funds as easy as accepting payments.
The State of Consumer Disbursements
Although popularity with modern payment types is increasing, PYMNTS.com research found that consumers had fewer options for how to receive disbursements in 2022 than they did in 2021.
This poses an opportunity for billers who have a customer-first mindset to further differentiate themselves from the competition. The same PYMNTS.com study found that 40% of consumers "would be more inclined to continue client relations" with businesses that "offered a variety of choice" than those that did not. This portion grew to 67% of consumers who said they would continue business with senders who offered instant disbursements – such as PayPal and Venmo.
The Benefits of Digital Disbursements
Digital Disbursements offer a wealth of benefits for both the staff who manage payout operations and end consumers. Beyond expanding consumer choice, there are additional reasons businesses choose to power their disbursements with PayNearMe.
Offer instant and same-day disbursement options – Consumers can access funds in minutes with PayPal and Venmo or overnight with ACH. These options are especially beneficial for consumers in need of urgent access to money.
Stay PCI-compliant – Reduce compliance scope by allowing consumers to enter their card details, bank account number or wallet credentials—removing the need for customer service agents to handle sensitive customer data over the phone.
Go paperless – Digitize disbursements to reduce or eliminate the cost of paper checks, envelopes, stamps, and returned mail.
Streamline back office operations – Develop rules to automate small dollar disbursements and speed up delivery times.
Protect consumer data – Include multiple security checkpoints such as admin approval, user permissions, and customer phone number verification to reduce fraud.
Fast and simple reconciliation – Improve reconciliation with quicker settlement times by clearing funds in minutes.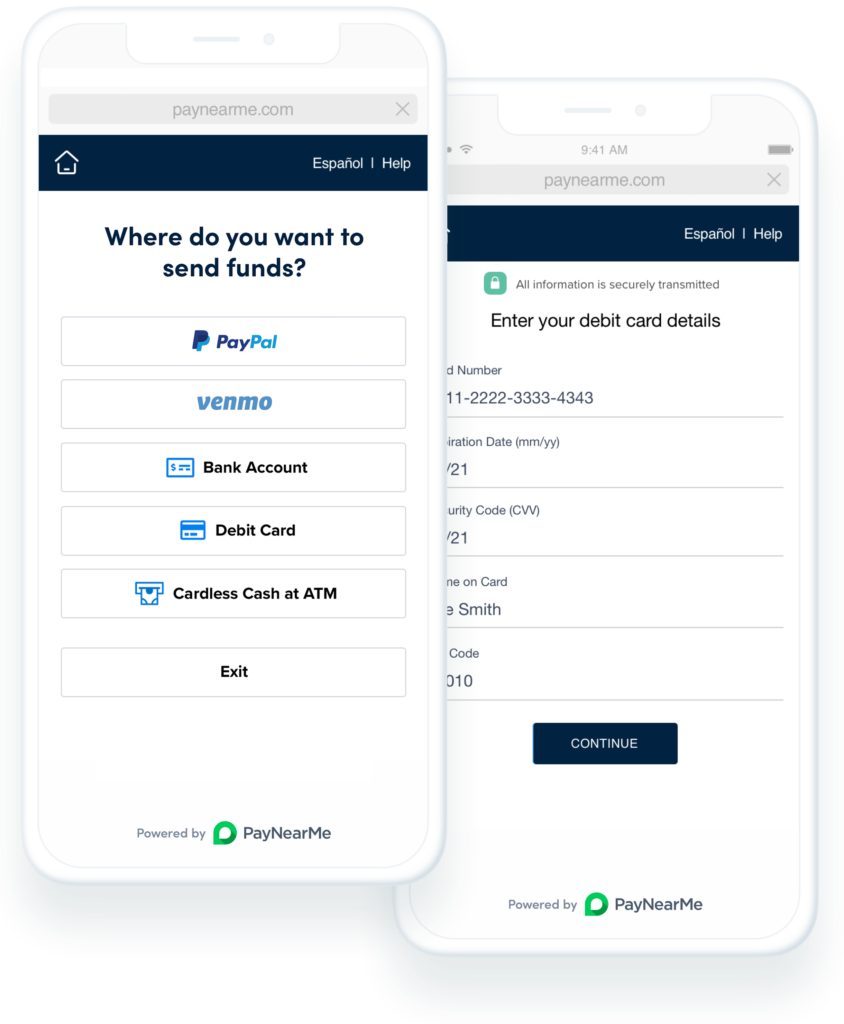 How it Works
In most instances, disbursements will be initiated by the business. For consumers to claim their disbursement, they will:
Receive a Smart Link via email or text message
Select debit card, ACH, PayPal or Venmo to receive funds
Key in their login, card, or banking information if the method has not been used previously for payments
Confirm the transfer details and get an instant receipt
No matter what your customers prefer, PayNearMe makes disbursements fast, frictionless, and easy for everyone.
Getting Started Today
To learn more about everything Digital Disbursements has to offer, contact our team today.