Enhance Your Payment Workflows with Advanced Search & Reporting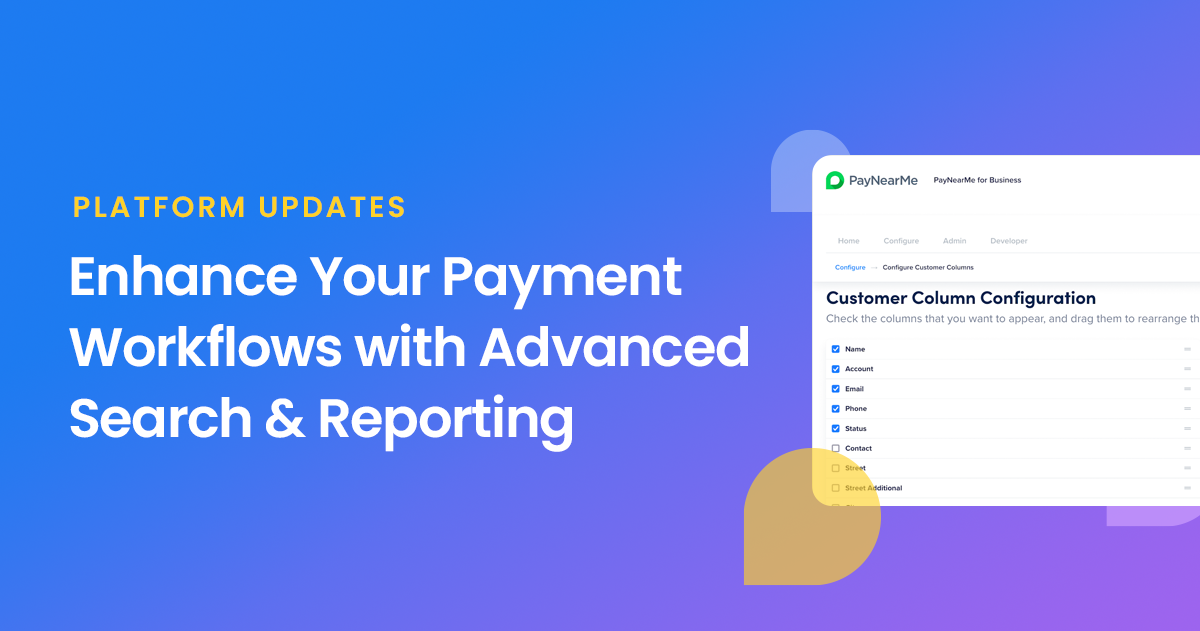 Technology has drastically shaped the way organizations collect and manage payments. Recent innovations have enabled a transition away from paper statements and filing cabinets to paperless billing and data warehouses. For organizations with sophisticated payments operations, retrieving specific data can be a long and tedious process.
PayNearMe is pleased to announce that we've released enhanced search and reporting capabilities to help streamline payment operations for our clients. After an initial launch with our beta users, Advanced Search & Reporting is now accessible to all PayNearMe and MoneyLine clients through the PayNearMe Business Portal.
How exactly can PayNearMe clients access the data they need faster and easier? Let's take a look at some of the different features available.
Personalize the UI
A strength of PayNearMe's Business Portal is its ability to help organization's adapt their existing processes. Since each organization is unique in the way it operates, PayNearMe admin users can choose which data will be displayed or hidden when their team accesses their account. This allows our clients to highlight frequently referenced information in their Customer and Payments dashboards.
For instance, a lender with contact center agents assigned to specific U.S. states may choose to make the State column visible in the PayNearMe Agent Interface. This level of customization allows your employees to quickly view the information that's most relevant to them. It also provides a more seamless experience when users need to cross-reference information with external data sources.
More powerful search
Minimizing friction during customer service interactions is key to providing a great payment experience. Faster search can help customer service agents shorten call cycles, leading to happier customers and a lower cost per contact rate. Enhancements to our Customer Search tool makes it easier for users to locate the right account with the information they have available.
A recurring challenge for many of our clients was that inbound callers didn't always have an account number readily available, making it more difficult to complete an account lookup. To solve this issue, PayNearMe now enables agents to search for a customer using a variety of data points, including a phone number, address, or email address. This allows your agents to ask customers easy-to-remember information to pull up their accounts and service them more quickly and efficiently.
Another area where advanced search comes in handy is during the reconciliation process, where PayNearMe clients are often sifting through payment history to segment transactions or identify and isolate anomalies. Historically, the PayNearMe platform allowed clients to hone in on customer payment trends within by using the Payment Status filter and determining the timeframe they'd like to review. Users can now refine their search queries even more to get a granular view of the data that matters in the moment.
Customized reporting views
With our updated Reports feature, PayNearMe clients can choose which data and columns to display on their reports. This means users can customize their experience by highlighting the metrics that matter most. Column selection is also available for exported reports. Additionally, export formats can be saved for users who frequently run and send reports.
By offering clients the ability to customize their view, they are able to access the data they need more quickly and easily.
Get Started with PayNearMe
Interested in seeing how PayNearMe's Advanced Search & Reporting can benefit your organization? Our payment experts are available to show you how to personalize your PayNearMe platform to increase your operational efficiency. Contact our sales team or your account manager today to get started.