Five Ways Municipalities Can Streamline Bill Payments with PayNearMe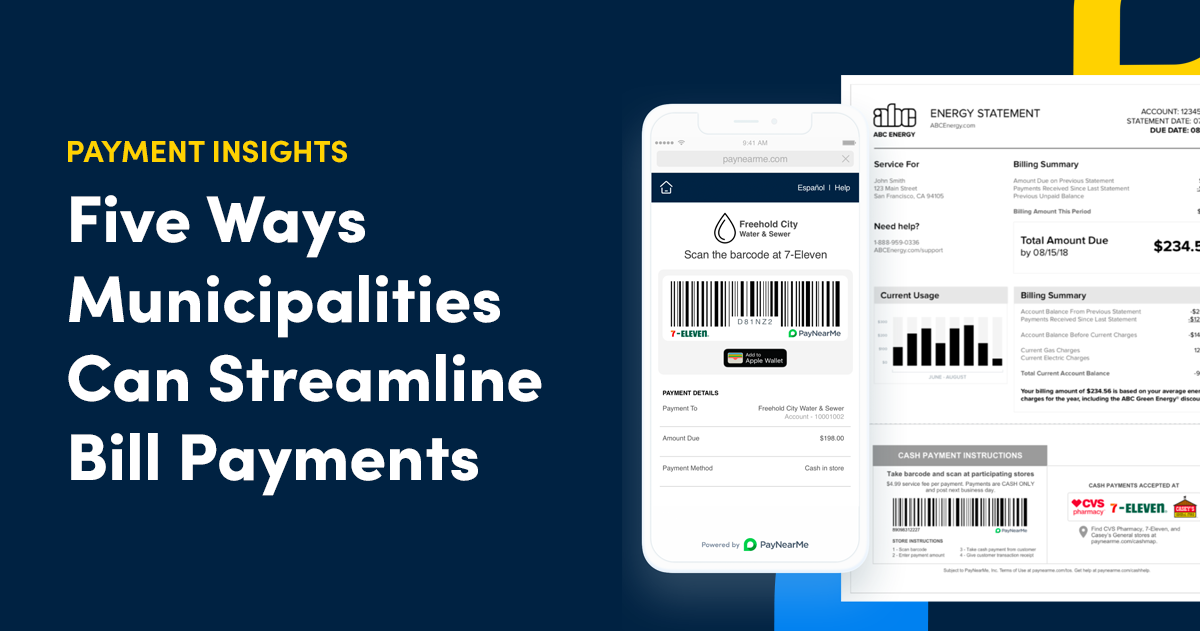 It's a Friday afternoon in the middle of summer. You've got a line of citizens spaced six feet apart outside, all trying to pay their water bill before the weekend. Your employees are overwhelmed as they attempt to reduce the line as the phones keep ringing in the background. They suddenly remember that there's also a mailbox full of checks that need to be deposited, filed and reconciled to the right accounts before the end of the day.
It's 2021, and yet many municipalities are still handling bill pay with legacy technology and manual processes. There's got to be a better way, right?
Introducing PayNearMe for Municipalities
PayNearMe offers a modern, easy way for municipalities to manage and accept payments. Your citizens will love our mobile-first payment experience that makes it easy to pay with any payment type, however they want. And your employees will will be able to automate and simplify the payments process, giving them more time to spend on important customer service and administrative tasks.
Here are five ways that PayNearMe is helping municipalities streamline the payments process.
Reduce or Eliminate In-Person Payments
Say goodbye to long lines, cash boxes and expensive kiosk rentals. PayNearme gives you a completely remote and secure payment solution, allowing your citizens to pay how, when and where they want without ever having to step foot in your location.
By enabling electronic payment methods such as debit, credit and ACH, you can allow a majority of your citizens to pay online in a few clicks. Tech savvy citizens can even pay with Google Pay and Apple Pay, giving you more ways to serve those who identify as digital natives (Millennial and Gen Z individuals come to mind).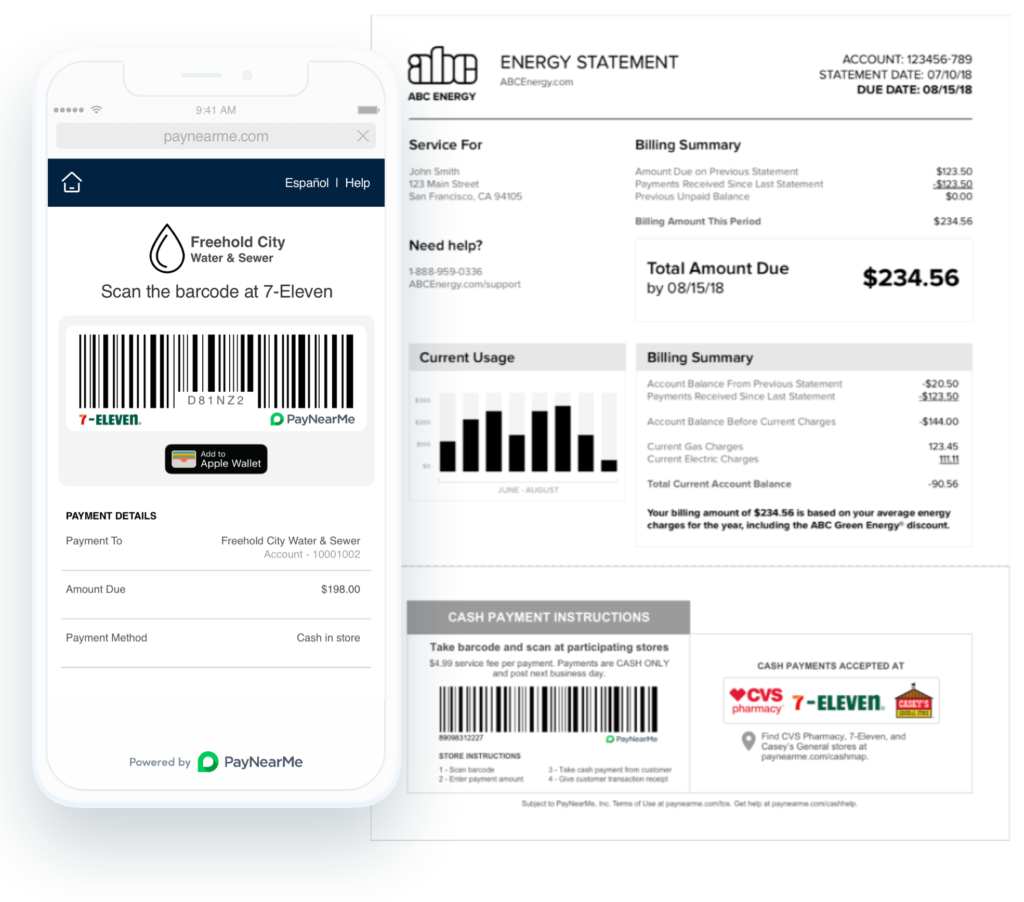 Those who prefer (or need) to pay with cash can take advantage of our "scan, pay and go" barcode technology that allows cash payments at 27,000+ retail partners, including 7-Eleven and CVS stores.
By offering more remote options, you can reduce the number of in-person payments you handle—creating a safer environment for your staff and all of your citizens.
Mobile-First Payment Options
Over 85% of American adults own a smartphone, and a near ubiquitous 97% own some kind of mobile device. Considering that a majority of internet browsing is also done on mobile devices, it's imperative that municipalities include mobile bill pay as a standard offering.
PayNearMe gives you more ways to connect with your citizens on their mobile devices. Our responsive design works on any connected device, resulting in a consistent bill pay experience on phones, tablets, or computers. And unlike native apps, your citizens won't need to worry about updates or managing different app versions across their devices.
Built-in messaging tools allow you to send payment reminders via email, text message or even push notifications, making it easier to click and pay in fewer steps. PayNearMe's Smart Link™️ technology takes this a step further, allowing citizens to pay in as little as two clicks without having to remember a username, password or account number.
Intuitive mobile payment options are something your citizens want now, and demand will continue to grow in the future.
Increase Online Payment Adoption
There's no question that online payments are easier to manage and often less costly to process, with fewer envelopes to open or trips to the bank required. Part of increasing your online payment adoption rate is giving citizens a simple and compelling reason to make the switch.
For those who opt to receive and pay via paper bills, PayNearMe offers a simple solution: scannable QR code payments. Each QR code is linked directly to the citizen's payment account. All they have to do is scan the code, select a payment method and complete the transaction. This process is simple and can be done with any modern smartphone camera.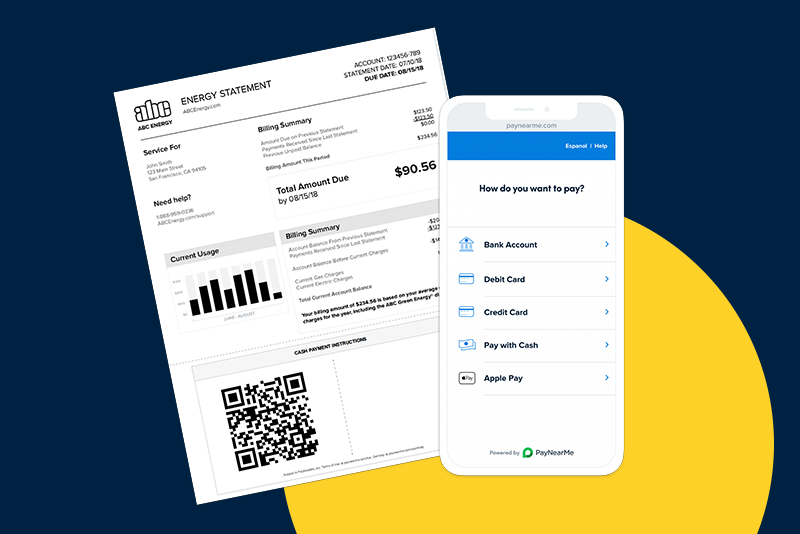 Digital wallets offer another way to convert offline customers into online payers. By clicking "Add to Wallet" in any of our payment flows, your citizens will be able to save their preferred payment method directly into the Apple Pay or Google Pay wallets that already exist on their phones.
This gives them access to all previous statements as eBills, provides quick links to make a payment, and acts as a "living bill statement" that shows up to date information and balances at any time.
Appeal to Bilingual Citizens
It's estimated that over 41 million Americans speak Spanish at home, making the US the second largest Spanish-speaking population in the world after Mexico. It's important to offer your citizens the choice between English and Spanish so they can successfully pay bills without confusion.
PayNearMe's payment flows are available in both languages, allowing citizens to choose and save their preference at any time. You can also designate a default language when a citizen calls in, saving this preference for future payments.
Our optional IVR service also comes with a bilingual talk track, offering an automated call-in option if you don't have any Spanish speaking staff available.
Simplify Payment Management
The less time your employees spend handling payments, the more time they can dedicate to more important tasks. PayNearMe offers a complete set of management tools to help you automate, streamline and simplify the entire bill pay process.
Reconciliation becomes much easier when all payment types are consolidated into a single daily report, allowing you to easily reconcile cash, credit, debit and ACH transactions together.
For municipalities that want a simple setup, PayNearMe is available as a fully configured off-the-shelf solution—no IT or development resources required. Zero downtime maintenance and releases ensure that you have the most up-to-date features without having to turn off your payments or plan for scheduled downtime.
For larger utility providers and municipal governments, advanced features (such as PayNearMe Business Rules and robust APIs) allow you to build a highly configurable and personalized experience that can be embedded into your existing app or portal for a seamless experience.
Get Started with a Modern & Reliable Platform
To learn more about how PayNearMe is helping municipalities and utilities accept every payment, every time, join our introductory webinar on May 5, 2021 at 1pm ET. The webinar will be available on-demand after, so register even if you can't make the live session.
For a more personalized walkthrough, schedule a demo at www.paynearme.com/contact-us/ today.