Four Smart Ways for Lenders to Increase Electronic Payment Adoption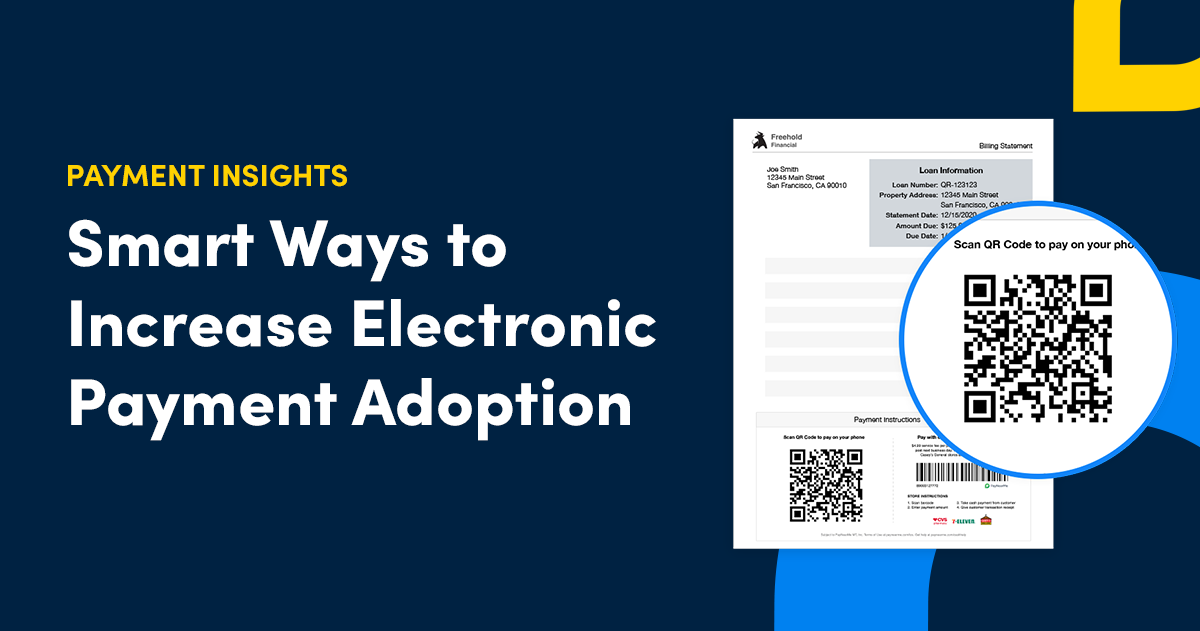 The thought of asking customers to switch to electronic payment choices seems overreaching. Change is hard, and asking customers who already pay on-time to switch to a new method can feel like more of a hassle than an improvement.
However, with guidance and possibly some incentives, your business and customers can realize the long-term convenience that electronic payments offer. (Or at least spark some real FOMO.)
In some cases, customers are unaware of their payment options, but would be willing to adapt to electronic payments once educated. It's important to empower your customers with the information they need to make informed decisions that they are most comfortable with, and in turn will increase efficiencies at your business.
While changing consumer behaviors can be difficult, we suggest a few key ways you can guide your current, and future, customers through adopting electronic payments so that your customers save time and you save money.
Educate staff to promote electronic payments at the time of customer onboarding
It's important that your team is instructing customers on how to take advantage of different electronic payment options. Setting customer's up for digital payment success ensures there's no need for them to pay you in person.
Which leads to an important question: do you have a plan in place to educate your staff? Start by providing each employee with documentation on the payment types you offer, and if possible, include data on how your customers are paying today. This will help them understand the current benchmarks and goals the business is working toward in order to reach a certain adoption rate. As a team building opportunity, try role playing the conversation with different outcome scenarios so your team can adapt and provide the appropriate guidance.
In addition, reinforce how the customer can pay by all available payment types, such as debit cards, Apple Pay, Google Pay, ACH, or cash.
It's important that your staff discusses all of the available payment types and channels to ensure your customers are able to make informed decisions. Don't overlook cash, either. With PayNearMe's cash at retail options, customers can pay when it's convenient for them, while transacting away from your business.
Offer incentives to current customers
Incentives go a long way, and if you're looking to change a customer's payment behavior that may have been in place for years, you may need to offer something to sweeten the deal.
How many customers do you serve that have not yet made a payment electronically? Consider offering them a discount on their interest rate, or waive card convenience fees (if you have them) to promote adoption.
A little goes a long way, and it's worth asking with a personalized email or phone call. This additional touchpoint is a great way to perform a health check for your customers and verify that their account is in good standing. Customers should be happy to know that their biller is innovating and aiming to save them time and stress by discouraging hard-to-use payment processes.
Put together a digital payment marketing campaign
You can further increase adoption for digital payment methods by reinforcing the convenience they bring and use messages to spread the word across your customer base.
Tactics may include:
Include bill stuffers in snail mail outreach
Launch a friendly email campaign to your customer base
Take advantage of your social media channels
Send automated text messages
An easy way to engage customers who aren't paying electronically could be to add a note with an incentive to their monthly bill. Allow them to sign up with a QR Code, or offer to walk them through the process via a phone call. A small, branded card with sign up details is a nice touch.
For customers who have provided an email address, take the opportunity to reach out with an email and share a link to your online payments portal. You can also use this channel to direct any follow up questions your customers may have. If you're looking to send more professional emails, there are free templates available like these.
Depending on your audience, Facebook and LinkedIn can be a great way to engage with customers and prospects about your business. Share company updates, and highlight how digital payments can benefit customers who value convenience and speed. A fun way to promote engagement through social media could be through monthly contests or drawings. If you're looking to build your Facebook following, there are free tools you can leverage here.
Lastly, you can encourage certain payment behavior by engaging your customers with payment reminders via text, including important company announcements, or delinquent payment notifications.
PayNearMe strives for continuous improvement to keep your customers engaged
As consumers come to expect digital payment channels as status quo, it's important to meet them where they are and exceed expectations. Customers will put their trust in your business to deliver a seamless payments experience, and PayNearMe is committed to your partnership, with weekly updates, and unrivaled uptime.
If you have specific questions about how to better increase customer adoption for digital payments, don't hesitate to reach out to your account manager for support.
While you're here- You are already offering electronic bill pay, but are you up to speed on what we've been working on in 2021? Take a look at our Q1 release highlights, What's New at PayNearMe: Q1 2021 Edition.