Four Ways Lenders Can Encourage More Self-Service Payments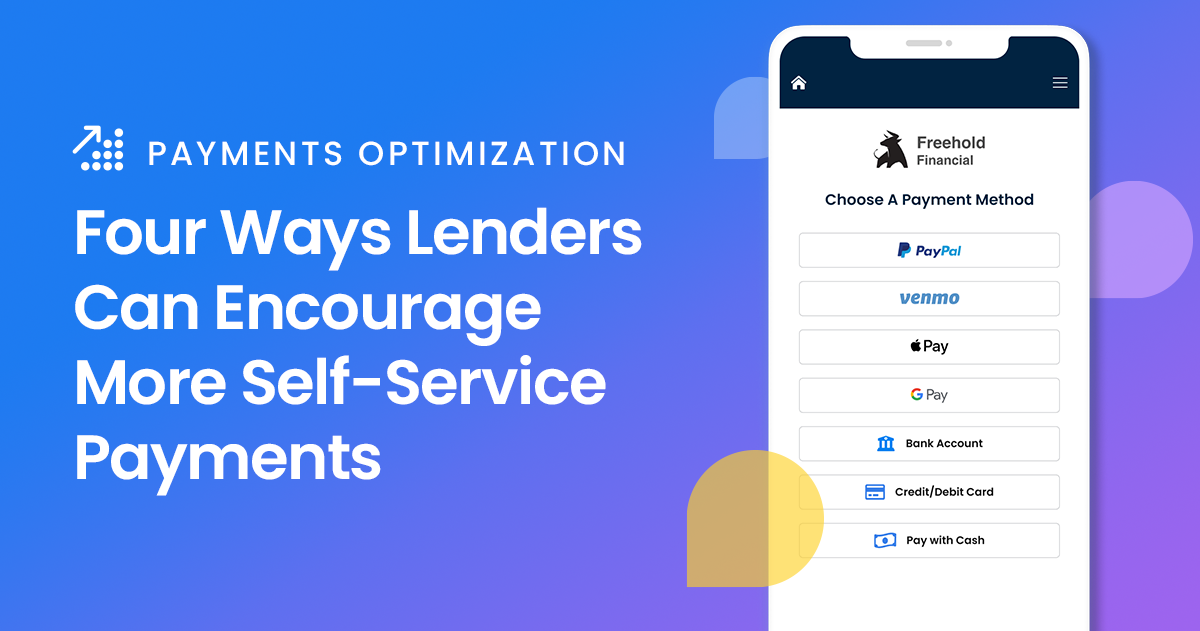 The recent economic climate is beginning to catch up with auto lenders and their customers. According to a TransUnion report, auto loan delinquencies are on the rise, with 3.5% of all borrowers behind on their payments as of November 2022. There are many factors that may be contributing to this, including:
Government assistance that kept many afloat during the pandemic has mostly dried up
Rapid inflation has increased the cost of living for essential items, creating competition between bills and necessities like food and gas
The price of cars has gone up drastically the past few years, increasing purchase price and monthly payments, making repayment more difficult for some
Holiday spending creates more financial stress as many have to choose between paying bills and buying gifts
The list goes on, but the result is all the same: lenders need to focus on ways to prioritize collections for consumers most at risk. One way to do this is to promote self-service for those who are less likely to fall into delinquency. This creates predictable cash flow for lenders while allowing staff to focus inbound and outbound call activity on the customers who need it most.
Here are four of the most effective ways for lenders to drive on-time, self-service payments.
Offer 1-Click Payments with Smart Link™ technology
PayNearMe consumer research showed that 52% of consumers say remembering logins, passwords and account numbers makes paying bills most difficult. This may cause an influx of consumers to call your customer service team on high volume payment days (think the first of the month, the first Friday, etc.) Worse, some consumers may abandon the payment when they cannot remember their information, potentially causing missed payments or delinquencies.
Smart Link™ Technology allows businesses to send personalized links that move customers directly into registered payment flows, enabling payments in a few short clicks. Each customer is given a unique Smart Link that can be reused each month, allowing them to access a guest payment screen without entering a username, password or account number. These links can be sent via text, email, push notifications, QR codes, chat or anywhere else a personalized link can be delivered to the customer.

PayNearMe Smart Link technology offers the following benefits:
Consistent and Easy: Provide a seamless payment experience anywhere, any way customers want to pay—in just a few clicks.
Encourage Self-Service: Reduce inbound customer service calls and in-person payments by making it more convenient for customers to pay on their own.
Convert Offline Payers: Help offline payers move online with an easy way to pay across mobile channels such as SMS, email and QR codes.
Enable IVR for 24/7 Phone Payments
IVR (interactive voice response) enables automated payments by phone. IVR should be the first line of defense at your call center, and is helpful in eliminating live-calls for common requests (e.g. making payments or checking balances). This saves your agents time and allows them to focus on more important customer service tasks. Implementing a fully featured, bilingual IVR can appeal to consumers who want to pay over the phone, but don't want to wait for a customer service agent or be restricted to calling during business hours.
PayNearMe's integrated IVR includes:
Customizable Prompts: Use our standard voice prompts or program your own to give your customers a consistent brand experience.
Bilingual Options: Offer both English and Spanish language options by default, reaching more customers in the process.
Turnkey Implementation: Turn on IVR quickly – just use our provided phone number or route from your existing IVR.
Send Timely Payment Reminders
In the aforementioned consumer research, 45% of consumers said that receiving a payment reminder by text or email would make paying bills easier. This is supported by another question, which revealed 41% of consumers said "keeping track of due dates" made paying bills difficult. This number jumped to 53% of consumers in the 18-29 year old age group, showing that younger consumers rely on reminders to make timely payments.
Pay by text is a reliable way to send reminders that encourage on-time payments. With PayNearMe, payment reminders can be configured to send on a fixed schedule (for example, two days prior to the due date) or batched for customers who are already late. These reminders integrate with Smart Link technology, enabling fast and easy payments that don't require customers to login or enter an account number to complete a payment.
Benefits of pay by text include:
PCI Compliant: Send payment links by text and enable self-service payments—eliminating the need to take cards over the phone.
Frictionless Experience: Each text has a unique payment link that sends customers directly to your payment page – no account number, username or passwords needed.
Multiple Use Cases: Use our text messaging for mass reminders, one-off texts from call center reps, and for automated payment receipts.
Accept Cash at Retail Stores
Cash remains an important payment method for millions of Americans, especially those who are classified as unbanked or underbanked. This doesn't come without cost to lenders though, as accepting cash on-site means staffing a cashier, keeping reconciliation in order and handling the storage and transportation of cash, especially on busy days.
Billers who want to accept cash while offsetting the risks benefit from PayNearMe's cash at retail solution. Consumers can pay with cash at tens of thousands of local retail locations, including participating 7-Eleven, CVS, Walmart and Walgreens stores, among others. Lenders benefit by keeping paper money out of their physical locations, and digitizing cash payments to make acceptance and reconciliation simple.
Benefits of cash at retail include:
Convenient for Consumers: Enable cash payments around the clock at tens of thousands of retail locations.
Offer Payment Choice: Let customers choose how they want to pay—with cash, cards, ACH, Apple Pay, etc.—all in a single platform.
Simplify Reconciliation: By digitizing the cash acceptance process, you can simplify reconciliation by receiving all payment transactions in a single ledger.
What About Autopay?
Notably missing above, autopay is considered by many to be a clear solution to self-service. However, there continues to be hesitation from consumers on adoption. Many lenders show autopay adoption rates between 15-20%, with this number often trending on the lower side for subprime and BHPH lenders.
In PayNearMe's consumer research, we asked those who don't participate in autopay about this disconnect and discovered that 70% of these consumers want to maintain control of when their bills get paid. In this same group, 27% said they are afraid of overdraft fees.
Part of this can be solved by giving consumers more control over autopay schedules. PayNearMe's flexible autopay features allow consumers to choose a variety of payment schedules and amounts. For example, one consumer can choose to pay weekly on Fridays, while another can choose to split their payment on the 4th and 21st of the month (or any two days they see fit).
PayNearMe also offers autopay reminders in the same way we offer one-time payment reminders. By sending a scheduled payment reminder a few days in advance, consumers can avoid "surprise" payments that cause them to overdraft their account.
Increasing autopay adoption rates can go a long way towards improving self-service rates, and using smart tools with flexible scheduling features has been proven to be effective for hundreds of lenders on the PayNearMe platform.
Drive More Self-Service Payments with PayNearMe
Increasing self-service payments is vital to surviving in uncertain economic times. Lenders who adopt better technology, focus on process and work with their customers gain an advantage over those who prioritize the status quo. To learn more about PayNearMe and how we help leading lenders drive more self-service, we encourage you to read our success stories, or contact us to request a personalized demo of our platform.