Feature Focus: Four Ways to Use Digital Disbursements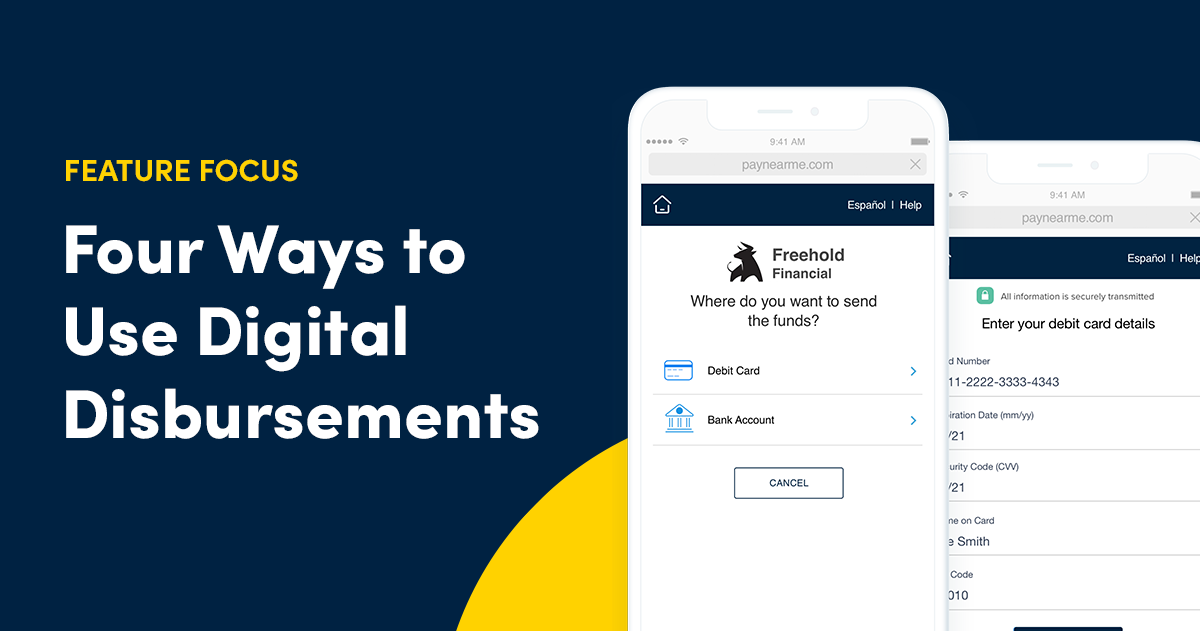 PayNearMe Digital Disbursements are a fast, easy way to send money through customers' debit cards in near real-time, or overnight via their bank accounts. Businesses send customer disbursements for a number of reasons depending on their industry relevant use cases, from overpayment refunds to claim payouts. 
Sending these funds can be an expensive and time-consuming process when using traditional methods of money transfer, namely, mailing physical checks. Businesses must spend money on postage and mailing services, and their customers must often wait weeks for a check that may get lost and never arrive. 
To combat these issues and more, here are a few of the top ways PayNearMe clients are digitally disbursing funds to their customers to save time and money. 
Consumer Lending
Used for loan funding, overpayments
The lending industry is built on disbursements, as loans don't begin until the funds reach the customer. Consumers receiving a loan often need access to their funds quickly.  For example, a consumer may need a loan to purchase a car on the same day.  Digital disbursements satisfy this need. 
Another example: when a loan is paid off, consumers may have some remaining balance left due to overpayments. Sending a check to return this money requires validation and long customer waiting times, leading to incorrect check disbursements. Digital disbursements ensure that any overages can be returned quickly and accurately. 
Mortgage
Used for escrow overages, payoff overages, overpayment of mortgage, etc. 
The mortgage industry has several similar use cases to consumer lending. One difference, though, is around escrow payment refunds. When consumers decide to take the money they have overpaid on their annual escrows instead of applying it to their mortgage principal, digital disbursements make this process fast and simple. 
Insurance
Used for claim payments and overpayments 
What happens if your customers don't have access to their mail? Perhaps there's a flood that prevents postal office workers from physically delivering claim checks to those affected. For some, waiting weeks for a physical check simply isn't an option. With PayNearMe Digital Disbursements, consumers can get the money they need quickly.
iGaming 
Used for funds payout  
To this point, the examples we've provided are fairly similar, but digital disbursements are also crucial for the iGaming industry. After all, who wants to bet or play online if it's difficult to cash out their winnings?
For iGaming and sports betting, physical checks aren't really the issue. Instead, a poor user experience and cumbersome systems are some of the issues operators and players face. 
PayNearMe Digital Disbursements provides a modern user interface that simplifies the payout process, increasing customer satisfaction and retention. 
How PayNearMe Does Digital Disbursements
PayNearMe enables disbursements in three ways: automatically through API, directly through an agent or through an agent via the consumer. In the latter example, consumers can choose how they receive the money via self-selection in an email or text.  In all cases, the business finalizes the disbursement. 
To find out more about how to make Digital Disbursements work for your business, contact your account manager, or request a demo today.