How AI is Transforming Bill Payments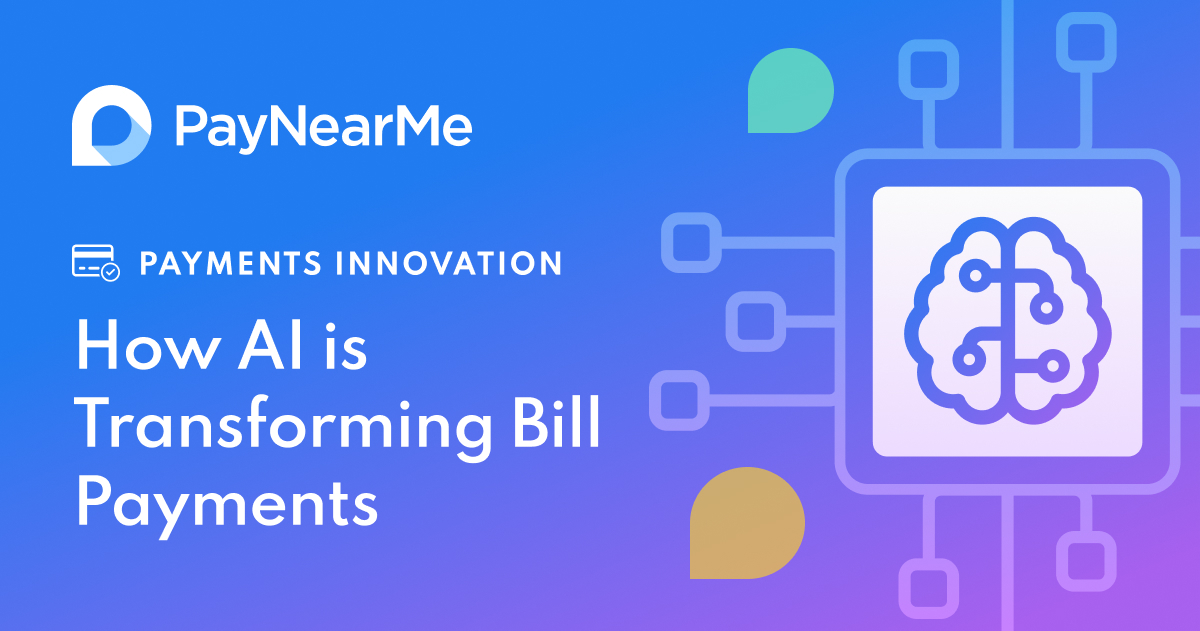 Everyone is talking about AI and machine learning (ML)—and it's no longer a question of "should we use it?" but rather, "how will we use it?" For companies that rely on bill payments as a lifeline, there's never been a more crucial time to tap into the power of AI and ML to improve business outcomes.
As a fintech innovator, PayNearMe is focused on identifying ways AI/ML can help billers solve their biggest challenges, such as increasing acceptance rates, while also reducing fraud, risk and compliance scope. That's why we dove into the topic in a new POV whitepaper. In it we share our perspective, plans and use cases on how we expect to see AI and ML significantly improve biller operations and payment experiences.
Why AI Matters for Payments: Practical Use Cases
First, we looked at key problems billers need to solve, and how AI and machine learning can add bottom-line value. For example:
Increase acceptance rate with better payment experiences. We discuss a variety of scenarios, from improving personalization at scale and dynamically updating payment options, to enhanced one-click bill pay and tactics to encourage callers to pay via self-service.
Boost efficiency with automation. To free up staff to focus on more critical work, AI can save time and cost by automating workflows. For instance, AI automation can help optimize collection efforts, improve retry success for autopay, and motivate autopay adoption.
Minimize fraud and risk. ML's predictive capabilities can help billers take pre-emptive action to reduce delinquency and protect the business. From insights on best ways to engage frequent late-payers and restrict payment options, to flagging potential threats, machine learning can deliver substantial value.
How PayNearMe Thinks About AI
At PayNearMe, AI is not just about products. We're embracing AI as a fundamental shift in the way we make decisions about our business, processes and people. Expanding our AI/ML capabilities will enable innovation at a rapid pace, making it easier for our clients to get value from data, solve complex problems and compete in the market.
We're committed to becoming an AI-first company, and we see AI as a journey. That means we are constantly evolving as we capitalize on the fast-changing AI/ML landscape to enable us to deliver more business value – for both our clients and our company.
Our AI-Centric Approach for Delivering Value
AI will play a crucial role in our goal to make payments easy, secure and personalized for consumers, and to empower billers to optimize their business with cost-saving efficiency and data-driven decisions.
As a foundational approach, we're focused on using AI responsibly. Particularly with technology that uses customer data, we know it's business-critical to ensure privacy, accuracy, and auditability.
Our POV paper highlights a number of ways our AI-centric approach will help our clients achieve operational wins. Everything from unlocking more business value from data, to increasing predictive power and intensifying consumer privacy.
We also touch on how PayNearMe is tapping into AI/ML Innovation to optimize our own operations. Taking advantage of the latest technologies equips us to innovate faster and scale capabilities as AI/ML models grow more complex.
How Our Platform Leverages Data to Enable AI
Of course, no discussion about AI and machine learning is complete without a focus on data.
A fundamental of using AI/ML to solve business problems and achieve key objectives is having access to the right data. In building and iterating ML models, well-chosen and well-prepared datasets can help a business identify the levers, indicators and patterns for taking targeted action.
In the whitepaper, we dive into specifics on how our approach for data management improves results on an operational level, such as:
Centralized data ecosystem that provides a distinct advantage for clients
Cloud agnostic infrastructure that simplifies data access
Optimized data collection and sharing to accelerate preparation and model testing
Data visualization to help clients make sense of data
Acknowledging Inherent Risks and Responsible AI
Along with all the buzz about the advantages of AI, there's also increasing talk about the risks. As part of our commitment to use AI responsibly, PayNearMe closely tracks the issues to ensure there are safeguards in place.
Our paper hits on some of the most prevalent concerns billers may have, including protecting consumer privacy and providing audit-friendly explanations for how AI/ML models derive insights used for making critical decisions.
We also focus on other risks that can surface in using AI and ML, such as unintended data bias and false information, known as "AI hallucinations." Regularly monitoring for bias detection and validity of information is essential to avoid what could be costly in reputational and compliance risk.
Gear Up for the Future of Bill Pay – Download our AI Whitepaper
AI and machine learning are reshaping the future of payments, and PayNearMe is excited to play a pivotal role in helping billers make the most of it.
Our products are tailored towards driving personalized self-service, reducing risk and delivering data-driven insights throughout the payment lifecycle.