Six Smart Ways Lenders Can Promote Self-Service Payments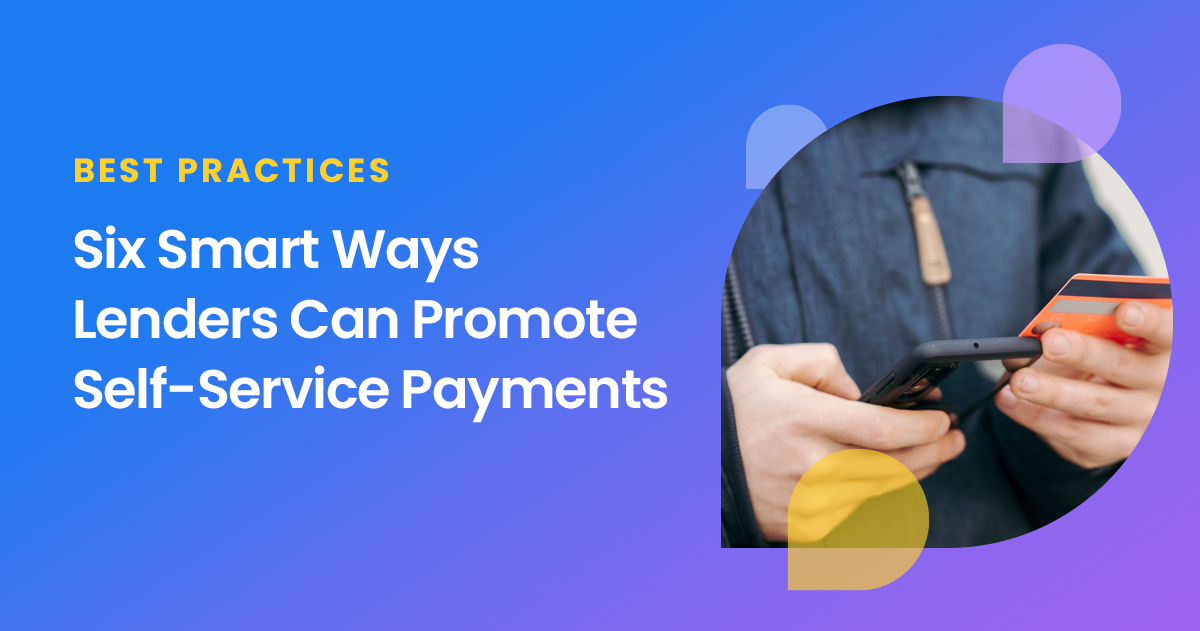 Self-service has become the preferred way for consumers to interact with customer support functions—including bill payments. In 2017, self-service channels surpassed human assisted interactions for the first time ever, according to Gartner. This is supported by HBR research which showed that "across industries, fully 81% of all customers attempt to take care of matters themselves before reaching out to a live representative."
Despite the overwhelming evidence that shows consumers want to pay on their own, many lenders still struggle to gain self-service adoption. This comes at a significant cost, with another 2019 Gartner poll showing that live service interactions (phone, email or webchat) cost an average of $8.01 per contact, while self-service channels come in at $0.10 per contact—an incredible difference in businesses with already slim margins.
This presents a clear disconnect. Consumers want to make payments without help, and lenders want to reduce agent-led interactions. So how can you bridge the self-service gap?
Effective Ways to Promote Self-Service Payments
For many consumers, changing old payment habits can be the biggest barrier to adopting self-service options. This all changed during the COVID-19 pandemic, which forced a significant shift in payment behaviors. Research conducted by Sapio showed that 86% of consumers said their payment habits had changed over the pandemic, with 59% saying they tried a new payment method for the first time.
Given this, many lenders no longer have to prove that self-service payments are viable—they simply have to show that they're available.
Switch to Digital Reminders
Monthly payment reminders are an excellent (and dare I say obvious) first step in driving self-service payment adoption. Instead of calling customers to ask for their payments or sending paper bills in the mail, lenders can incorporate digital reminders that link directly to an online payment portal. These reminders can be sent by email, text or push notification, depending on the preferences of each consumer and the lender's messaging opt-in strategy.
45% of consumers said that receiving a text message or email reminder would make paying their bills easier.

Source: PayNearMe Consumer Research
For more convenience, PayNearMe's Smart Link™ technology allows consumers to click a reminder and go directly to their unique payment flow, without needing to create an account, login or enter an account number. This direct approach makes payments frictionless, fast and easy for customers, encouraging them to continue this practice each month. 
Dig deeper: Listen to a conversation with Lisa Patterson, COO of Drive Now Acceptance, to see how PayNearMe helped them cut inbound calls by 32% in the first 30 days.
Include a QR Code on Paper Bills
In some instances, paper bills are a necessary and useful tool to send to customers. These bills will often have a coupon for walk-in or mail payments, along with instructions for how to make online payments. The barriers to paying online from a paper bill are high, as consumers need to transcribe information from the bill to the web, creating more opportunities for error and creating a hassle for the end user.
QR codes help to eliminate this friction. By printing a QR code on your paper bills, you can allow customers to simply scan and pay, without having to enter information or create an account. A clearly visible QR code with simple instructions can go a long way, as one prominent toll road authority in the US found after partnering with PayNearMe. Within months of switching to QR codes, over 20% of toll violations were paid via a scan and pay instead of other methods.
Train Contact Center Agents to be Agents of Change
Lenders that rely on call center agents to take and make payment calls are sitting on an opportunity to train customers how to engage in self-service every month. A simple script coupled with modern technology can help call center agents become agents of change.
For example, when a customer calls in to make a payment, agents can ask, "Is it okay if I send you a link to securely enter your payment details?" PayNearMe then enables agents to click a single button to send a secure Smart Link to the customer by phone or email, or copy and paste the link into a third party chat software. The agent can then walk through the process with the customer step by step, showing them how to make future self-service payments.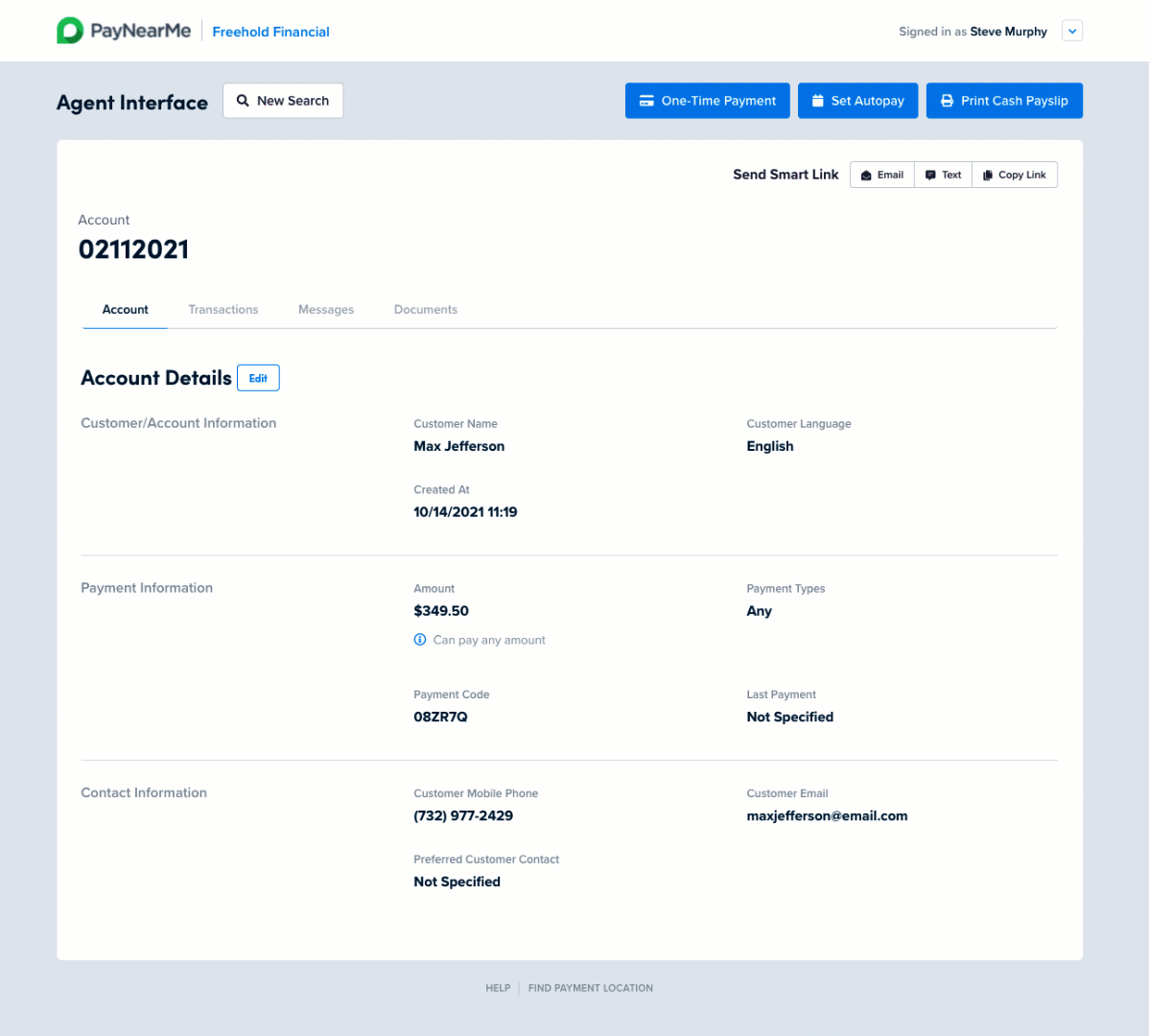 An added benefit to "push to text" payments is the reduction in PCI and NACHA compliance scope for lenders. Since the agent never takes payment information (cards or ACH) over the phone, many strict compliance requirements can be avoided. This can further reduce costs and improve operational efficiency.
Dig Deeper: See how Turner Acceptance built custom payment reminder flows and trained agents on the importance of pushing self-service—helping them cut agent-led payments by 20% in two months.
Use Your Website to Show and Tell
Lender websites are a critical tool for driving self-service behavior, acting as the first point of contact for addressing customer service questions. Including detailed instructions for making payments online is an activity that can yield ongoing returns, helping customers answer their questions before reaching out to an agent via phone, email or chat.
Lenders should not only include links to a self-service portal but also offer guidance on how to make different self-service payments. For example, listing the available payment types and channels can show customers the breadth of options available to them. This can include cards and ACH on most platforms, as well as cash, Apple Pay, Google Pay, PayPal and Venmo for PayNearMe clients.
Here's an excellent example of this from long-time PayNearMe client, United Auto Credit:
Taking things a step further, offering short video tutorials or screenshots can serve as a virtual guide for customers who are less tech savvy, helping them solve their payment issues without having to reach out to an agent first.
Dig Deeper: View PayNearMe's feature videos to see examples of how to engage customers with interactive training.
Promote Autopay on Payment Receipts
As we've stated in the past, autopay remains the holy grail of self-service. Yet in a recent PayNearMe webinar poll, not a single lender had autopay adoption rates above 25%. There are many reasons consumers don't set up autopay (read more in our "Why Consumers Pay Late" consumer research), but making it difficult to set up recurring payments should never be one of them.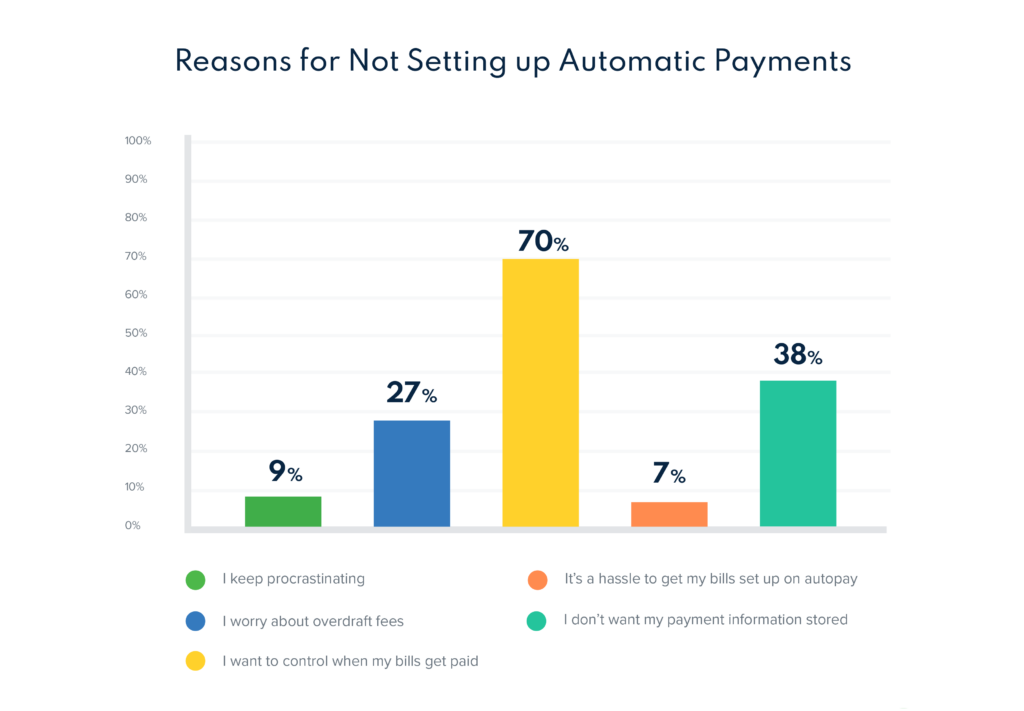 Lenders can help promote autopay by including a prompt on every one-time payment you send customers. Whether consumers pay online with a card, via ACH on IVR or cash in a retail store, they should receive a payment confirmation email or text with a "set up autopay" message. This helps to encourage the customer throughout their lifecycle, instead of depending on a single point (i.e. onboarding) to capture autopay information.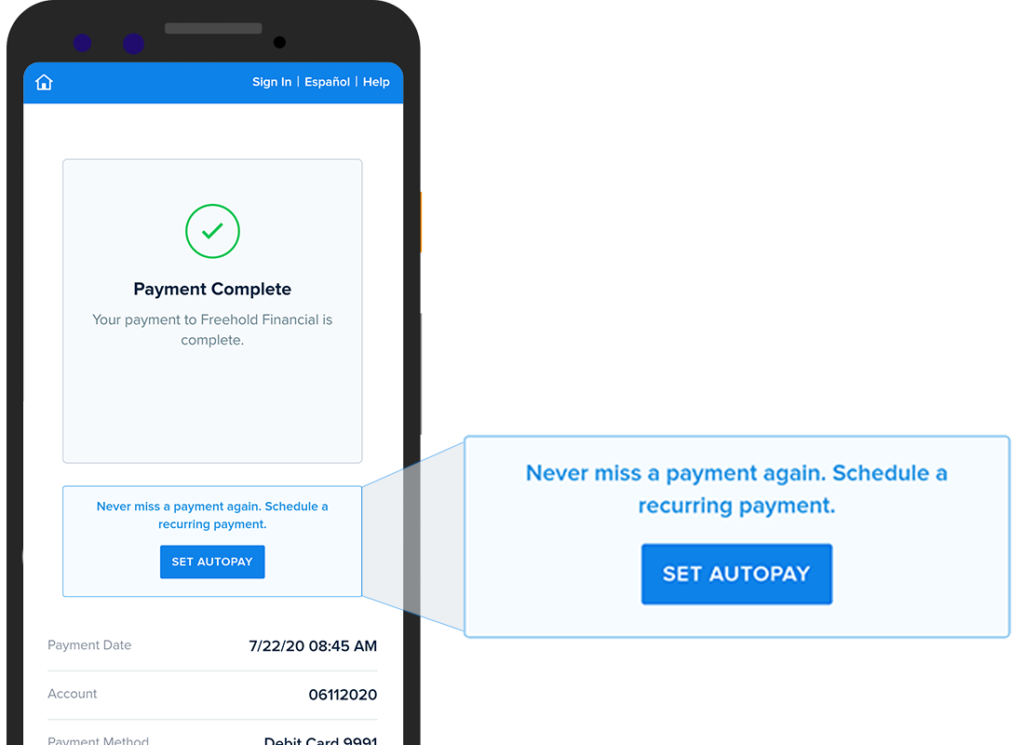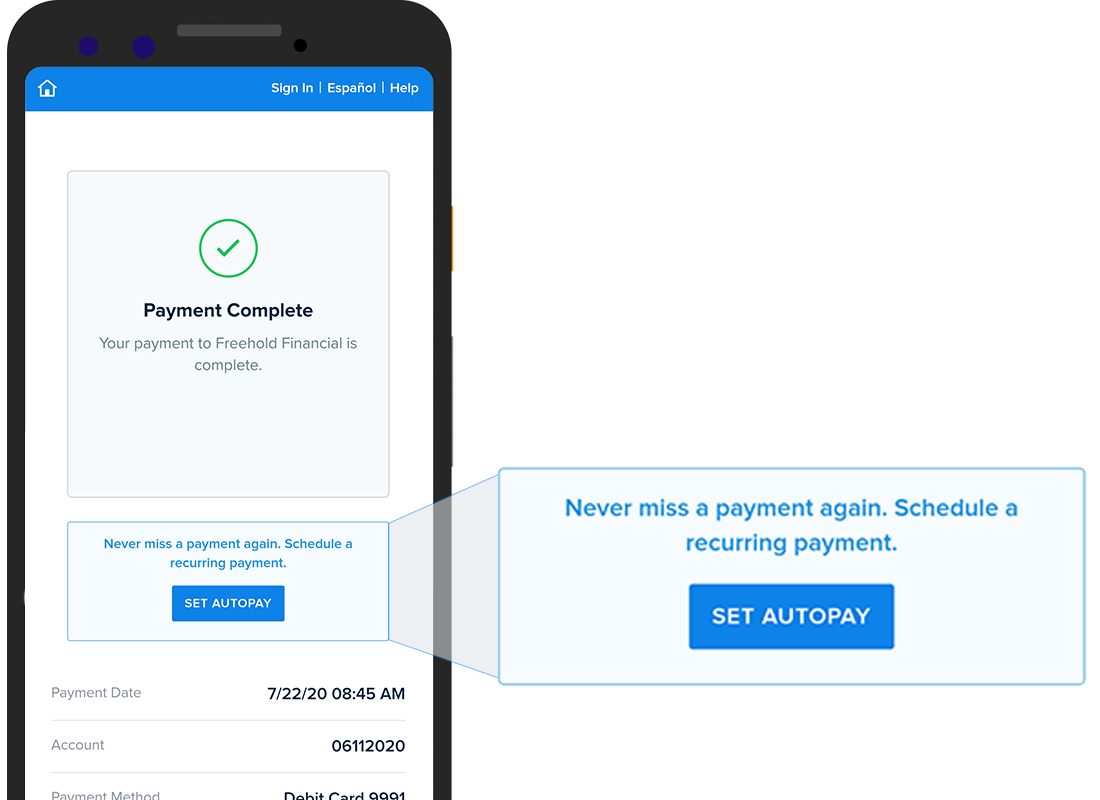 Dig deeper: See how PayNearMe's advanced autopay features give consumers unmatched flexibility when scheduling recurring payments.
Provide Self-Service Options for Cash Payers
Not all customers are willing, or even able, to make online payments. Tens of millions of Americans are classified as unbanked or underbanked, meaning they don't have full access to a traditional bank account.
Many of these individuals rely on cash and money orders to pay bills, often forcing them to drive to a lender's physical location in order to make a payment. PayNearMe solves this problem by enabling cash payments at 40,000+ participating retail locations, including 7-Eleven, CVS, Walmart, Walgreens and others. Lenders can provide their customers with a reusable barcode that can be scanned at the checkout counter, and the guaranteed cash payment is then digitally transferred back to the business.
Not only does this enable self-service for cash preferred payers, it helps lenders eliminate in-person payments that drive up costs and create security concerns.
Dig deeper: Learn how OneMain eliminated in-store cash payments at over three thousand branches nationwide, saving millions in the process.
Improve Self Service with PayNearMe
By increasing and broadcasting the availability of self-service payments to customers, lenders can reduce call center volume, increase on-time payments and improve operational efficiency—all contributing to positive results on the bottom line.
Trust PayNearMe to help you drive more self-service payments. Schedule a demo today to see our platform in action, while getting expert advice on how you can improve your self-service options.