How to Nail the Payment Experience to Improve Customer Success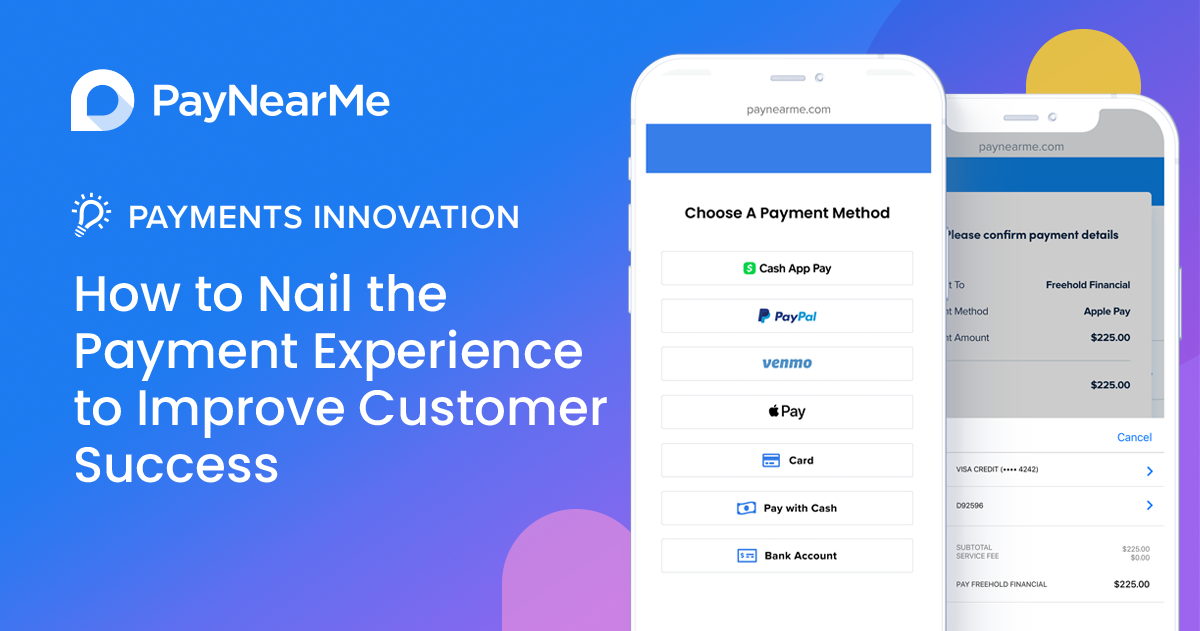 Today's e-commerce experiences are fast, easy and frictionless. Consumers are exchanging money with family and friends using peer-to-peer payment applications such as Cash App, Venmo and PayPal, and they rely on digital wallets to effortlessly make e-commerce transactions from their mobile devices. So, why do so many bill pay experiences still feel dated?
Paying a bill is often one of the most frequent touchpoints you have with your customers, so it's important you get those payment interactions right. These critical moments during each billing cycle have the potential to positively—or negatively—define the customer experience for your business. In fact, when you get the payment experience right, the entire customer experience improves.
As you work to design a better bill pay experience, consider consumer research that validates mobile-first payment options as a key requirement.
Consumers Expect a Low-Effort, Mobile Bill Pay Experience
Consumers want more mobile-friendly options for how and when they pay their bills, and PayPal tops the list of preferred payment methods. According to our bill pay study, nearly half of U.S. consumers (43%) say the convenience of using PayPal to pay bills is important or very important. Apple Pay and Google Pay are a close second, with 38% reporting they would be likely or very likely to pay their bills using these payment methods if given the option; 27% would want to use Venmo.
How important is it to meet your customers where they are with mobile payments? When you consider nearly one in three adults say paying bills causes them stress, a modern payments strategy is essential. It becomes mission-critical when you realize that for 70% of consumers, it's not a lack of funds that creates bill payment angst, but rather a poor payment experience.
For example, having to remember logins, account numbers and payment due dates makes for a cumbersome bill pay experience. In fact, nearly 1 in 5 adults (19%) say they paid a bill late because the online bill pay process was so complicated they became frustrated and didn't complete the payment.
This poor experience contributes to adverse financial outcomes for billers, such as late or missed payments, which is validated by the fact that more than half of U.S. consumers paid at least one bill late during the last 12 months.
When you improve the customer bill pay experience, everyone wins, and a better experience requires a mobile-first payments strategy. Your first step should be identifying modern technology solutions that enable your business to accept all forms of digital payment. For example, PayNearMe offers a full suite of payment types such as debit, ACH, cash and mobile-first payment methods including PayPal, Apple Pay, Google Pay, Cash App Pay and Venmo—with a single platform.

Pro tip: Ensure the technology platform gives you the flexibility to add future payment types and channels as the industry evolves.
Mobile Payments and Digital Wallets Make it Easier to Pay Bills on Time
Not only do your customers want more mobile-friendly payment options, but they also say having more options would make it easier to pay their bills on time. They also want the ability to pay using different payment types for each billing cycle. In fact, nearly ⅓ of U.S. adults (29%), say having this level of flexibility would make it easier to pay bills on time, according to the study.
Making bill pay easy and convenient for your customers is the name of the game when designing an improved customer experience. With this in mind, look for ways to remove as much friction as possible. For example, consider enabling customers to store bills in an Apple or Google Wallet and pay via a smartphone. When done right, this can dramatically reduce the number of steps your customer must take to pay a bill. It can be a simple, three-step process:
The payer goes to the bill payment screen and chooses the "Add to Wallet" option. A "biller card" or "wallet card" for that bill is automatically placed in the payer's wallet.
Each billing cycle, payers can receive a push notification to prompt payment. These reminders can include a personalized link that takes them directly to a payment screen, no login required.
Payers choose their preferred method of payment and complete the transaction.
Storing bills in a digital wallet makes bill pay easy and convenient for your customers, which increases on-time payments. This is validated by 35% of U.S. adults who say having the ability to store bills in their Apple or Google Wallet and pay via smartphone would make it easier to pay bills on time.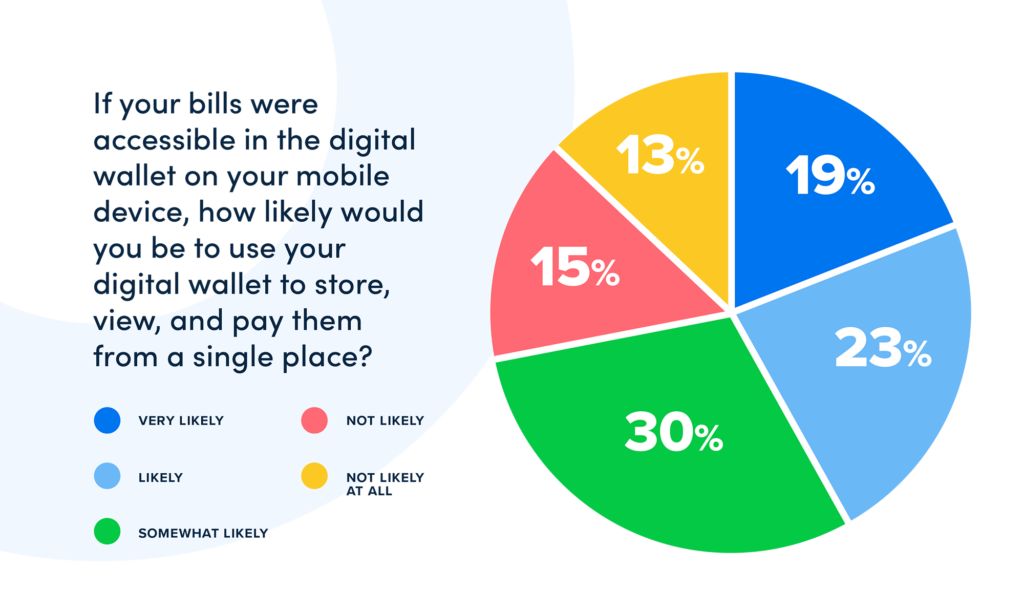 When consumers store bills in a digital wallet, they can enable push notifications to allow engagement communications from the biller, such as electronic bill payment reminders, which can further increase on-time payments. According to our study, 45% of consumers say receiving a text message or email reminding them when the bill is due would make on-time bill payment easier; 38% believe that a reminder including a clickable payment link would be even more convenient.
Having a mobile bill pay strategy can increase on-time bill payments. Once you've identified a modern technology solution that enables your business to accept all forms of digital payment with a single platform, you need to ask the question, "Will my customers be able to pay their bills directly from their mobile wallets using only their smartphone?" If the answer is, "no," keep looking.
Pro tip: Ensure the technology platform automatically updates each customer's mobile wallet with current billing information such as the amount due, payment deadline and remaining balance so your customers have their billing history and current payment details available on their smartphone at all times.
Nailing the bill pay experience requires businesses to meet customers where they are, and they are on their mobile phones. Millions of consumers use smartphones to purchase goods and services, and they now expect to be able to pay their bills anytime, anywhere using a mobile device.
Lenders of all sizes can improve the end-to-end payments experience and drive down the cost of acceptance with the PayNearMe bill pay platform to automate payments and improve customer service.
Provide a fast, frictionless payment experience that allows customers to pay with all major payment types, including debit cards, ACH, mobile wallets and cash at retail. PayNearMe's Smart Link™ technology enables customers to click once and enter a payment flow, with no need to register online or log in.

Learn more and request a demo – See PayNearMe in action with a personalized demo, or email us at sales@paynearme.com.